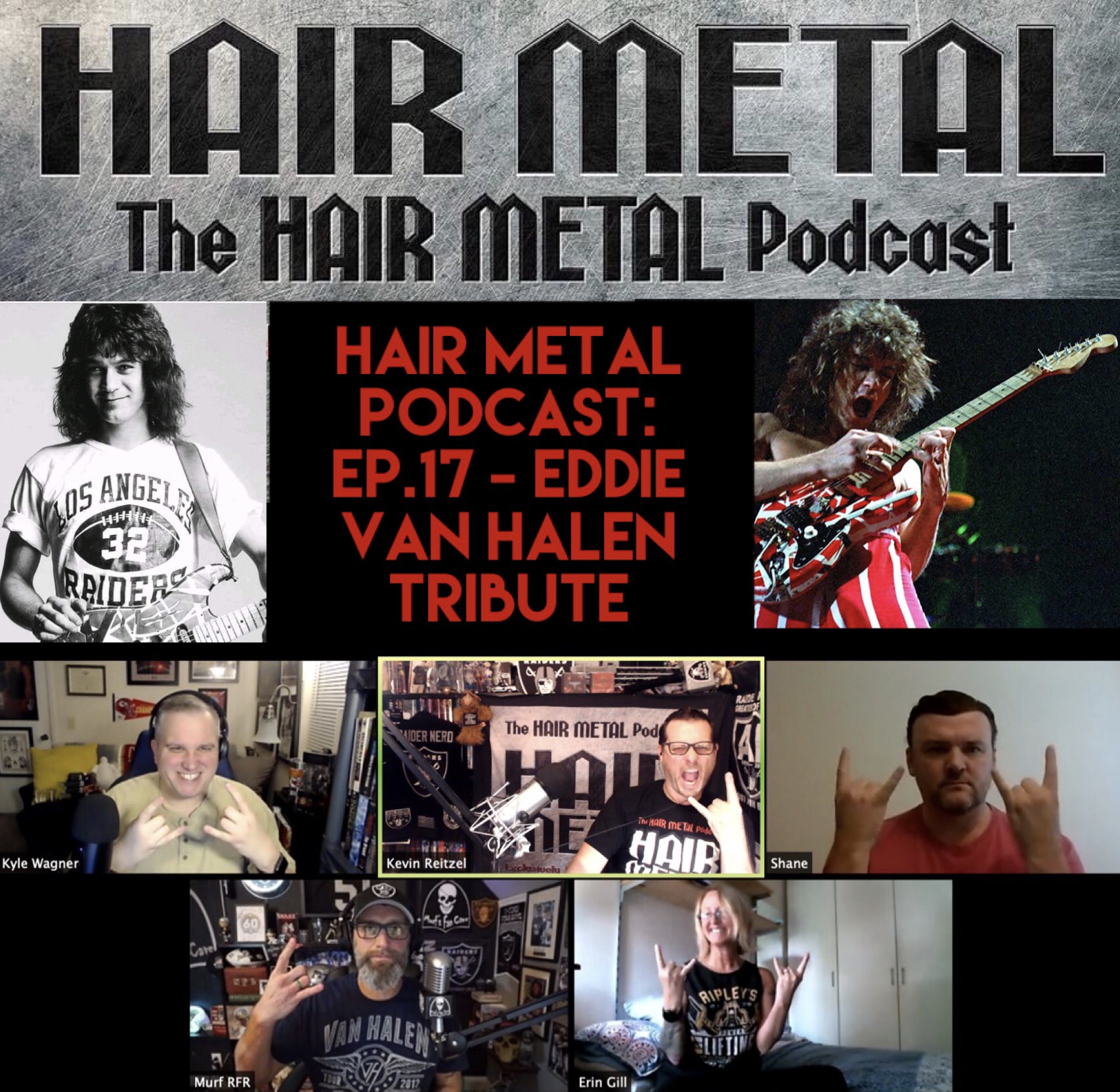 Hair Metal Podcast: EP.17 - Eddie Van Halen Tribute
The Hair Metal Podcast presents a special tribute episode. The Rock world lost a legendary, inventive and worldwide beloved guitarist and musician. Eddie Van Halen died at age 65 on Tuesday, October 6, 2020, after a long battle with throat cancer. Eddie Van Halen formed the band Van Halen with his brother Alex Van Halen.
Van Halen formed in Pasadena California in 1972, and are credited with "restoring hard rock to the forefront of the music scene". Van Halen was known for its energetic live shows, and for the work of its acclaimed lead guitarist, Eddie Van Halen. Van Halen was inducted into the Rock and Roll Hall of Fame in 2007.
 
Kevin Reitzel is your host for The Hair Metal Podcast. Kevin invited a few special guests for this Hair Metal tribute to Eddie Van Halen. Kevin's special guests are Kyle Wagner, Murf Murphy, Shane DeFreest and Erin Gill.
Kevin and his guests discuss their immediate reactions to the passing of Eddie Van Halen including the reaction of fellow celebrity musicians, TV and movie entertainers. They continue to discuss their Van Halen fandom, the impact that Eddie Van Halen had on pop culture, and their own fascinating personal stories of seeing Eddie Van Halen in concert. Kevin also reads comments from several Van Halen Fans from around the world. The death of Eddie Van Halen effected music fans everywhere. Please enjoy this special tribute to a guitar god beloved by music fans everywhere.
Hair Metal Podcast Contact Info:
• Kevin Reitzel on Twitter & Instagram: @spartan_phoenix
• Murf Murphy on Twitter: @_Murf
• Shane DeFreest on Instagram:@shanedefreest
• Wyle Wagner on Twitter: @AKyleW / Instagram: @AKyleFandom
• Erin Gill on Instagram: @audreyworm
The FANDOM PODCAST NETWORK is now on YouTube! Join us!
Link: https://www.youtube.com/channel/UCib-kbKfAagsxrWlJU01Rcg
PLEASE SUBCRIBE to our YouTube channel to receive notifications of new podcast episodes and live events. The Hair Metal Audio Podcasts can also be found on the Fandom Podcast Network YouTube Channel.
You can always find The Hair Metal Podcast on the Fandom Podcast Network Master feed at:
• Fandom Podcast Network is on all major podcasts platforms.
• Twitter: @HairMetalCast 
Tee Public Hair Metal / Fandom Podcast Network Store:
Support the Hair Metal Podcast and Fandom Podcast Network and get your own FPNet apparel including Hair Metal! Search Fandom Podcast Network or Hair Metal Podcast on Tee Public. Please visit our Fandom Podcast Network store on Tee Public here: 
https://www.teepublic.com/user/fandompodcastnetwork
Reviews! Apple Podcasts / iTunes:
Please leave us a review on Apple Podcasts / iTunes and other podcast platforms, so new fans can find us easier. We LOVE 5 star reviews. If you like The Hair Metal Podcast, please search Fandom Podcast Network and leave us a rated review!