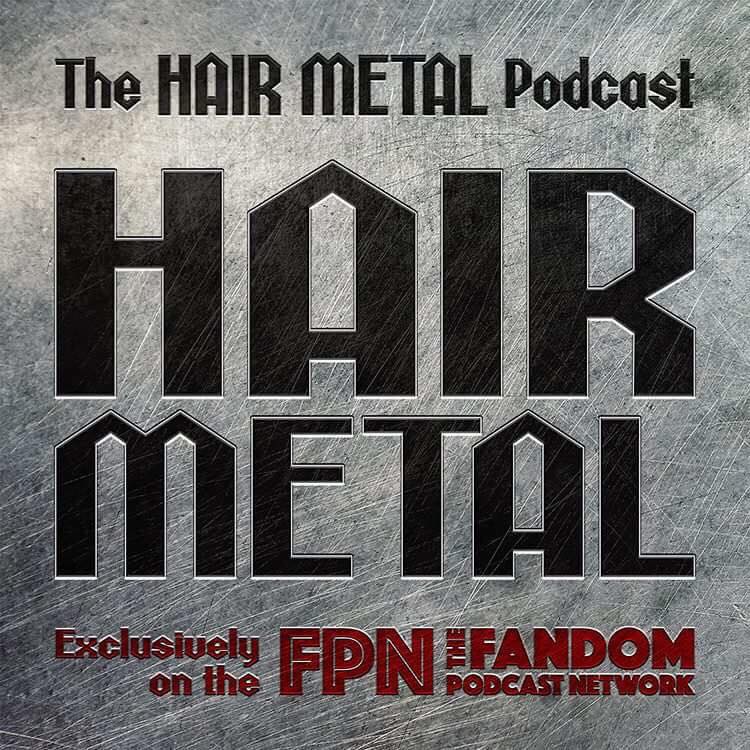 Hair Metal Podcast: Episode 03: WARRANT, L.A. GUNS & J.C.'S TOUR WITH NIKKI SIXX!
Welcome to the Fandom Podcast Network's special presentation of... 
THE HAIR METAL PODCAST! 
The Hair Metal Podcast will cover bands that reached several levels of popularity and notoriety during the mid to late 1980's "HAIR METAL" explosion. We take an in-depth look into the bands that defined the style and sound of Hair Metal, and the many bands that may or may not be categorized as Hair metal, but did reach some popularity during the Hair Metal rush of the 1980's. 
In this episode we discuss L.A. GUNS and WARRANT!
Kevin Reitzel is your host for The Hair Metal Podcast. Kevin welcomes special guest host J.C. REIFENBERG! Not only is J.C. Reifenberg a huge Hair Metal fan, he is also the proprietor of the very popular Los Angeles area SCUM AND VILLAINY Geek Themed bar!
In this episode of the Hair Metal Podcast:
-  J.C. Reifenberg's discusses the origin and details of his Scum & Villainy Geek Themed bar. J.C. also talks about his friendship and collaborations with director Kevin Smith, and Kevin' interest in Scum & Villainy!
Scum And Villainy Cantina Bar Links:
Facebook: https://www.facebook.com/scumandvillainycantina
Web: https://scumandvillainycantina.com/
- J.C. Reifenberg also recounts his Hair Metal Love Connection at a Ratt concert where he met his fiancée.
- A Lesson In Hair Band History: 
"When Metal Ruled The World!" 80's LA Sunset Strip Story. 
Kevin and J.C. discuss this fantastic short documentary that originally aired on VH1. This video brilliantly sums up the 80's excess and history of the Hair Metal era. 
- Next up, we discuss the two highlighted bands for this episode! 
01: Opening Band: L.A. GUNS
02: Headliner Band: WARRANT
We dive deep into the history of each of these bands including the impact they had on fans, the music industry, and where their legacy stands now. We will also discuss our favorite band members, albums, songs and our personal experiences seeing these bands perform live in concert, including a few close personal one on one encounters.
- Then , Kevin asks J.C. about his tour with Nikki Sixx and his band SIXX A.M. 
J.C. looks back on his fantastic time touring with Nikki and SIXX A.M. as their videographer and social media manger. 
- And finally, a Speed Round of J.C.'s  other favorite Hair Metal era bands.
Thank you J.C.!
Kevin would like to give a few extra very special thanks! 
- Thank you David Walsh for getting Ace Von Johnson and Chad Stewart, members of Faster Pussycat to record the awesome intro bumper for the Hair Metal Podcast. 
- Thank you Ace & Chad!
Please enjoy this special episode of the Fandom Podcast Network's, The Hair Metal Podcast! Remember...every rose has its thorn, and on a steel horse... we will ride! HAIR METAL LIVES! Rock on everyone!
Fandom Podcast Network Contact Info / How to contact & find us:
You can always find The Hair Metal Podcast on the Fandom Podcast Network Master feed at:
• FPNet is on the Podbean app
• Fandom Podcast Network is on: iTunes / Stitcher / Podbean / Google Play for Android Users.
• Instagram: FandomPodcastNetwork
• Twitter: @fanpodnetwork
Here is how you can contact us directly:
• Kevin on Twitter & Instagram: @spartan_phoenix
• Guest: J.C. Reifenberg on social media: Twitter: @Reifenberg
Facebook:  J.C. Reifenberg
Tee Public Fandom Podcast Network Store:
Please leave us a review on iTunes so new fans can find us easier. We LOVE 5 star reviews of course, but we love feedback in general! Please search Fandom Podcast Network on iTunes and leave us a review!
Please listen to our other awesome podcasts on the Fandom Podcast Network:
Culture Clash: (Weekly Fandom News Podcast)
DiscoVille: (The Star Trek Discovery and The Orville Podcast)
Blood of Kings: (A Highlander Podcast, covering all things Highlander)
Time Warp: (Classic and Nostalgic Fandom Spotlight Podcast)
Couch Potato Theater: (Cult Classic & Fan Favorite Movies Podcast)
Good Evening: (Alfred Hitchcock Podcast)
fpnet.podbean.com/category/good-evening-an-alfred-hitchcock-podcast/