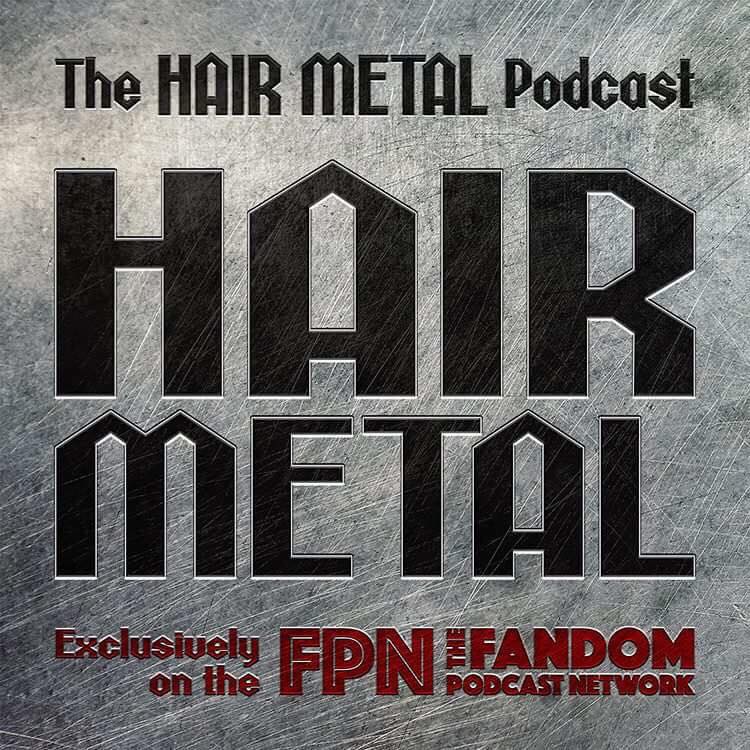 Hair Metal Podcast: Episode 10: 1989 MOSCOW MUSIC PEACE FESTIVAL, 30 years Later!
Welcome to the Fandom Podcast Network's special presentation of... THE HAIR METAL PODCAST! 
The Hair Metal Podcast cover bands that reached several levels of popularity and notoriety during the mid to late 1980's "Hair Metal" explosion. We take an in-depth look into the bands that defined the style and sound of Hair Metal, and many other bands that may or may not be categorized as Hair metal, but did reach some popularity during the Hair Metal rush of the 1980's. 
Kevin Reitzel is your host for The Hair Metal Podcast. Kevin's special returning guest for this Hair Metal Podcast episode is... Johnny K.!
In this episode of the Hair Metal Podcast, Kevin & Johnny give you a special "Lesson In Hair Metal History". Our normal episode segment of a Lesson in Hair Metal History usually covers a history making, famous, memorable or sometimes infamous Hair Metal music event or moment. In this episode we don't disappoint, as we give you a full episode dose of a Lesson in Hair Band History as we discuss... the 1989 MOSCOW MUSIC PEACE FESTIVAL! 
The Moscow Music Peace Festival was a series of performances by famous Hair Metal era rock bands, who performed in the Soviet Union, in the city of Moscow at Lenin Stadium on August 12-13, 1989, as a promotion of peace and a way to establish international cooperation between the USSR and the West.  This was the first time that an audience was allowed to stand and dance at a concert in the Soviet Union. Before this, all concert attendees had to remain seated. The concert was put together by music producer and band manager Doc McGhee and his Make a Difference Foundation.
The bands & artists that performed at this momentous event were:
- Skid Row
- Gorky Park
- Cinderella
- Ozzy Osbourne
- Mötley Crüe
- Scorpions
- Bon Jovi
Kevin & Johnny discuss many topics about the Moscow Music Peace Festival:
- Our first hand experiences watching it for the first time
- Each bands performance and set list
- Behind the scenes drama with band manager Doc McGhee, and the ego issues between several of the bands.
- The differences between the original pay per view special and the limited DVD release and YouTube versions.
- Behind the scenes videos of the bands sight seeing Moscow. 
- And the effect this event and the changes in Russia had on Scorpions lead singer Klaus Meine, who was inspired to write the Scorpions biggest hit, "Wind of Change".
Kevin and Johnny also have their Rock N Roll T-shirt check in, and discuss the recent bands they've seen, or going to see. And Johnny's awesome breakdown of his recent experience seeing Iron Maiden live on their current Greatest's Hits tour!
Kevin would like to thank his very special guest... Johnny K!
Please enjoy this special episode of the Fandom Podcast Network's, The Hair Metal Podcast! 
Remember...every rose has its thorn, and on a steel horse... we will ride! HAIR METAL LIVES! Rock on everyone!
Hair Metal Podcast Contact Info:
• Kevin Reitzel on Twitter & Instagram: @spartan_phoenix
• Johnny K on Social Media: 
Twitter: @ThatJohnnyKGuy 
Facebook: Johnny K. Photography / https://www.facebook.com/JohnnyK.Photos/
You can always find The Hair Metal Podcast on the Fandom Podcast Network Master feed at:
• Email: HairMetalPodcast@gmail.com
• Twitter: @HairMetalCast 
• Fandom Podcast Network is on: Apple Podcasts / Stitcher / Spotify / Google Play for Android Users.
• Instagram: @FandomPodcastNetwork
Tee Public Hair Metal / Fandom Podcast Network Store:
Support the Hair Metal Podcast and Fandom Podcast Network and get your own FPNet apparel! Search Fandom Podcast Network or Hair Metal Podcast on Tee Public. Please visit our Fandom Podcast Network store on Tee Public here: https://www.teepublic.com/user/fandompodcastnetwork 
Please leave us a review on Apple Podcasts so new fans can find us easier. We LOVE 5 star reviews. If you like The Hair Metal Podcast, please search Fandom Podcast Network on iTunes and leave us a review!