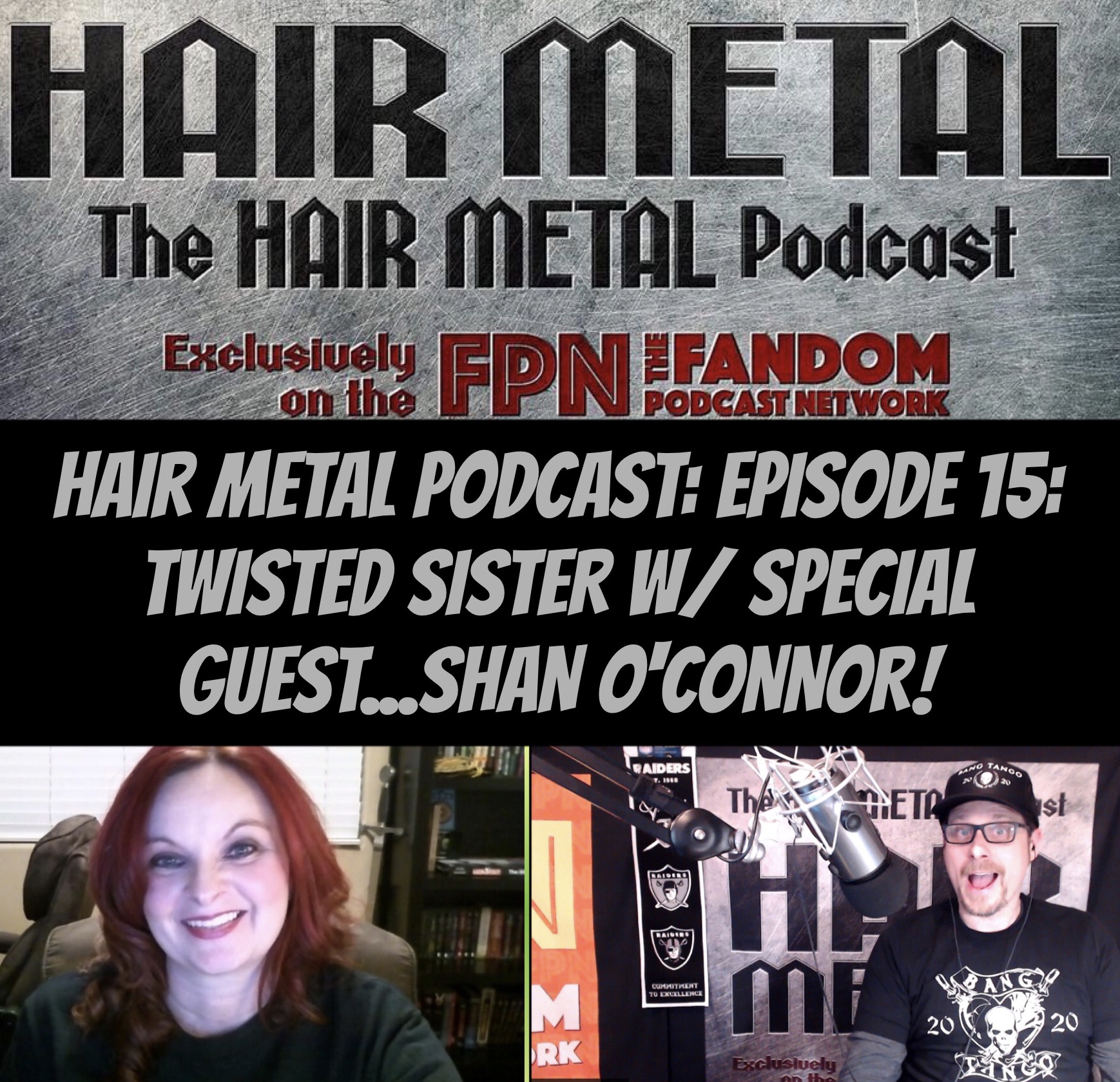 Hair Metal Podcast: Episode 15: TWISTED SISTER w/ Special Guest...SHAN O'CONNOR!
Welcome to the Fandom Podcast Network's special presentation of... THE HAIR METAL PODCAST! 
The Hair Metal Podcast cover bands that reached several levels of popularity and notoriety during the mid to late 1980's "Hair Metal" explosion. We take an in-depth look into the bands that defined the style and sound of Hair Metal, and many other bands that may or may not be categorized as Hair metal, but did reach some popularity during the Hair Metal rush of the 1980's. 
 
Kevin Reitzel is your host for The Hair Metal Podcast. Kevin's special guest for this Hair Metal Podcast episode, is Shan O'Connor! Kevin welcomes Shan back to the Fandom Podcast Network to discuss one of her favorite bands of all time... TWISTED SISTER!
Twisted Sister was originally from New Jersey, and later based in Long Island, New York. Twisted Sister's best-known hits included MTV favorites "We're Not Gonna Take It" and "I Wanna Rock". Although the band is sometimes regarded as glam metal due to its use of makeup, Twisted Sister rocked hard for may years from the 1970's through the 1980's, and through their reunion shows from the late 90's through 2016. Twisted Sister are also ranked No. 73 in VH1's 100 greatest artists of hard rock.
Kevin and Shan discuss the early years of Twisted Sister in the 1970's and their break out years with MTV in the 80's with their most successful album "Stay Hungry". They also discuss the Twisted Sister's fantastic documentary called " We are Twisted F**king Sister" which can currently be seen on Amazon Prime. Kevin also has a Rock N' Roll T-Shirt check with Shan and also asked her about her recent concerts she's been to and what she's looking forward too.
Kevin would like to thank his very special guest... Shan O'Connor!
Please enjoy this special episode of the Fandom Podcast Network's, The Hair Metal Podcast! Remember...every rose has its thorn, and on a steel horse... we will ride! HAIR METAL LIVES! Rock on everyone!
Hair Metal Podcast Contact Info:
• Kevin Reitzel on Social Media: Twitter & Instagram: @spartan_phoenix
• Shan O'Conner on Social Media: Twitter & Instagram: @PhoenixReborn11
You can always find The Hair Metal Podcast on the Fandom Podcast Network Master feed at:
• Fandom Podcast Network is on the Podbean app
• Fandom Podcast Network is on: Apple Podcasts / Stitcher / Spotify / Google Play  / I Heart Radio
• Twitter: @HairMetalCast 
Tee Public Hair Metal / Fandom Podcast Network Store:
Support the Hair Metal Podcast and Fandom Podcast Network and get your own FPNet apparel! Search Fandom Podcast Network or Hair Metal Podcast on Tee Public. Please visit our Fandom Podcast Network store on Tee Public here: https://www.teepublic.com/user/fandompodcastnetwork 
Please leave us a review on Apple Podcasts so new fans can find us easier. We LOVE 5 star reviews. If you like The Hair Metal Podcast, please search Fandom Podcast Network on iTunes and leave us a review!
Please listen to our other awesome podcasts on the Fandom Podcast Network: