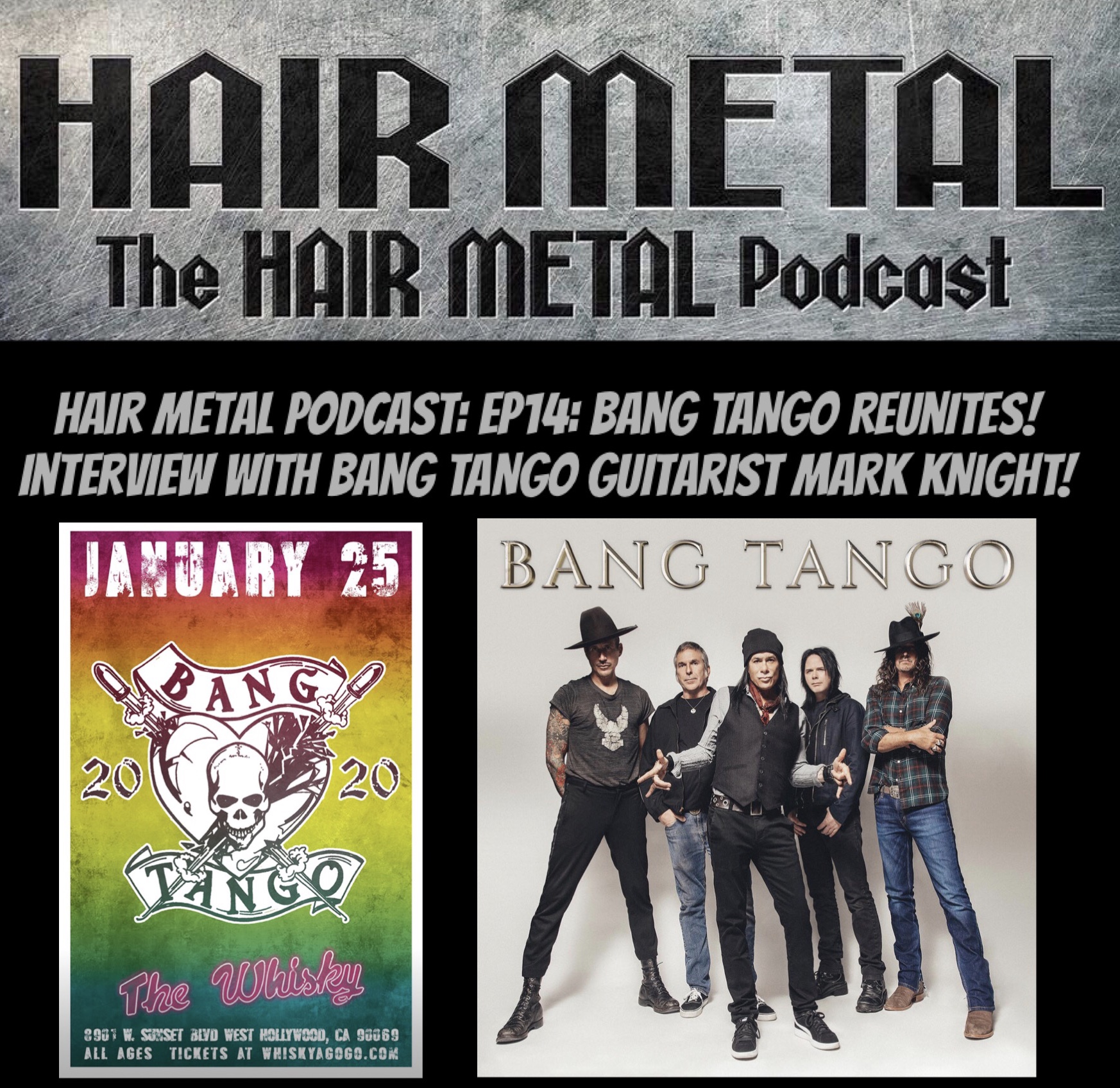 Hair Metal Podcast: Ep14: BANG TANGO Reunites! Interview with BANG TANGO guitarist MARK KNIGHT!
Welcome to the Fandom Podcast Network's special presentation of... THE HAIR METAL PODCAST! 
The Hair Metal Podcast cover bands that reached several levels of popularity and notoriety during the mid to late 1980's "Hair Metal" explosion. We take an in-depth look into the bands that defined the style and sound of Hair Metal, and many other bands that may or may not be categorized as Hair metal, but did reach some popularity during the Hair Metal rush of the 1980's. 
 
Kevin Reitzel is your host for The Hair Metal Podcast. Kevin's special guest for this Hair Metal Podcast episode, is Mark Knight, BANG TANGO Guitarist, and solo artist, as singer and guitarist for his newest band Mark Knight and The Unsung Heroes! 
Bang Tango was one of those bands that were on the edge of approaching super stardom during the Hair Metal scene in the late 80's. Bang Tango was formed in 1988 in Los Angeles by guitarist Mark Knight and bassist Kyle Kyle in 1988. Knight recruited a second guitarist Kyle Stevens. Soon after vocalist Joe Leste joined the band as its front man which led to Leste's childhood friend, Tigg Ketler, completing the 5 piece line up as Bang Tango's drummer. 
After the original members disbanded in the mid 1990's to pursue other musical ventures, die hard Bang Tango fans always wondered if we would see the original lineup reunite. About 25 years later and to the delight of these fans, original guitarist and founding member Mark Knight went to social media to announce a reunion show with all original Bang Tango members. They would play their first show all together at the famous Whiskey A Go Go in West Hollywood on January 25th, 2020.
Your Hair Metal podcast host Kevin attended this show, and Bang Tango did NOT disappoint! They rocked! Kevin is honored to have Mark Knight back on this special episode of the Hair Metal podcast to discuss how the reunion came about. Here are some of the topics they discussed.
- How did the Bang Tango reunion come together.
- The choice to have the reunion show at The Whiskey.
- Leading up to the show how was the band feeling.
- How was the show itself, and Mark's thoughts on the show looking back on it. 
- How the set was chosen. And What other songs almost made the cut.
- What are some of Mark's favorite Bang Tango songs to perform.
- The fan reaction, what has Mark and the rest of the band heard.
- Mark talks about the, gear, amp and guitars he used.
- What's next for Bang Tango.
- What's next for Mark Knight and the Unsung Hero's.
Also on this show, host Kevin interviewed his long friend and fellow Bang Tango fan Bob, and new Bang Tango fan Brian before and after the show.
Kevin would like to thank his very special guest... Mark Knight!
Please enjoy this special episode of the Fandom Podcast Network's, The Hair Metal Podcast! Remember...every rose has its thorn, and on a steel horse... we will ride! HAIR METAL LIVES! Rock on everyone!
Hair Metal Podcast Contact Info:
• Kevin Reitzel on Twitter & Instagram: @spartan_phoenix
• Mark Knight on Social Media: 
Mark Knight on Twitter & Instagram: @MarkKnightMusic
Mark Knight & The Unsung Heroes Website: 
https://www.markknightandtheunsungheroes.com/
Mark Knight & The Unsung Heroes Facebook: 
https://www.facebook.com/MarkKnightMusic/
Mark Knight & The Unsung Heroes on Amazon:
https://www.amazon.com/s?k=Mark+Knight+%26+The+Unsung+Heroes&i=popular&…
You can always find The Hair Metal Podcast on the Fandom Podcast Network Master feed at:
• Fandom Podcast Network is on the Podbean app
• Fandom Podcast Network is on: iTunes / Stitcher / Spotify / Google Play for Android Users.
• Twitter: @HairMetalCast 
Tee Public Hair Metal / Fandom Podcast Network Store:
Support the Hair Metal Podcast and Fandom Podcast Network and get your own FPNet apparel! Search Fandom Podcast Network or Hair Metal Podcast on Tee Public. Please visit our Fandom Podcast Network store on Tee Public here: https://www.teepublic.com/user/fandompodcastnetwork 
Please leave us a review on Apple Podcasts so new fans can find us easier. We LOVE 5 star reviews. If you like The Hair Metal Podcast, please search Fandom Podcast Network on iTunes and leave us a review!
Please listen to our other awesome podcasts on the Fandom Podcast Network: