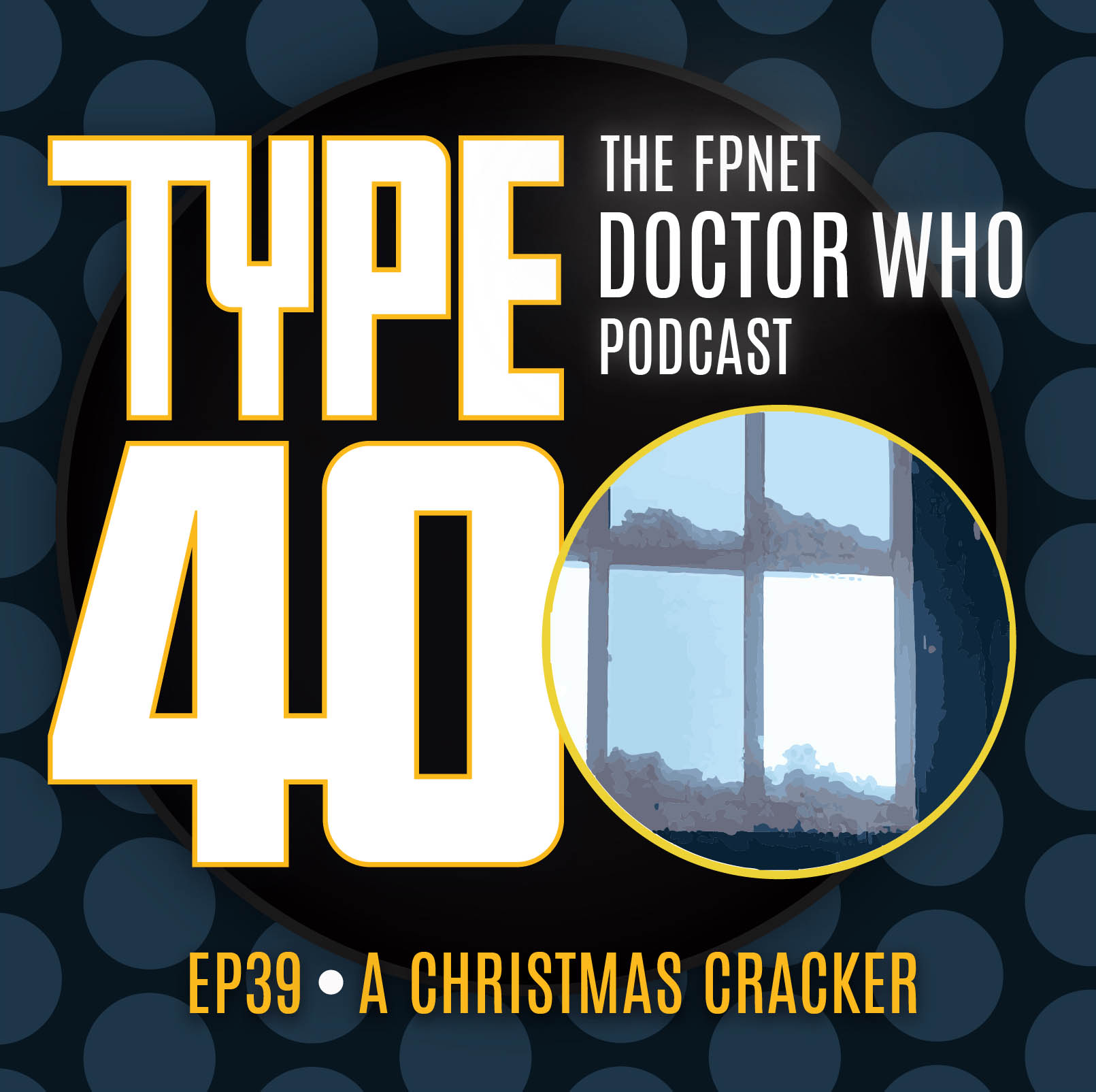 TYPE 40: A Doctor Who Podcast
Episode 39: A Christmas Cracker
Take a seat and get stuck into our festive spread here on Type 40, this time! As regular elf Dan Hadley assembles an assortment of our voices for a Christmas flavoured edition. Discussing the magical worlds of Doctor Who, on and off screen; past and present. Best news of all...? Nobody sings!
Simon Horton's got time to stop in on route to his seasonal job in Santa's toy workshop (making sure all the classic Daleks are painted the right grey) Whilst our Starry Eyed Girl, Sarah Graham descends fairy like to speak of recent non-Sleigh related travels. Who did she meet? Listen in to find out….
Plus, what would Christmas be without a few parlour games, some silly hats, unplanned guests and a chat about the good old days? Our panel share their warmest Yuletide Who-memories from the past, whilst unwrapping the latest trailer for Series 12's opening episode. The Fandom Podcast Network's Doctor Who Cracker here to stream or download, with our compliments of the season!
You can always find TYPE 40: A Doctor Who Podcast on:
• The FPNet Master Feed @Fpnet.podbean.com
• FPNet on Podbean app
• Fandom Podcast Network on: Apple Podcasts, Spotify, Stitcher & Google Play
• Instagram: FandomPodcastNetwork & type40drwho
• Facebook: TYPE 40: A Doctor Who Fandom Podcast:
If you would like to contact us directly you can:
• Email: type40drwho@gmail.com
• Twitter: @type40drwho
• Instagram: @type40drwho
• Sarah Graham on Twitter @StarryEyedGir11
• Simon Horton @The Original Whonatics on Facebook
• Kyle Wagner on Twitter @AKyleW Instantgram @Akylefandom
• Dan Hadley on Twitter and Instagram: @The_spacebook
Find our extra Content in Type Over40 on You Tube:
Subscribe to the channel so you never miss a new addition to our playlist:
https://www.youtube.com/playlist?list=PLVJCF19D0A-5QAv9RMnfsnauSJVZuM894
TeePublic Store:
Help support the Fandom Podcast Network and wear some of their fantastic original designs and logos on t-shirts, mugs, hats and more from Tee Public Go to: https://www.teepublic.com/user/fandompodcastnetwork or just search Fandom Podcast Network to find our storefront.
Apple Podcasts: 
Please search Fandom Podcast Network on Apple Podasts and leave us a review so new fans can find us easier. We LOVE 5 star reviews of course, but we love feedback in general! 
Please listen to our other awesome podcasts on the Fandom Podcast Network:
Master Feed: https://fpnet.podbean.com/
Blood of Kings: A Highlander Podcast
https://fpnet.podbean.com/category/blood-of-kings/
 Culture Clash: The FPN Weekly Pop Culture Podcast
https://fpnet.podbean.com/category/culture-clash/
Couch Potato Theater: The Guilty Pleasure Favorites Podcast
https://fpnet.podbean.com/category/couch-potato-theater/
Time Warp: The Fandom Flashback Podcast
https://fpnet.podbean.com/category/time-warp/
The Endzone: An (Unofficial) NFL Podcast
https://fpnet.podbean.com/category/the-endzone/
Good Evening: An Alfred Hitchcock Podcast
https://fpnet.podbean.com/category/good-evening-an-alfred-hitchcock-podcast/
DiscoVille: A Star Trek Discovery and The Orville Podcast
https://fpnet.podbean.com/category/discoville
Hair Metal: The Hair Metal Podcast