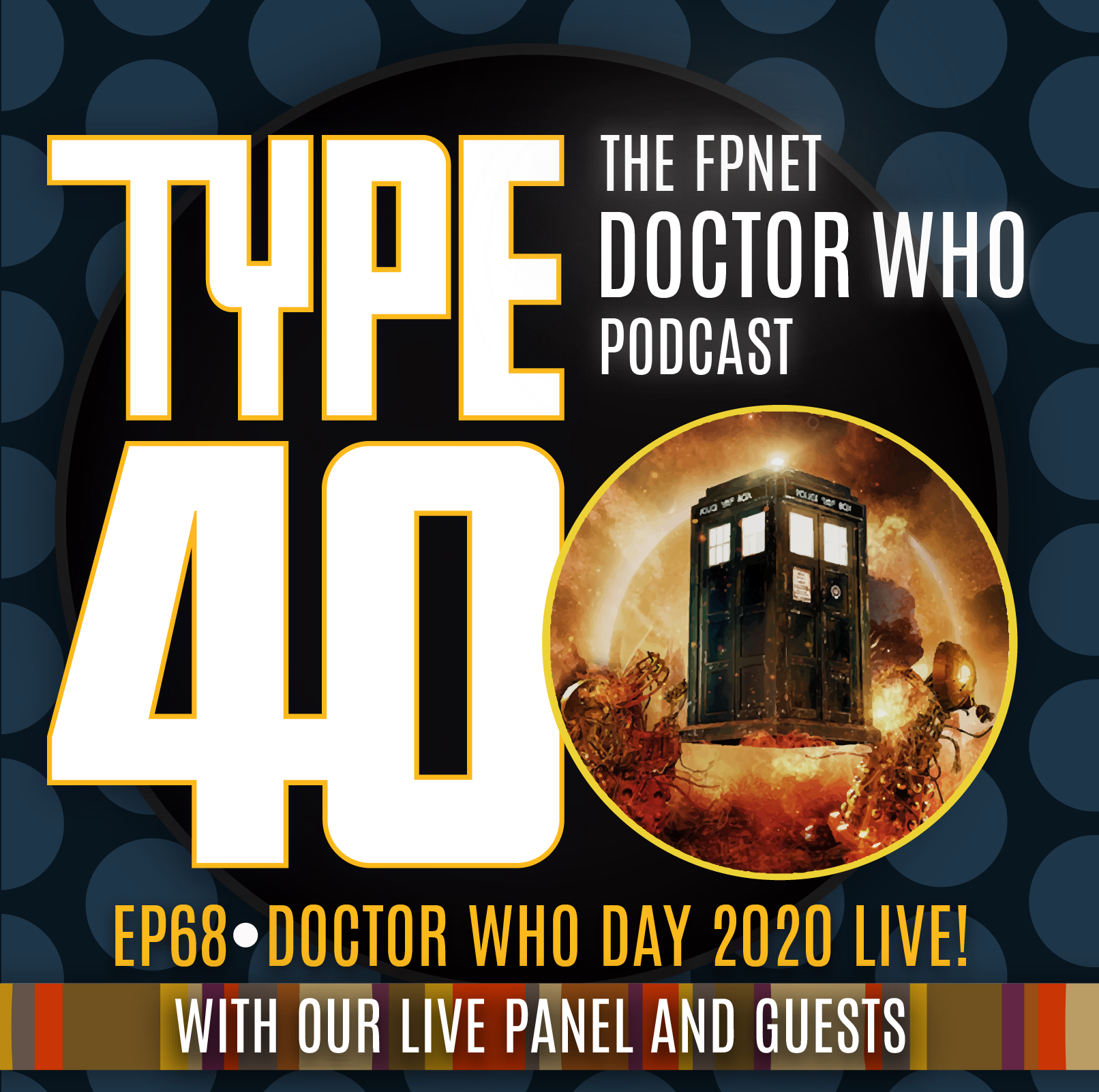 TYPE 40: A Doctor Who Podcast
Episode 68: Doctor Who Day 2020
The Wait is over – the timelines have converged and the bunting's up! For both Doctor Who Day 2020 and the return of Type 40: A Doctor Who Podcast. Before regular episodes resume, here's our special birthday party for the Doctor's 57th anniversary. Recorded a couple of days ago and livestreamed out to followers on YouTube and Facebook. Completing our LIVE trilogy, if you like, as we unveil Season 3...
Once again, we've a full console room here of some familiar voices from various shows this year! Doing what Doctor Who fans do best: geeking out, disagreeing and diving in and out of those time-tangents. We take in some sights, even break exclusive news! And launch our interactive event, across social media platforms to celebrate our "Doctor Who Companions of 2020".
What are we talking about? Only one way to find out: The Fandom Podcast Network's got balloons, fizzy pop, lots of cake and some reasonable tame monsters waiting when you stream or download here….!
You can always find TYPE 40: A Doctor Who Podcast on:
• The FPNet Master Feed @Fpnet.podbean.com
• FPNet on Podbean app
• Fandom Podcast Network on: Apple Podcasts, Spotify, Stitcher & Google Play
• Instagram: FandomPodcastNetwork & type40drwho
• Facebook: TYPE 40: A Doctor Who Fandom Podcast:
If you would like to contact us directly you can:
• Email: type40drwho@gmail.com
• Twitter: @type40drwho
• Sarah Graham on Parler: @StarryEyedGirl
• Simon Horton on Facebook: Doctor Who: The Whonatics
• Dan Hadley on Twitter and Instagram: @The_spacebook
• Ian David Diaz on Twitter @TheMegaGeek
• Tzvi Lebetkin on Twitter @BiblicalC
** The Omega kickstarter can be found here: https://www.kickstarter.com/projects/room5064/omega-a-dark-fairy-tale-from-the-world-of-bbcs-doctor-who along with information on the project and a teaser video for Omega.
Subscribe to The Fandom Podcast Network on YouTube here:
https://www.youtube.com/channel/UCib-kbKfAagsxrWlJU01Rcg
TeePublic Store:
Help support the Fandom Podcast Network and wear some of their fantastic original designs to: https://www.teepublic.com/user/fandompodcastnetwork 
Please listen to our other awesome podcasts on the Fandom Podcast Network:
Master Feed: https://fpnet.podbean.com/