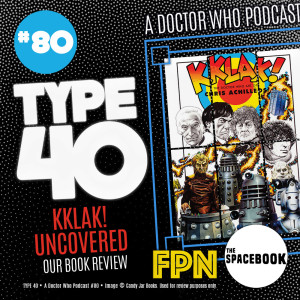 Type 40 A Doctor Who Podcast Episode 80: KKLAK! Uncovered – Our Book Review
For this 80th edition of our Doctor Who podcast for The Fandom Podcast Network we've gone extra dimensional again, ourselves! Bringing you this conversation in both audio form, here on the pod catcher of your choice and as a video. You can see us as well as hear us over on our YouTube channel!
As if that wasn't enough, as a follow up on one of our most popular episodes, this time we've turning our attention and lenses on the Doctor Who book "Kklak! : The Doctor Who Art of Chris Achilléos"
Simon Horton and Dan Hadley peer excitedly between the covers of this long awaited title for an in depth review with the full blessing of both Chris and publishers Candy Jar Books. Going over some of the history of Doctor Who novels and the career of unarguably THE most influential artist to ever capture the likenesses of the Doctor's, their friends and foes.
So stream us or download us; listen or watch or all four! To suit your bandwidth and timestream. You are guaranteed a comprehensive, fun review and a customary Type 40 geek out with no apologies here!
Find Type 40 • A Doctor Who Podcast feed here at:
Listen to Type 40 on:
Apple Podcasts, Spotify, Stitcher, Google Play, iHeart Radio, Tune In and the Podbean App.
Or as part of FPNet Master Feed @Fpnet.podbean.com
If you would like to contact us directly you can:
Email: type40drwho@gmail.com
Twitter: @type40drwho
Instagram: @type40doctorwho
Facebook: Type 40 • A Doctor Who Fan Page
Join the Facebook group Type 40 • A Doctor Who Fan Group:
Dan Hadley on Twitter and Instagram @The_spacebook
Simon Horton on Facebook at Doctor Who: The Whonatics
*Order "Kklak! : The Doctor Who Art of Chris Achilléos" from CandyJar Books direct at this link:
http://www.candy-jar.co.uk/books/klakkthedoctorwhoartofchrisachilleos.html
TeePublic Store:
Help support the Fandom Podcast Network and wear some of their fantastic original designs and logos on t-shirts, mugs, hats and more from Tee Public Go to: https://www.teepublic.com/user/fandompodcastnetwork or just search Fandom Podcast Network to find our storefront.
Please listen to our other awesome podcasts on the Fandom Podcast Network:
Master Feed: https://fpnet.podbean.com/