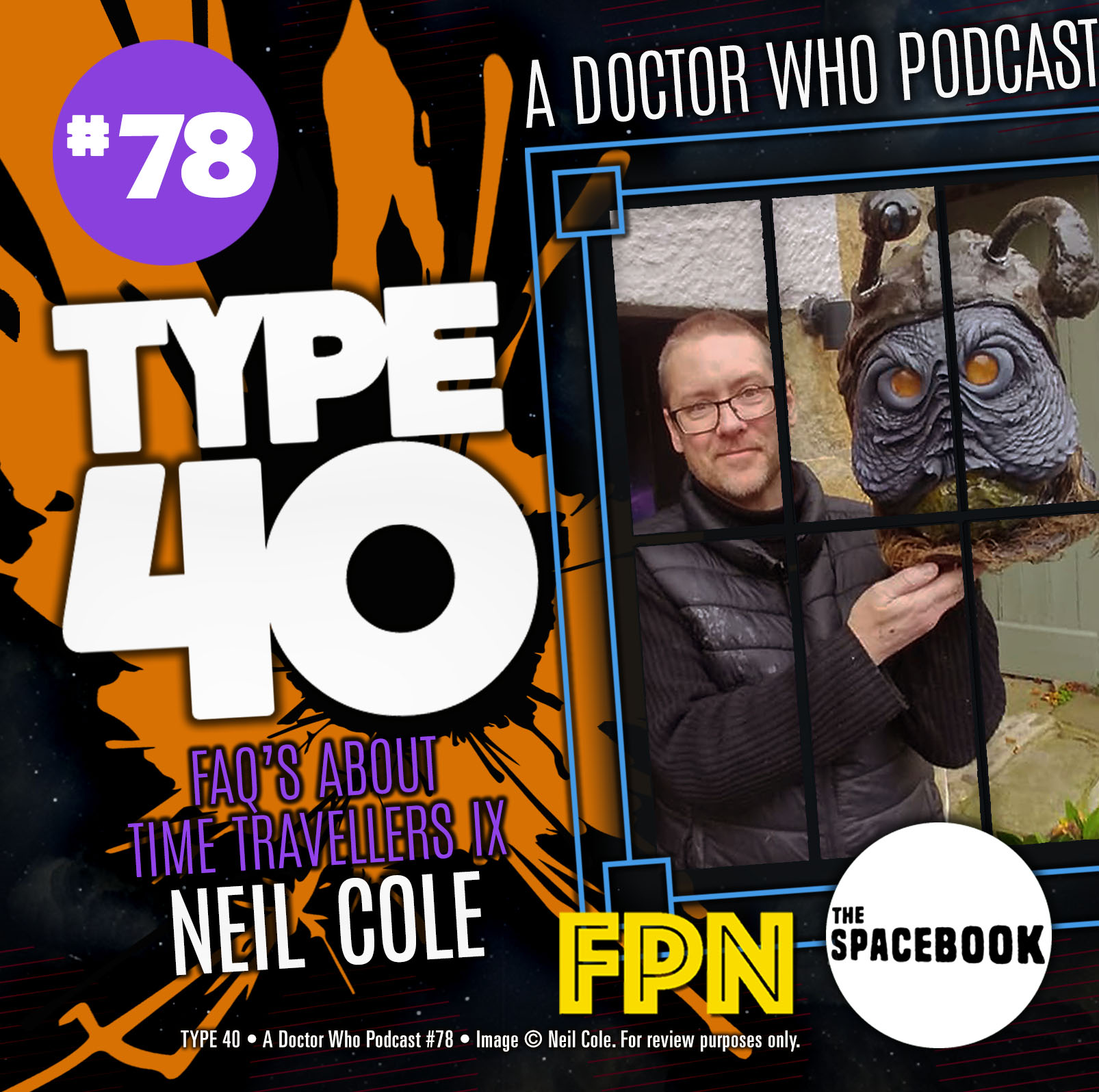 Episode 78: FAQ's About Time Travellers IX Neil Cole
Crack open the casket and unravel those sacred scrolls bearing the Type 40 Frequently Asked Questions, here on our Doctor Who podcast this time! With another intrepid Time Traveller poised to fill in the blanks, their way…
And we're delighted to welcome back the extraordinary Neil Cole to the show! It's been years since he was last on Type 40. In the time in-between, his Museum of Classic Sci-Fi: a unique attraction nestled in the village of Allendale, Northumberland has got masses of attention and some terrific reviews! The next phase of its evolution is here and you can hear all about that as we chart the course of Neil's fandom.
Neil has quite the set of tales to tell, as always and the chance to reunite him with old mate and co-host Simon Horton was irresistible. Dan Hadley's the question master once again as the curator, artist, teacher and MASSIVE Sontaran fan, spills! Stream or download below…
Find Type 40 • A Doctor Who Podcast feed here at:
Listen to Type 40 on:
Apple Podcasts, Spotify, Stitcher, Google Play, iHeart Radio, Tune In and the Podbean App.
Or as part of FPNet Master Feed @Fpnet.podbean.com
If you would like to contact us directly you can:
Email: type40drwho@gmail.com
Twitter: @type40drwho
Instagram: @type40doctorwho
Facebook: Type 40 • A Doctor Who Fan Page
Join the Facebook group Type 40 • A Doctor Who Fan Group:
http://bit.ly/type40_fbgroup
Simon Horton @The Whonatics on Facebook
Dan Hadley on Twitter and Instagram @The_spacebook
* Neil Cole on Twitter @classicscifimu1
** Neil Cole's Museum of Classic Sci-Fi on Facebook:
https://www.facebook.com/neilcoleadventuresinscifimuseum
*** Neil Cole's Museum of Classic Sci-Fi Website:
www.museumofclassicsci-fi.com
**** Support Neil Cole's Museum of Classic Sci-Fi on Patreon:
https://www.patreon.com/themuseumofclassicscifi
TeePublic Store:
Help support the Fandom Podcast Network and wear some of their fantastic original designs and logos on t-shirts, mugs, hats and more from Tee Public Go to: https://www.teepublic.com/user/fandompodcastnetwork or just search Fandom Podcast Network to find our storefront.