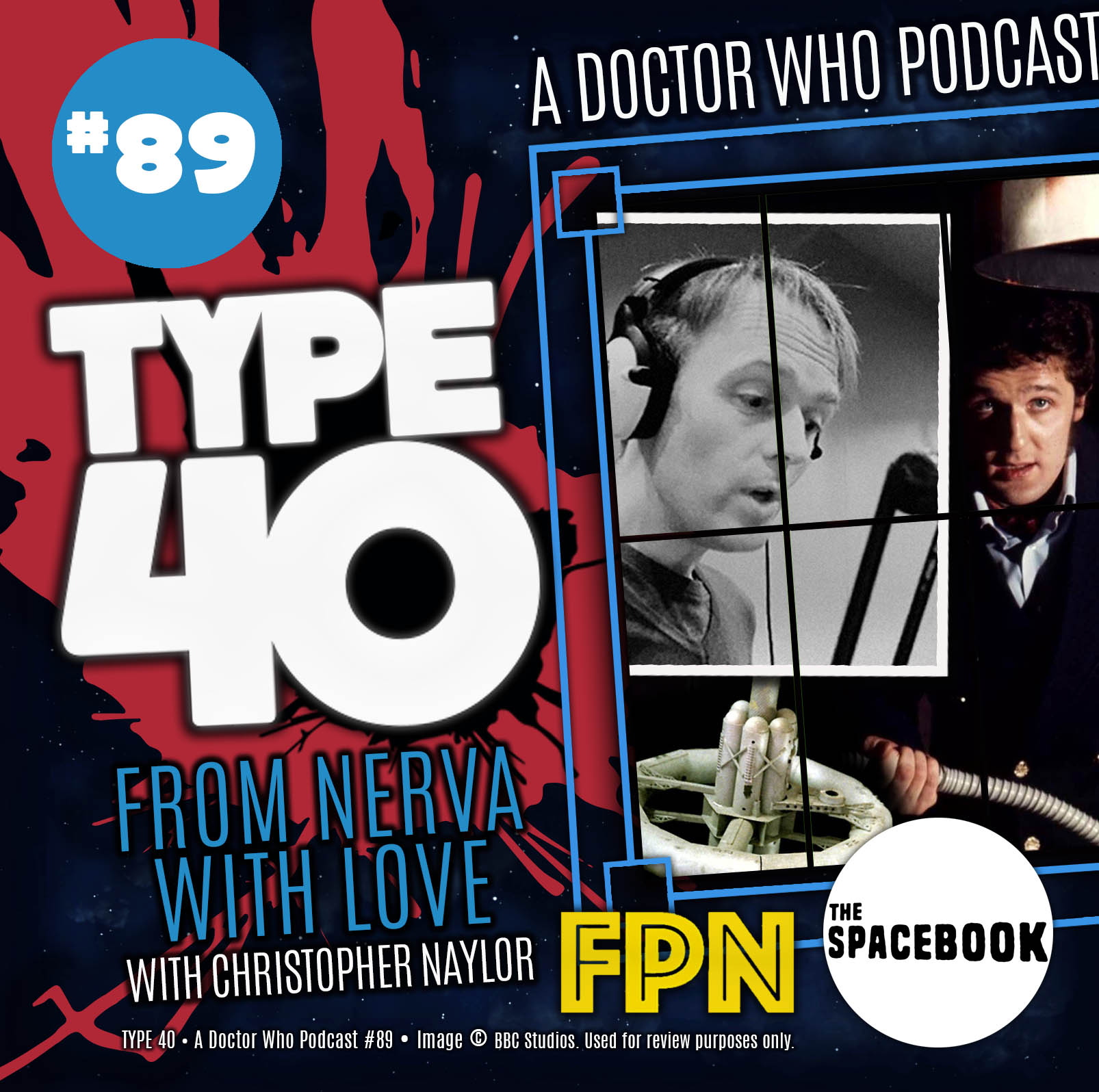 Type 40 A Doctor Who Podcast Episode 89: From Nerva with Love with Christopher Naylor
It's inevitable you'll get into a spot of bother travelling with the Doctor! Any companion will confirm. Regular Type 40 hosts Dan and Sarah hope to pick up a few tips on how to get out of it again, when they meet actor and voice artist Christopher Naylor…
Christopher gamely lets us in on how he set about re-creating the character of the Doctor's Doctor: Harry Sullivan. To star in Return of the Cybermen for Big Finish earlier in the year. A role originated by the late Ian Marter on TV. How did it feel it felt becoming part of a world that meant so much to his own childhood?
Then looking ahead to further adventures and letting us in on his other career as an accomplished artist. We're proud to bring you this personal conversation with such a charming and talented man. Stream or download this new edition of our Doctor Who podcast right here!
Find Type 40 • A Doctor Who Podcast feed here at:
Listen to Type 40 on:
Apple Podcasts, Spotify, Stitcher, Google Play, iHeart Radio, Tune In and the Podbean App.
Or as part of FPNet Master Feed @Fpnet.podbean.com
If you would like to contact us directly you can:
Email: type40drwho@gmail.com
Twitter: @type40drwho
Instagram: @type40doctorwho
Facebook: Type 40 • A Doctor Who Fan Page
Join the Facebook group Type 40 • A Doctor Who Fan Group:
* You can order Doctor Who: The Lost Stories – Return of the Cybermen from Big Finish Productions on either CD or as a digital download here:
https://www.bigfinish.com/releases/v/doctor-who-return-of-the-cybermen-2216
** Christopher Naylor's own Etsy shop full of that beautiful artwork is here:
https://www.etsy.com/uk/shop/ChrisNaylorArt
*** Find Chris Naylor's Art on Facebook too:
https://www.facebook.com/chrisnaylorart/
**** More from Chris Naylor talking about his boyhood love of Doctor Who and showing off those homemade Top Trumps here:
https://hauntedgeneration.co.uk/2020/06/16/felt-trips-doctor-who-top-trumps-by-christopher-naylor/
Dan Hadley on Twitter and Instagram @The_spacebook
*See Sarah Graham on the Script Doctors YouTube channel.
TeePublic Store:
Help support the Fandom Podcast Network and wear some of their fantastic original designs and logos on t-shirts, mugs, hats and more from Tee Public Go to: https://www.teepublic.com/user/fandompodcastnetwork or just search Fandom Podcast Network to find our storefront.
Please listen to our other awesome podcasts on the Fandom Podcast Network:
Master Feed: https://fpnet.podbean.com/