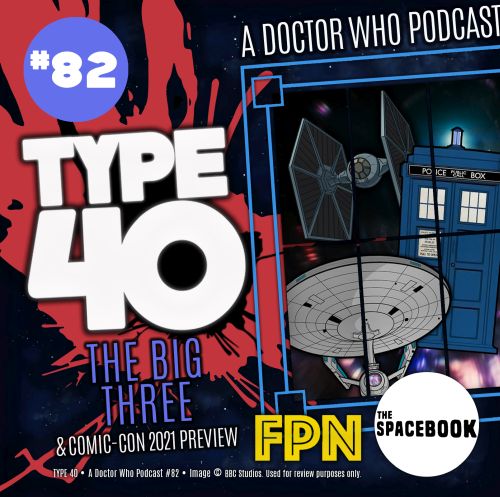 Type 40: A Doctor Who Podcast Episode 82: The Big Three
It's time for Type 40: your Doctor Who podcast from the Spacebook for the Fandom Podcast Network. And on this special third birthday party edition, regular host Dan Hadley puts up the bunting and invites some family round for a catch-up!
Sarah Graham's choosing the music, naturally! But special guests, Kyle Wagner and Kevin R. Reitzel of the Marvel Cinematic Universe Podcast "True Believers" drank all the fruit punch on the journey over! So it's time to open Dan's home brew known only as "the Exterminator!"
Listen in for their look ahead to this month's Doctor Who panel at the Virtual Comic Con 2021 event. Who will be the "special guest"? Plus our panel looks across the pop culture landscape to see how the Time Lord's adventures are faring alongside its rivals during the streaming wars! Join the fun when you stream or download, at this link:
Find Type 40 • A Doctor Who Podcast feed here at:
Listen to Type 40 on:
Apple Podcasts, Spotify, Stitcher, Google Play, iHeart Radio,
Tune In and the Podbean App.
Or as part of FPNet Master Feed @Fpnet.podbean.com
If you would like to contact us directly you can:
Email: type40drwho@gmail.com
Twitter: @type40drwho
Instagram: @type40doctorwho
Facebook: Type 40 • A Doctor Who Fan Page
Join the Facebook group Type 40 • A Doctor Who Fan Group:
• Dan Hadley on Twitter and Instagram @The_spacebook
• Kevin R Reitzel on Twitter: @spartan_phoenix
• Kyle Wagner on Twitter: @AkyleW
• Sarah Graham on The Script Doctors You Tube Channel
TeePublic Store:
Help support the Fandom Podcast Network and wear some of their fantastic original designs and logos on t-shirts, mugs, hats and more from Tee Public Go to: https://www.teepublic.com/user/fandompodcastnetwork or just search Fandom Podcast Network to find our storefront.
Please listen to our other awesome podcasts on the Fandom Podcast Network:
Master Feed: https://fpnet.podbean.com/