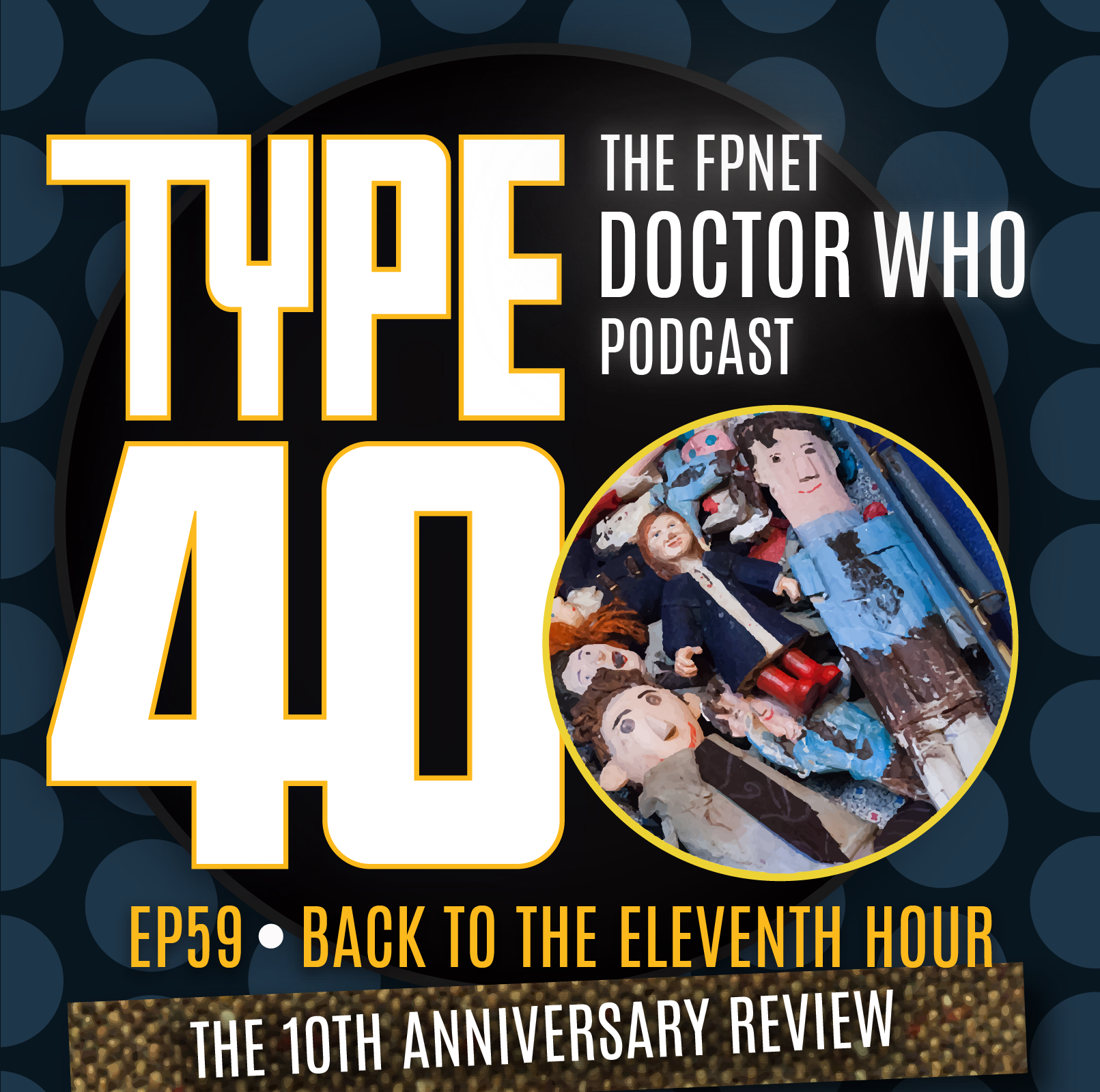 TYPE 40: A Doctor Who Podcast
Episode 59: Back to The Eleventh Hour
When it comes to make or break Doctor Who stories, they haven't come more crucial than Matt Smith's full debut adventure as the Doctor! Now an unbelievable 10 years old, The Eleventh Hour has recently been named as the actors own very best of times…
Type 40 adds to that call back with our own celebration of this landmark Steven Moffat story: this console room is full of voices old and new. Coming together to re-watch, relive and recount standout moments and lines from Series 5's premiere. And to track where some of those storylines seeded there would go!
So the Fandom Podcast Network invites you to hold tight and join Kyle Wagner, YouTube's Tzvi Lebetkin, screenwriter and director Ian David Diaz and regular host Dan Hadley for our hour… and a bit, back in 2010. Stream direct or download as an MP3 here!
You can always find TYPE 40: A Doctor Who Podcast on:
• The FPNet Master Feed @Fpnet.podbean.com
• FPNet on Podbean app
• Fandom Podcast Network on: Apple Podcasts, Spotify, Stitcher & Google Play
• Instagram: FandomPodcastNetwork & type40drwho
• Facebook: TYPE 40: A Doctor Who Fandom Podcast:
If you would like to contact us directly you can:
• Email: type40drwho@gmail.com
• Twitter: @type40drwho
• Kyle Wagner @AKyleW on Twitter
• Ian David Diaz @iandaviddiaz on Twitter
• The Rabbi aka Tzvi Lebetkin @BiblicalComix on Twitter
• Check out Biblical Comix here: http://biblicalcomix.com/
• Dan Hadley on Twitter: @The_spacebook
Find our extra Content in Type Over40 on You Tube:
Subscribe to the channel so you never miss a new addition to our playlist:
https://www.youtube.com/playlist?list=PLVJCF19D0A-5QAv9RMnfsnauSJVZuM894
TeePublic Store:
Help support the Fandom Podcast Network and wear some of their fantastic original designs and logos on t-shirts, mugs, hats and more from Tee Public Go to: https://www.teepublic.com/user/fandompodcastnetwork or just search Fandom Podcast Network to find our storefront.
Apple Podcasts: 
Please search Fandom Podcast Network on Apple Podasts and leave us a review so new fans can find us easier. We LOVE 5 star reviews of course, but we love feedback in general! 
Please listen to our other awesome podcasts on the Fandom Podcast Network:
Master Feed: https://fpnet.podbean.com/