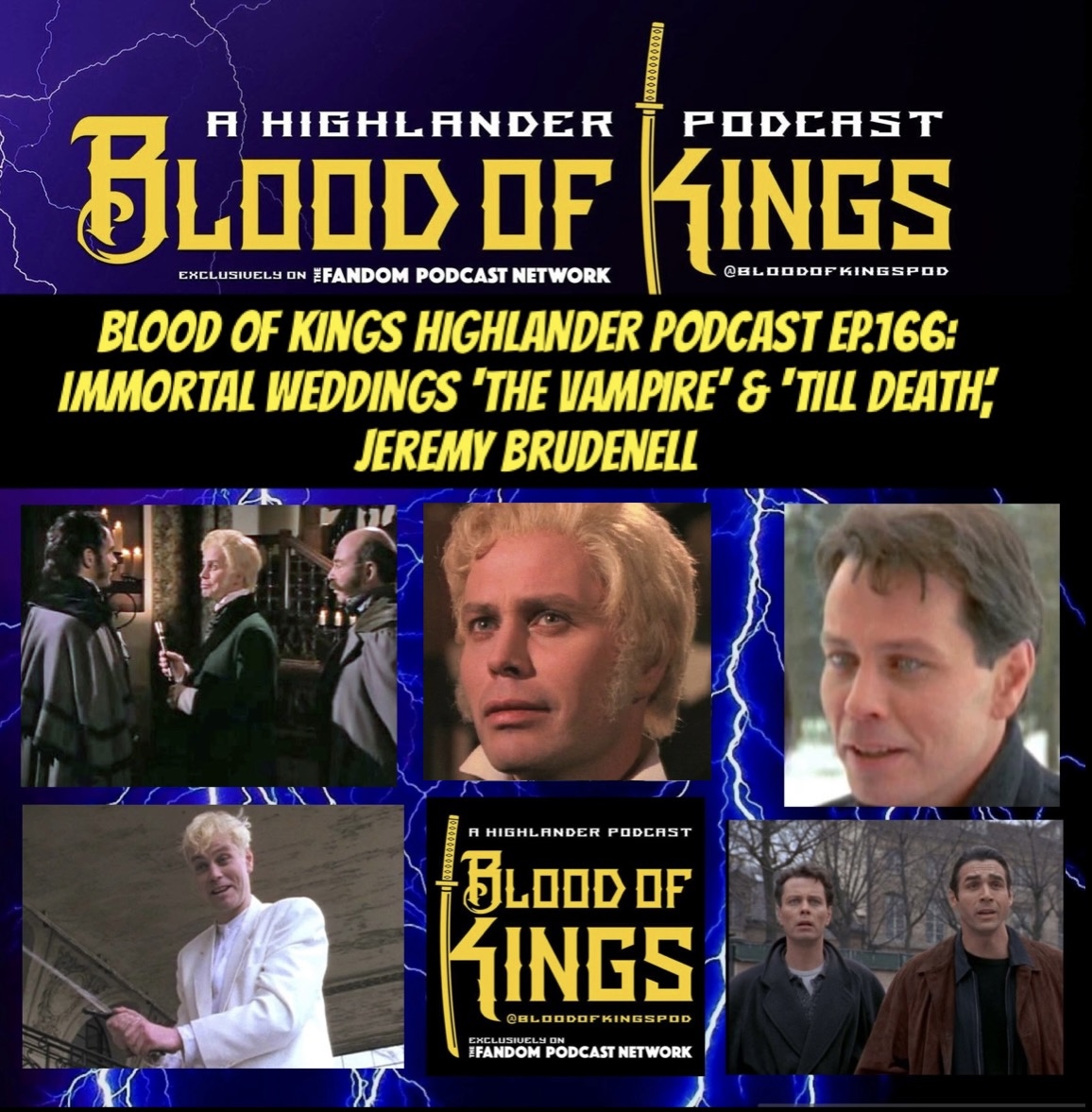 Blood Of Kings HIGHLANDER Podcast EP.166: Immortal Weddings: 'The Vampire' & 'Till Death', Jeremy Brudenell.
Watch the video version of this show on the Fandom Podcast Network YouTube Channel here: https://youtu.be/91dHUqnPttM
Highlander Immortal Weddings & Guest Star Double Take! Your Blood of Kings Highlander Podcast hosts Kevin Reitzel and Lee Fillingsness review the Highlander TV Series, Season 2,  Episode 16 'The Vampire', and Season 4, Episode 20 'Till Death'. The topic of this episode focuses on 'Immortal Weddings', and talented actor Jeremy Brudenell. We are featuring Highlander TV series guest stars that appeared in more than one episode as different characters. Talented actor Jeremy Brudenell plays the immortal villain Nicolas Ward in 'The Vampire', and the likable immortal pirate and baron Robert de Valicourt in 'Till Death'. Blood of Kings co-host Kevin recently got married to his lovely newlywed bride Erin, both of which met...because of Highlander!
Blood of Kings Highlander Podcast Contact Information:
- Twitter: @BloodOfKingsPod / https://twitter.com/BloodOfKingsPod
- Instagram: BloodOfKingsPod / https://www.instagram.com/bloodofkingspod/
- Facebook: Blood of Kings: A Highlander Fandom Group:
https://www.facebook.com/groups/1551389528504825
- Facebook: Blood of Kings: A Highlander CCG Collectible Card Game & Gaming Discussion Group Page:
https://www.facebook.com/groups/273198053027339
Blood of Kings Host & Guest Contact Info:
- Email: BloodOfKingsPodcast@gmail.com
- Kevin Reitzel on Twitter & Instagram: @spartan_phoenix
- Lee Fillingsness on Twitter: @TheWayOfTheWay / Instagram: @the_way_of_the_way
TeePublic / Blood of Kings Store: