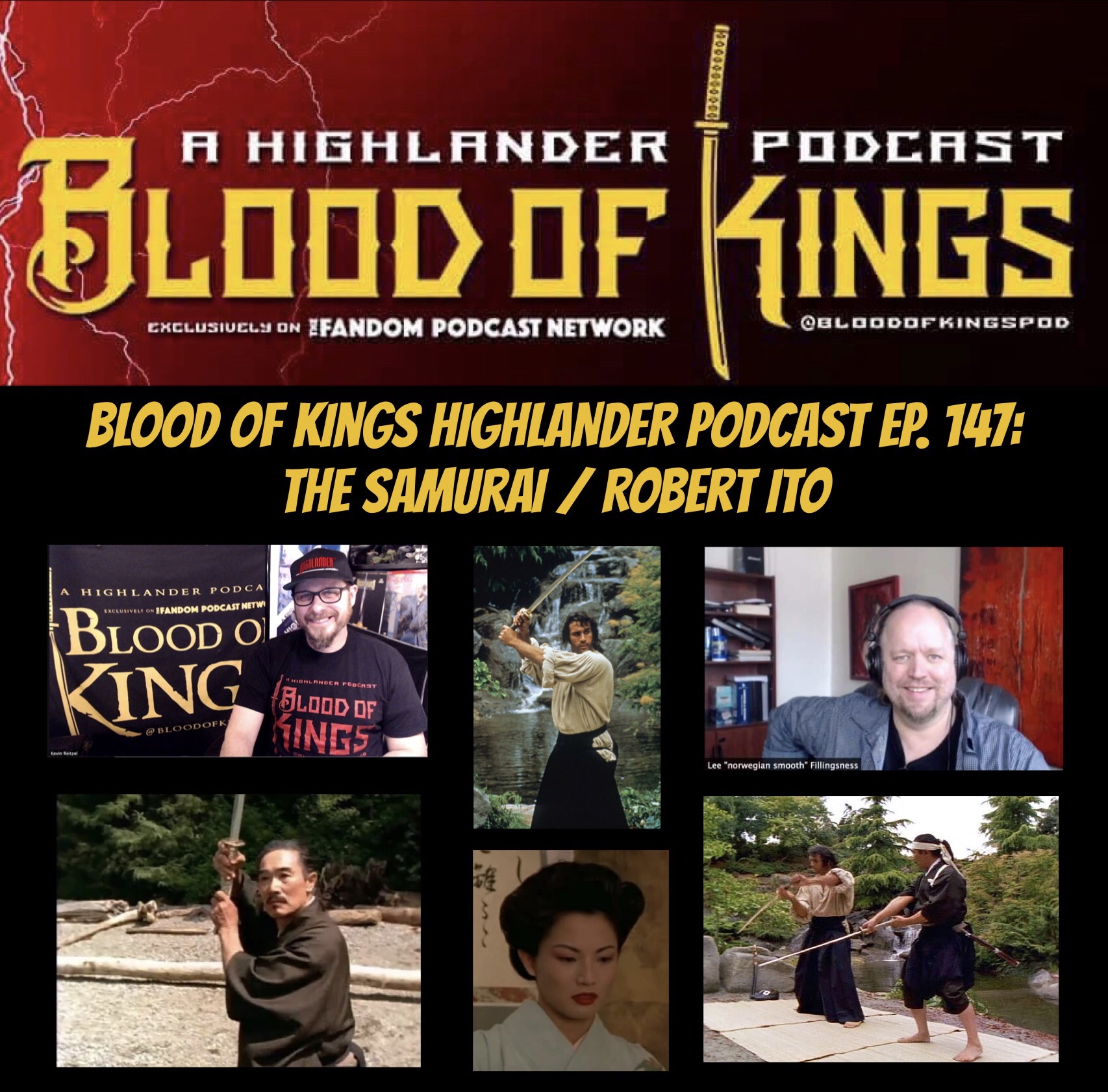 Blood Of Kings HIGHLANDER Podcast EP. 147: The Samurai / Robert Ito
Guest Star Double Take! Your Blood of Kings Highlander Podcast hosts Kevin Reitzel and Lee Fillingsness review the Highlander TV Series, Season 3,  Episode 1 "The Samurai". This episode guest stars Tamlyn Tomita and Robert Ito as Hideo Koto, The Samurai. The topic of this episode focuses on this fan favorite episode and Robert Ito, because we are featuring Highlander TV series guest stars that appeared in more than one episode as different characters. Robert Ito also guest stared in the season 2 episode "Revenge Of The Sword". The Samurai is Robert Ito's second appearances on the Highlander TV series, as a different character. The Highlander episode "Revenge Of The Sword" aired September 2nd 1994.
Episode Plot Synopsis: 
After Midori Koto (Tamlyn Tomita) sees her husband, rich industrialist Michael Kent (Stephen McHattie), murder her lover, she kills Kent and runs to MacLeod for protection. She reminds MacLeod of a vow of protection his "ancestor" made to her family over 200 years before. Flashbacks tell the story of MacLeod coming to the aid of the samurai Hideo Koto after MacLeod is shipwrecked in Japan. Hideo befriends MacLeod - even though the penalty for helping a "barbarian" in isolationist Japan is death. When Hideo is forced to commit seppuku (ritual suicide) by his feudal overlord for that crime, MacLeod serves as his second. He vows to Hideo he will always protect the Koto family and is bequeathed the dragon head katana sword he uses to this day. Back in the present, MacLeod discovers that Kent is an Immortal and he's still alive. In order not to further dishonor her family's name, Midori returns to Kent. Kent challenges MacLeod, who fulfills his vow to the Koto family and frees Midori from her loveless marriage.
- Twitter: @BloodOfKingsPod / https://twitter.com/BloodOfKingsPod
- Instagram: BloodOfKingsPod / https://www.instagram.com/bloodofkingspod/
- Facebook: Blood of Kings: A Highlander Fandom Group:
https://www.facebook.com/groups/1551389528504825
- Facebook: Blood of Kings: A Highlander CCG Collectible Card Game & Gaming Discussion Group Page:
https://www.facebook.com/groups/273198053027339
Blood of Kings Host & Guest Contact Info:
- Email: BloodOfKingsPodcast@gmail.com
- Kevin Reitzel on Twitter & Instagram: @spartan_phoenix
- Lee Fillingsness on Twitter: @TheWayOfTheWay / Instagram: @the_way_of_the_way
TeePublic / Blood of Kings Store: