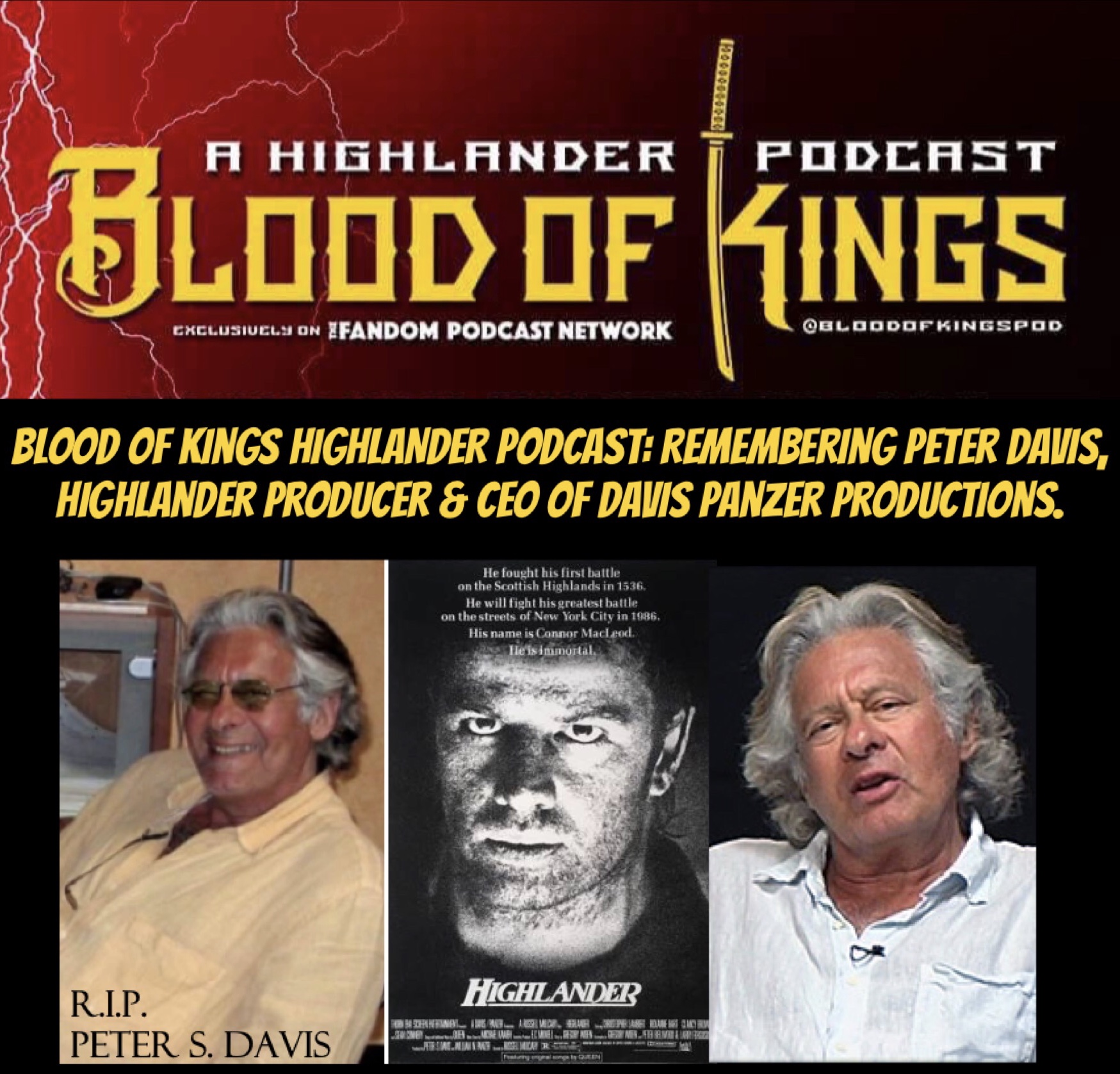 Blood Of Kings HIGHLANDER Podcast: Remembering Peter Davis, Highlander Producer & CEO of Davis Panzer Productions.
The Highlander Universe lost a legend in February 2021, Highlander producer Peter S. Davis passed away at age 79. Peter Davis with producing partner Bill Panzer produced original 1986 film Highlander that made Christopher Lambert a star, and also created a franchise that launched several sequels, television offshoots and video games. Peter Davis produced other features including The Death Collector (1976), starring Joe Pesci in his first credited role; Stunts (1977), starring Robert Forster in an early New Line Cinema film; The Osterman Weekend (1983), director Sam Peckinpah's final feature; and Cutting Class (1989), featuring a young Brad Pitt.
On this special episode of Blood of Kings Highlander Podcast, hosts Kevin Reitzel and Lee Fillingsness discuss the legacy of Peter Davis including his other films, and his contribution to the creation of the Highlander franchise, loved by millions of fans. They also read a special message from Kareem Dimashkie, the Director of New Media Davis/Panzer Productions, of Peter's leadership and mentorship from someone who worked with Peter. RIP Peter, thank you for everything, you will be missed.
- Twitter: @BloodOfKingsPod / https://twitter.com/BloodOfKingsPod
- Instagram: BloodOfKingsPod / https://www.instagram.com/bloodofkingspod/
- Facebook: Blood of Kings: A Highlander Fandom Group:
https://www.facebook.com/groups/1551389528504825
- Facebook: Blood of Kings: A Highlander CCG Collectible Card Game & Gaming Discussion Group Page:
https://www.facebook.com/groups/273198053027339
Blood of Kings Host & Guest Contact Info:
- Email: BloodOfKingsPodcast@gmail.com
- Kevin Reitzel on Twitter & Instagram: @spartan_phoenix
- Lee Fillingsness on Twitter: @TheWayOfTheWay / Instagram: @the_way_of_the_way
TeePublic / Blood of Kings Store: