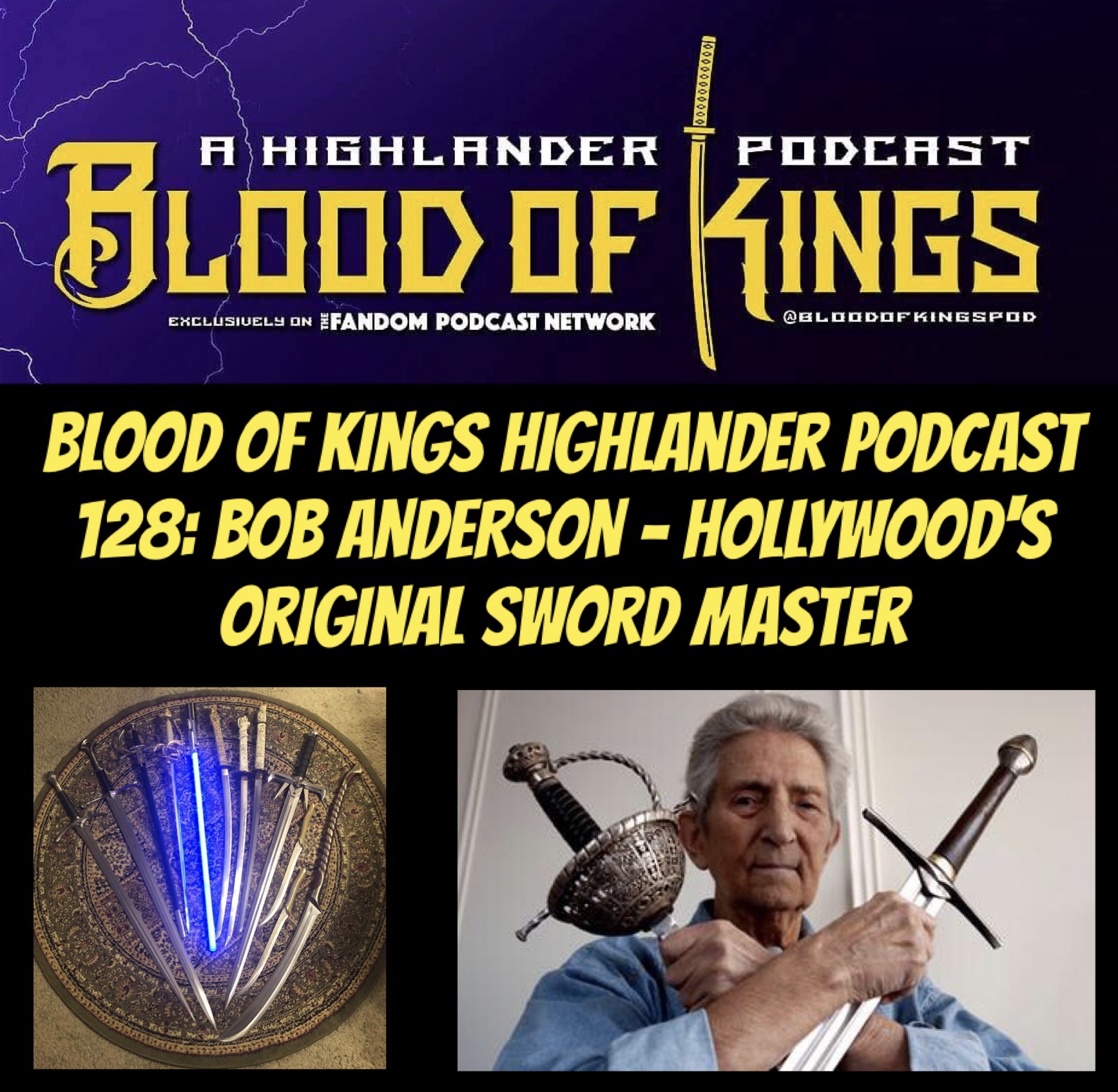 Blood Of Kings Highlander Podcast 128: BOB ANDERSON - Hollywood's Original Sword Master
Welcome Highlander Fans to Episode 128 of Blood of Kings: A Highlander Podcast, here on the Fandom Podcast Network. On this show, we cover everything from the Highlander Universe: Including the movies, the TV series, guest interviews, novels, audio books, comics, special events... and…BOB ANDERSON - Hollywood's Original Sword Master.... and more!
Robert "Bob" James Gilbert Anderson (15 September 1922 – 1 January 2012) was an English Olympic fencer and a renowned film fight choreographer, with a cinema career that spanned more than 50 years and included films such as Highlander, The Princess Bride, The Mask of Zorro, The Lord of the Rings, and Die Another Day. He was regarded as the premier choreographer of Hollywood sword-fighting, and during his career he coached many actors in swordsmanship, including Errol Flynn, Sean Connery, Antonio Banderas, Viggo Mortensen, Adrian Paul, and Johnny Depp. He also appeared as a stunt double for Darth Vader's lightsaber battles in The Empire Strikes Back and Return of the Jedi. 
Your Blood of Kings hosts Kevin and Lee discuss Bob Anderson's legendary career and talk about their favorite Bob Anderson movie and television sword fights. Kevin and Lee also discuss Bob's turn on working on the first two season as the sword master on the Highlander TV show.
Blood of Kings Contact Info:
Kevin Reitzel on Twitter & Instagram: @spartan_phoenix
Lee Fillingsness Social Media Contact Info:
Twitter: @TheWayOfTheWay 
Instagram: @the_way_of_the_way
You can contact us directly here:
Email: BloodOfKingsPodcast@gmail.com
Twitter: @BloodOfKingsPod
Instagram: @BloodOfKingsPodcast
Blood of Kings Highlander Fandom Facebook Group:
https://www.facebook.com/groups/1551389528504825/
You can always find the Blood of Kings Podcast on the Fandom Podcast Network:
• Fandom Podcast Network Master Feed: Fpnet.podbean.com 
• Blood Of Kings Master Feed: https://fpnet.podbean.com/category/blood-of-kings/
• FPNet is on the Podbean app
• Fandom Podcast Network is on: iTunes, Stitcher, Podbean, Google Play, Spotify and I Heart Radio.
• Twitter & Instagram: @BloodOfKingsPod 
• Facebook: Blood of Kings: A Highlander Fandom Group
• Facebook: Blood of Kings: A Highlander CCG (Collectible Card Game) Page
Tee Public Store:
To get your own Blood of Kings T-shirts and other apparel, please visit our Blood of Kings store on Tee Public by searching "Fandom Podcast Network". Link: https://www.teepublic.com/user/fandompodcastnetwork
Apple Podcasts Reviews:
Please leave us a review on Apple Podcasts so new fans can find us easier. Search "FANDOM PODCAST NETWORK" on Apple Podcasts, and leave a review for Blood of Kings. We LOVE 5 star reviews of course, but we love feedback in general!
Please listen to our other awesome podcasts on the Fandom Podcast Network: