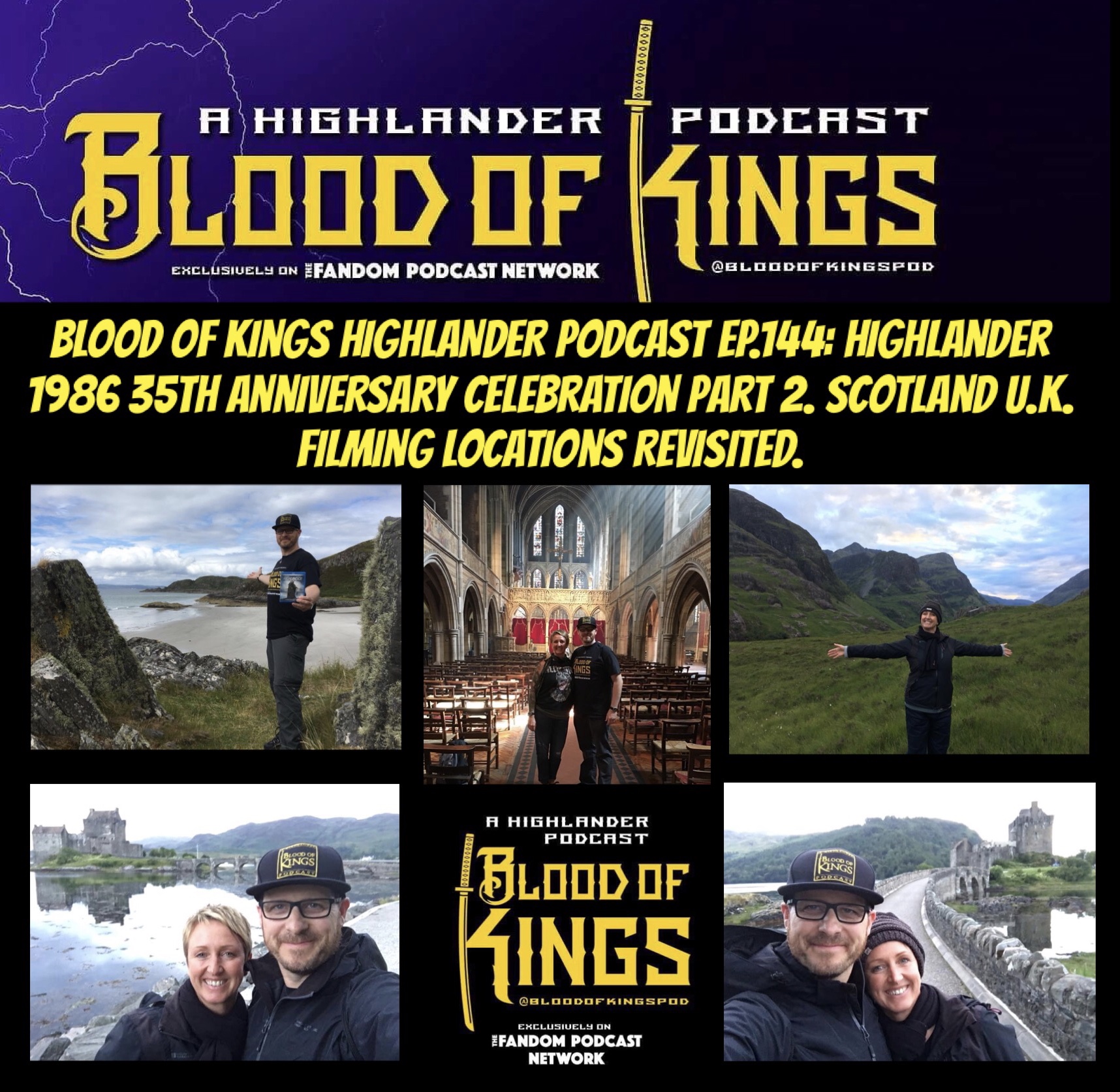 Blood Of Kings HIGHLANDER Podcast EP.144: Highlander 1986 35th Anniversary Celebration Part 2. Scotland U.K. Filming Locations Revisited.
2021 Celebrates the 35th Anniversary of the original 1986 Highlander film. In Part 2, of several episodes, your Blood of Kings Highlander Podcast co-host Kevin Reitzel welcomes back Erin Gill. Kevin & and his fiancée Erin both revisit their first time, separately, visiting a few of the Scotland & London area Highlander filming locations in 2016. After their separate 2016 trips, Erin and Kevin connected afterwards and both met in person, in London shortly after.
Kevin & Erin then traveled together, back to Scotland and London area in 2018, to visit as many Highlander 1986 filming locations they could. Which included the Highlander Beach, the Holy Ground Church and the famous and majestic Eilean Donan Castle which was the Clan Macleod castle in the original 1986 Highlander film. All of the pictures and videos of this 2018 trip can be found on the Blood of Kings Highlander Fandom Facebook Page.
Blood of Kings Highlander Podcast Contact Information:
- FANDOM PODCAST NETWORK YouTube Channel: 
https://www.youtube.com/c/FandomPodcastNetwork
- Blood of Kings Podcast Master Feed: 
- Twitter: @BloodOfKingsPod / https://twitter.com/BloodOfKingsPod
- Instagram: BloodOfKingsPod / https://www.instagram.com/bloodofkingspod/
- Facebook: Blood of Kings: A Highlander Fandom Group:
https://www.facebook.com/groups/1551389528504825
- Facebook: Blood of Kings: A Highlander CCG Collectible Card Game & Gaming Discussion Group Page:
https://www.facebook.com/groups/273198053027339
Blood of Kings Host & Guest Contact Info:
- Email: BloodOfKingsPodcast@gmail.com
- Kevin Reitzel on Twitter & Instagram: @spartan_phoenix
- Lee Fillingsness on Twitter: @TheWayOfTheWay / Instagram: @the_way_of_the_way
- Erin Gill on Instagram: @audreyworm 
TeePublic / Blood of Kings Store: