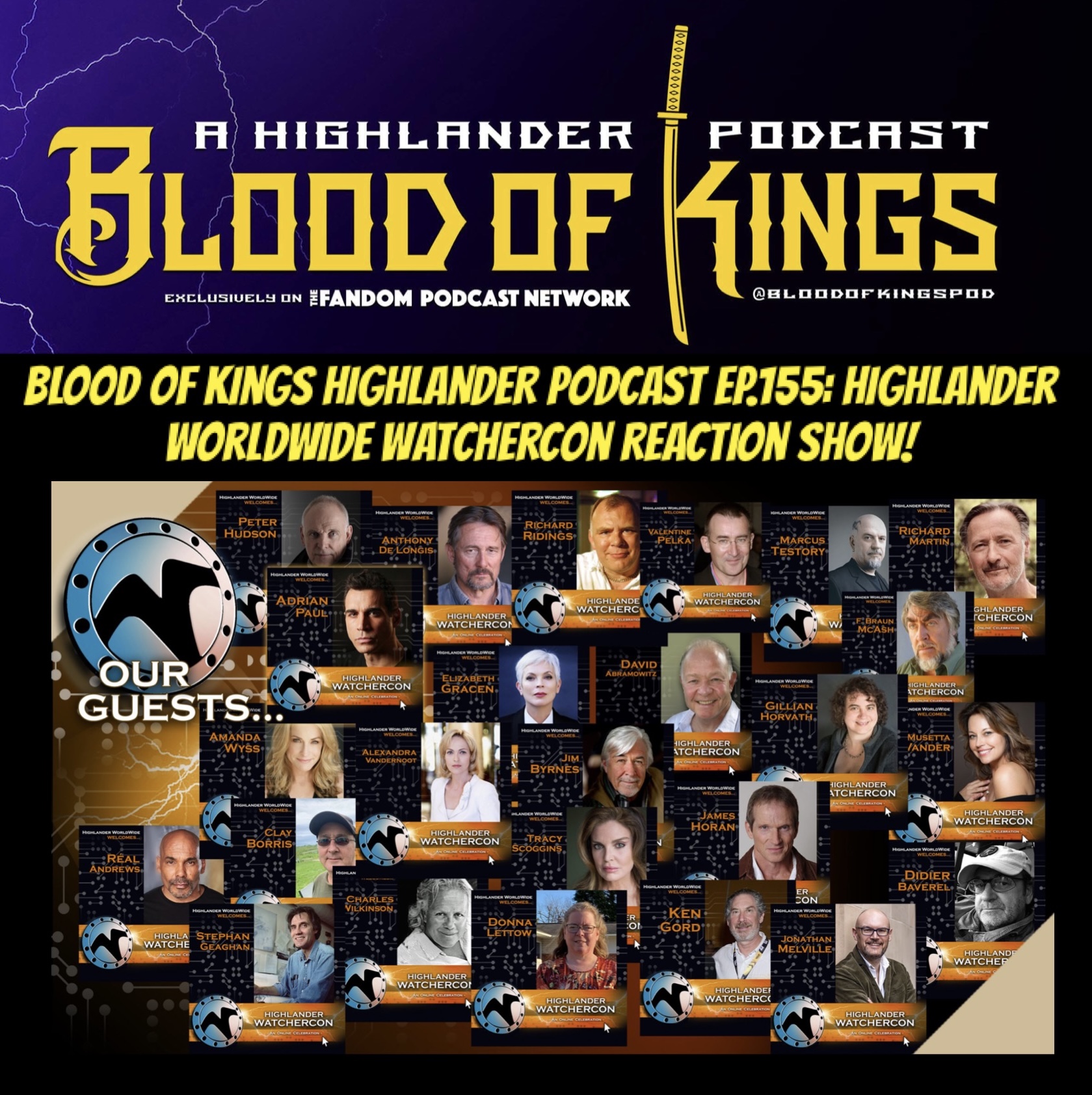 Blood Of Kings HIGHLANDER Podcast EP.155: Highlander WorldWide WatcherCon Reaction Show!
Your Blood of Kings Highlander Podcast hosts Kevin Reitzel and Lee Fillingsness got to participate and host & moderate several panels for the online Highlander WorldWide "WatcherCon" convention!
ran on Saturday 21st – Sunday 22nd August 2021… in your living room! Kevin and Lee minutes after the event ended discussed that weekend events and recounted the special moments that they will never forget!
Over those two days, the online event brought a group of wonderful Highlander talent to, well… watch on your tv/monitor. Some of these faces are familiar fan favorites… some had never attended a HLWW event before. With a mixture of live panels with audience questions, recorded interviews, it was an opportunity to catch up with old friends in the 'lobby' area,  merchandise booths and more, the same team that brought you physical Highlander WorldWide events for over two decades will be literally, virtually unbeatable.
The guest list included Adrian Paul, Elizabeth Gracen, Alexandra Vandernoot, Amanda Wyss, Tracy Scoggins, Peter Hudson, Valentine Pelka, Anthony DeLongis, F. Braun McAsh, Richard Ridings, Marcus Testory, Musetta Vander, Richard Martin, Clay Borris, Ken Gord, James Horan, Stephen Geagan, Charles Wilkenson, Jim Byrnes, Donna Lettow, Gillian Horvath, Didier Baverel, and Johnathan Melville. 
- Twitter: @BloodOfKingsPod / https://twitter.com/BloodOfKingsPod
- Instagram: BloodOfKingsPod / https://www.instagram.com/bloodofkingspod/
- Facebook: Blood of Kings: A Highlander Fandom Group:
https://www.facebook.com/groups/1551389528504825
- Facebook: Blood of Kings: A Highlander CCG Collectible Card Game & Gaming Discussion Group Page:
https://www.facebook.com/groups/273198053027339
Blood of Kings Host & Guest Contact Info:
- Email: BloodOfKingsPodcast@gmail.com
- Kevin Reitzel on Twitter & Instagram: @spartan_phoenix
- Lee Fillingsness on Twitter: @TheWayOfTheWay / Instagram: @the_way_of_the_way
- Kyle Wagner on Twitter: @akylew / Instagram: @akylefandom
TeePublic / Blood of Kings Store: