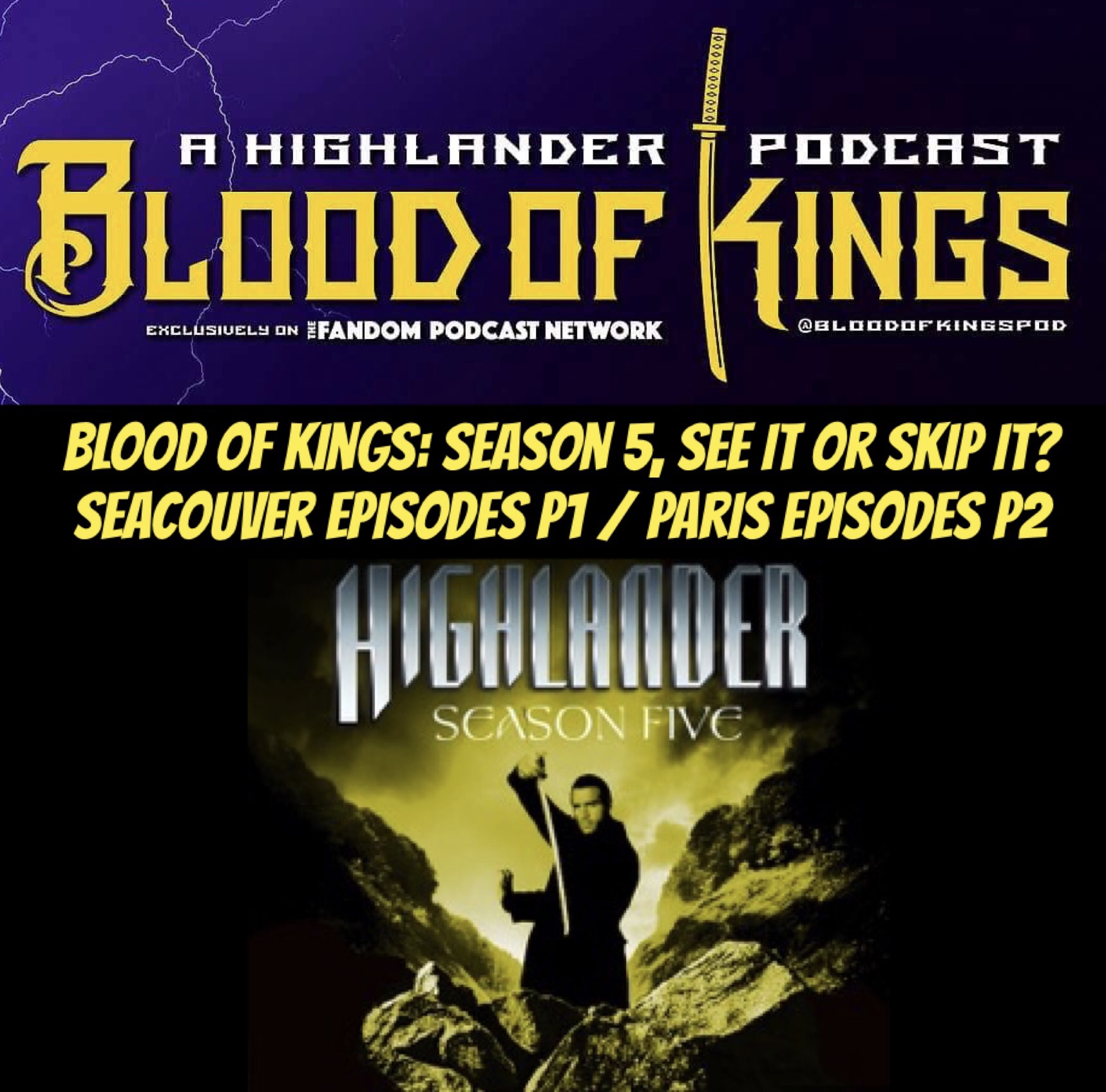 Blood Of Kings 127: Highlander Season 5, SEE IT or SKIP IT? Part 2: PARIS
Highlander Season 5: See It or Skip It? Part 2: The Paris Episodes!
Your Blood of Kings Highlander Podcast hosts Kevin & Lee are very excited to discuss the Highlander Television Series again at length and in detail! Kevin and Lee will look at Highlander SEASON FIVE with fresh eyes and a fresh perspective and weigh-in, per episode, on whether you should SEE IT - OR SKIP IT! 
We always recommend new fans to Highlander to watch all episodes, but for a re-watch, we have our suggestions on what to See, or Skip. This is PART TWO of our review. We cover the PARIS second half of season five, from episodes such as:
-  Revelation 6:8 
-  Duende
-  The Stone of Scone   
-  Forgive Us Our Trespasses 
-  Archangel 
There are several episodes that changed everything in Highlander Season Five, and many more that also added to the wonderful Highlander mythology.
Again, we would like to thank JOHN MOSBY for allowing us to read the Season Five episode summaries from his book FEARFUL SYMMETRY: The Essential Guide to All Things Highlander and you should have this with you as we are evaluating these episodes. You can find FEARFUL SYMMETRY: The Essential Guide to All Things Highlander at Amazon.com. Please support John and this book because it really is the ultimate resource for Highlander fans. You made purchase his book directly from here:
https://www.amazon.com/Fearful-Symmetry-Essential-things-Highlander/dp/1519…
This particular fun podcasting format was inspired by Kevin's friends Bill Smith and Dan Davidson who on their podcast TREKGEEKS, review Star Trek seasons in this very same manner and advise to their listeners regarding which episodes are worth their viewing time and those that can be set aside.
We would LOVE to hear from all of you out there in the Blood of Kings listening audience to see if you agree or disagree with our list on this episode so please make sure to get in touch with us!
Blood of Kings Contact Info:
Kevin Reitzel on Twitter & Instagram: @spartan_phoenix
Lee Fillingsness Social Media Contact Info:
Twitter: @TheWayOfTheWay 
Instagram: @the_way_of_the_way
You can contact us directly here:
Email: BloodOfKingsPodcast@gmail.com
Twitter: @BloodOfKingsPod
Instagram: @BloodOfKingsPodcast
Blood of Kings Highlander Fandom Facebook Group:
https://www.facebook.com/groups/1551389528504825/
You can always find the Blood of Kings Podcast on the Fandom Podcast Network:
• Fandom Podcast Network Master Feed: Fpnet.podbean.com 
• Blood Of Kings Master Feed: https://fpnet.podbean.com/category/blood-of-kings/
• FPNet is on the Podbean app
• Fandom Podcast Network is on: iTunes, Stitcher, Podbean, Google Play, Spotify and I Heart Radio.
• Twitter & Instagram: @BloodOfKingsPod 
• Facebook: Blood of Kings: A Highlander Fandom Group
• Facebook: Blood of Kings: A Highlander CCG (Collectible Card Game) Page
Tee Public Store:
To get your own Blood of Kings T-shirts and other apparel, please visit our Blood of Kings store on Tee Public by searching "Fandom Podcast Network". Link: https://www.teepublic.com/user/fandompodcastnetwork
Apple Podcasts Reviews:
Please leave us a review on Apple Podcasts so new fans can find us easier. Search "FANDOM PODCAST NETWORK" on Apple Podcasts, and leave a review for Blood of Kings. We LOVE 5 star reviews of course, but we love feedback in general!
Please listen to our other awesome podcasts on the Fandom Podcast Network: