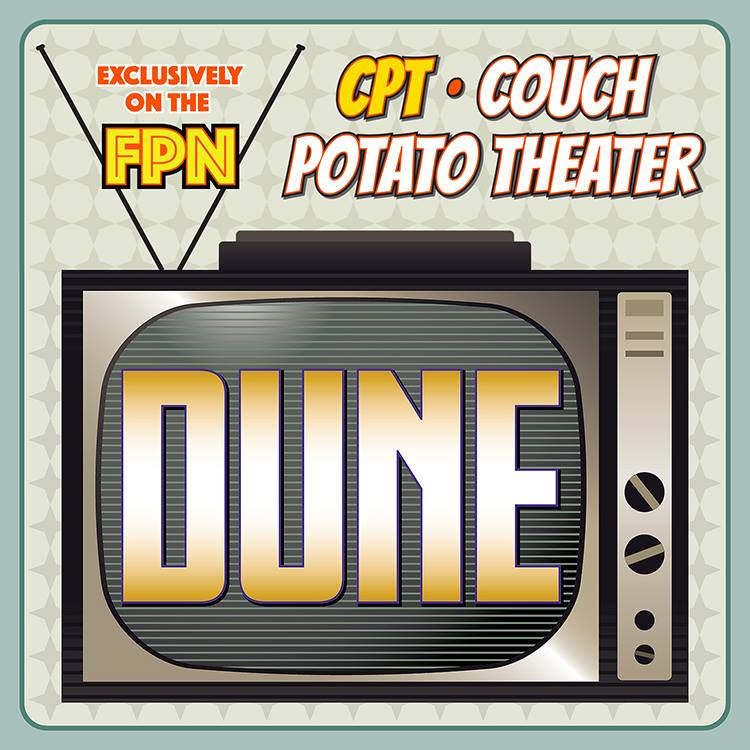 The Fandom Podcast Network's Couch Potato Theater Proudly Presents:
The Spicing Guild: Dune Retrospective Part One: David Lynch's Dune 1984
Welcome to the latest edition of Couch Potato Theater, a celebration of Frank Herbert's amazing Dune universe. Adam O' Brien and Kyle Wagner begin their journey through the universe of Dune starting with David Lynch's 1984 movie adaptation.  In this look back we will see what went right and what went wrong with this film and where it falls in the history of this franchise and even with the new version being worked on now is it possible to do a quality movie translation of Dune.
We will be looking primarily with the adaptations of Frank's work. We are interested in why these have never been truly successful films, but have become cult films by themselves. We will be covering the cast, directors, the people behind the scenes, and what led up to the film's and miniseries. We will look at why Dune works better as a book than a film, with its plots within plots. It's not a linear tale, like films portray. 
Also joining Adam at the end of the episode is Din from F-105 and an engaging conversation about the original source material of Dune
Fandom Podcast Network Contact Info / How to contact & find us:
- FPNet on Podbean app
- Fandom Podcast Network on: iTunes / Stitcher / Podbean / Google Play
- Facebook: Fandom Podcast Network
- Instagram: FandomPodcastNetwork
- Twitter: @fanpodnetwork
- Adam on Instagram & Twitter: @obpopculture 
- Kyle on Twitter: @akylew
- Din on Twitter @f105music Tee Public:
iTunes: Please leave us a review on iTunes so new fans can find us easier. We LOVE 5 star reviews of course, but we love feedback in general!
Please listen to our other awesome podcasts on the Fandom Podcast Network:
Blood of Kings: A Highlander Podcast
Culture Clash: The FPN Weekly Pop Culture Podcast
Couch Potato Theater: The Guilty Pleasure Favorites Podcast
Time Warp: The Fandom Flashback Podcast
The Endzone: An (Unofficial) NFL Podcast
Good Evening: An Alfred Hitchcock Podcast
DiscoVille: A Star Trek Discovery and The Orville Podcast
Hair Metal: The Hair Metal Podcast