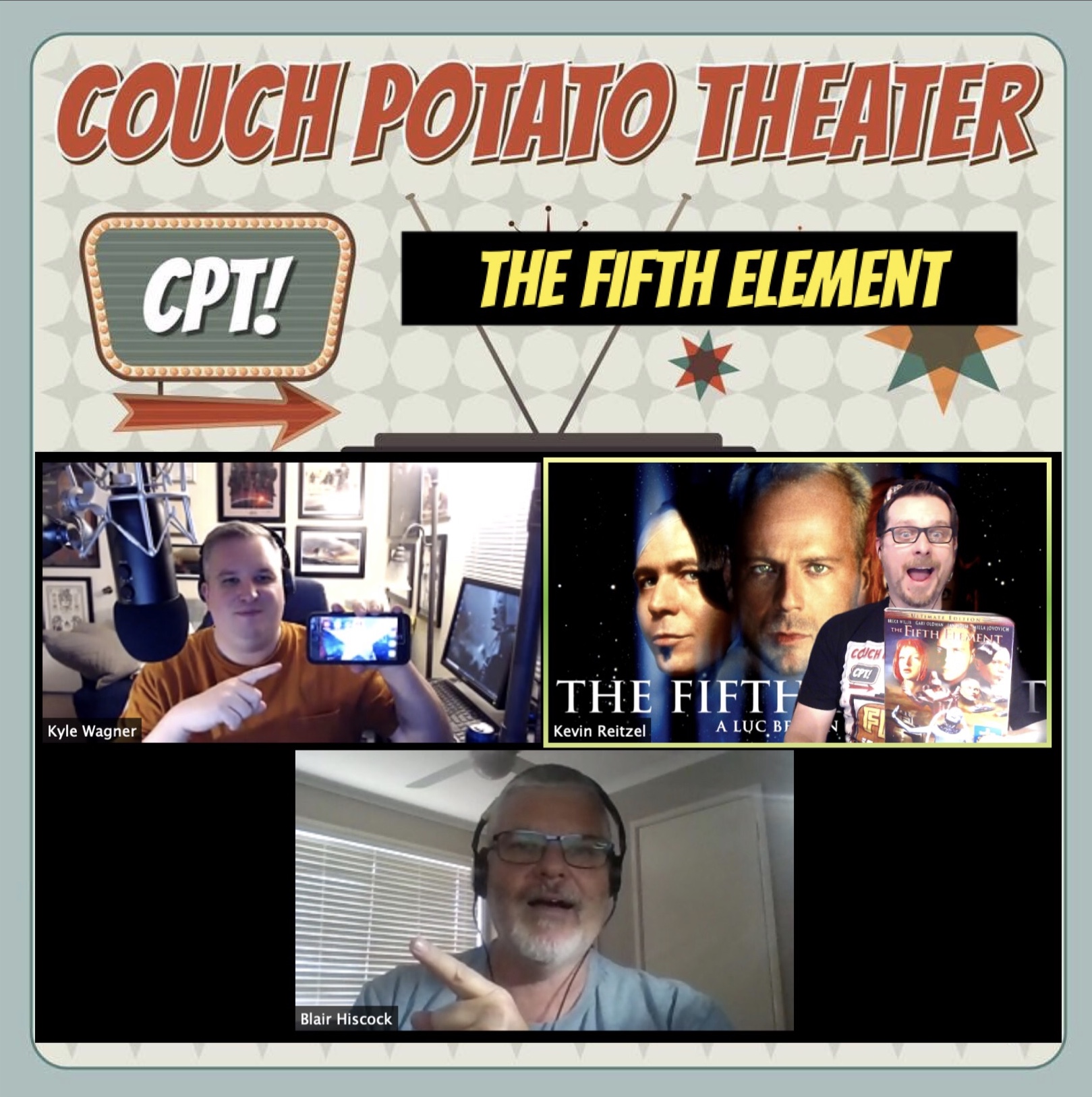 Couch Potato Theater: THE FIFTH ELEMENT (1997) Retrospective!
Welcome to another Fantastic episode of Couch Potato Theater here on the Fandom Podcast Network. Couch Potato Theater is the podcast on the Fandom Podcast Network dedicated to covering all those hidden gems, cult classics and guilty pleasures that are just so good, even though you might have the Criterion Collection or Deluxe Blu-ray set in your library just mere inches away from your entertainment center, you love what you are watching so much, you don't even care about getting off the couch. And that my friends is the definition of what our Show is all about. 
Join us for this very special edition of Couch Potato Theater as we look back on the 1997 Sci-fi action classic "THE FIFTH ELEMENT". The Fifth Element is a 1997 English-language French science fiction action film directed and co-written by Luc Besson. It stars Bruce Willis, Gary Oldman and Milla Jovovich. 
The Fifth Element Plot Synopsis:
In the twenty-third century, the universe is threatened by evil. The only hope for mankind is the Fifth Element, who comes to Earth every five thousand years to protect the humans with four stones of the four elements: fire, water, Earth and air. A Mondoshawan spacecraft is bringing The Fifth Element back to Earth but it is destroyed by the evil Mangalores. However, a team of scientists use the DNA of the remains of the Fifth Element to rebuild the perfect being called Leeloo. She escapes from the laboratory and stumbles upon the taxi driver and former elite commando Major Korben Dallas that helps her to escape from the police. Leeloo tells him that she must meet Father Vito Cornelius to accomplish her mission. Meanwhile, the Evil uses the greedy and cruel Jean-Baptiste Emanuel Zorg and a team of mercenary Mangalores to retrieve the stones and avoid the protection of Leeloo. But the skilled Korben Dallas has fallen in love with Leeloo and decides to help her to retrieve the stones.
Join Kevin, Kyle and Blair as they take a look back at this classic 90's film and see how it has remained a true classic to this day, and a film that represents everything that Couch Potato Theater is all about.
Fandom Podcast Network Contact Info / How to contact & find us:
- FPNet on Podbean app
- Fandom Podcast Network on: iTunes / I Heart Radio / Stitcher / Podbean / Google Play / Spotify
- Facebook: Fandom Podcast Network
- Email: fandompodcastnetwork@gmail.com
- Instagram: FandomPodcastNetwork 
- Twitter: @fanpodnetwork
- Kevin on Twitter & Instagram: @spartan_phoenix
- Kyle on Twitter: @AKyleW / Instagram: Akylefandom
- Blair on Instagram: @blair_pops_culture
Please help support the Fandom Podcast Network through reviews on Apple Podcasts and our Fandom Podcast Network Store on Tee Public. 
Apple Podcasts:
Please leave us a review on Apple Podcasts so new fans can find us easier. Search FANDOM PODCAST NETWORK on Apple Podcasts, and leave a review for Time Warp. We LOVE 5 star reviews of course, but we love feedback in general!
Fandom Podcast Network Tee Public Store:
Get Your Fandom Podcast Network and Time Warp Merchandise on Tee Public! Please visit our TeePublic store where you can help support the Fandom Podcast Network while wearing your Time Warp and other awesome Fandom Podcast Network favorite show logos with pride!
Tee Public Store: https://www.teepublic.com/user/fandompodcastnetwork 
Please listen to our other awesome podcasts on the Fandom Podcast Network:
What A Piece Of Junk: A Star Wars Podcast
https://fpnet.podbean.com/category/what-a-piece-of-junk-a-star-wars-podcast…