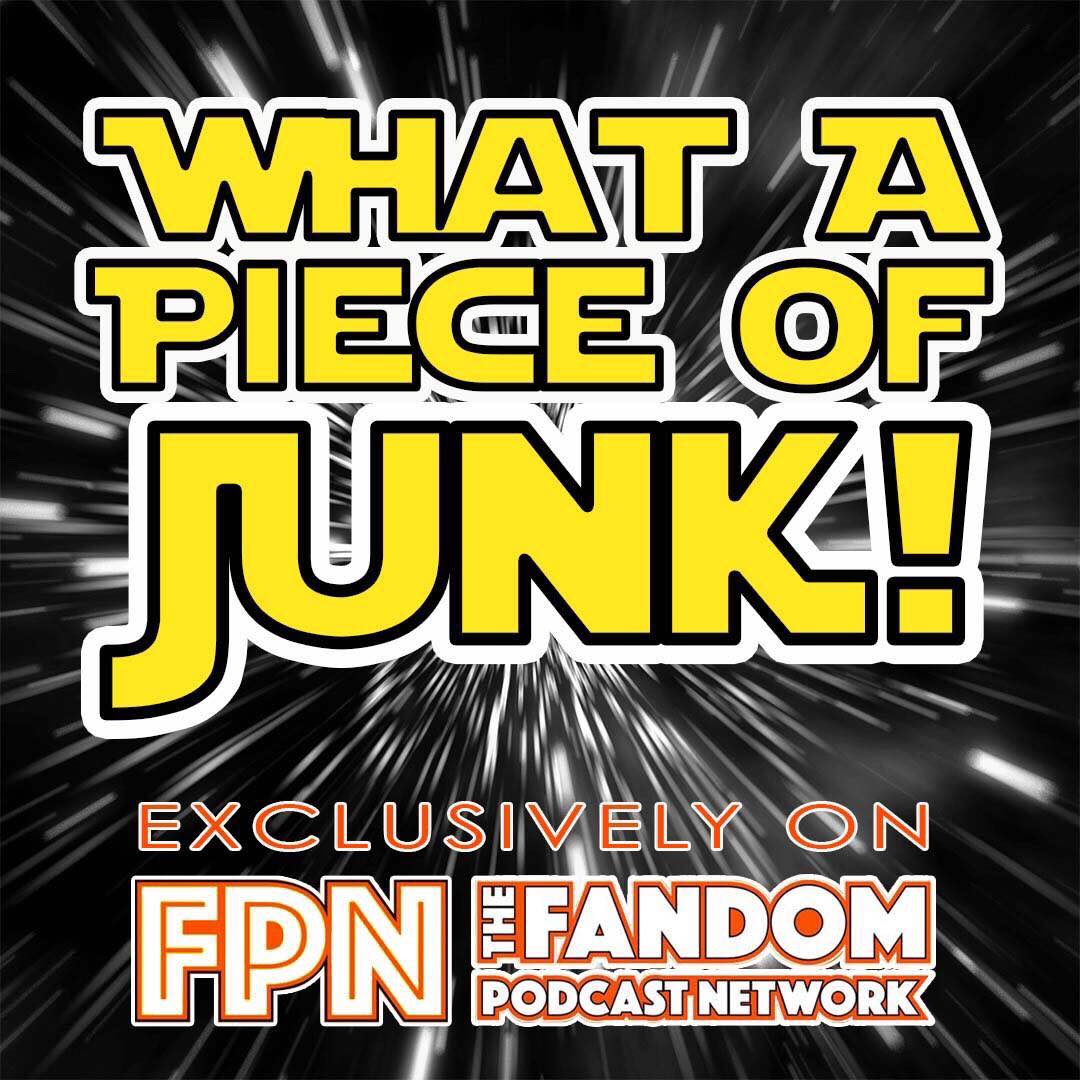 What A Piece of Junk! A Star Wars Podcast: Episode 0 The Journey Begins!
Hello Space Junkies! How is everyone doing this week? We want to welcome you to the What A Piece of Junk! A Star Wars Podcast here on the Fandom Podcast Network! 
What A Piece of Junk is THE podcast on the Fandom Podcast Network dedicated to covering everything Star Wars. From the original Star Wars trilogy movies, to the prequels, to Legends canon, Disney's acquisition of Star Wars and its products, and all the fan favorite content out there, we have you covered. So please make sure to stop on over at your local cantina, grab a drink, cozy on up to your favorite alien (or droid), and get ready to talk Star Wars!
In the VERY FIRST episode of What a Piece of Junk! Scott and Derrick you Hosts for this podcast are joined by Fandom Podcast Network Co-Founders Kevin and Kyle to give you an introduction to not only your hosts on this ride through the galaxy but also to let you know what this podcast will be and what we hope to bring to you as Star Wars fans.
We also talk Galaxy's Edge as Kyle made a recent trip to the planet Batuu via DisneyWorld to see what all the talk was about.
Then it is time to talk some Star Wars news or Smuggler's Dirt as we like to call it around here.  Some of the dirt going around the Cantina include
Kevin Feige to produce a Star Wars film
Bob Iger's comments about Star Wars and George Lucas in his new book
Triple Force Friday and what might we be shopping for
Kenobi has a show runner
We hope you join us on this journey discussing something we all love, the Doaxium is refined and the Hyperdrive is ready so PUNCH IT!
- FPNet on Podbean app
- Fandom Podcast Network on: iTunes / Stitcher / Podbean / Google Play / Spotify
- Facebook: Fandom Podcast Network
- Email: whatapieceofjunkpod@gmail.com
- Twitter: @WhatWars
- Instagram: FandomPodcastNetwork 
- Scott Baughman on Twitter: @ScotticusMax / Instagram: @darik_grey
- Derrick Marsh on Twitter: @hoodiedm83
- Kyle on Twitter: @AKyleW Instantgram: Akylefandom
- Kevin on Twitter: @spartan_phoenix & Instagram
Tee Public:
iTunes: Please leave us a review on iTunes so new fans can find us easier. We LOVE 5 star reviews of course, but we love feedback in general!
Please listen to our other awesome podcasts on the Fandom Podcast Network:
Blood of Kings: A Highlander Podcast
Culture Clash: The FPN Weekly Pop Culture Podcast
Couch Potato Theater: The Guilty Pleasure Favorites Podcast
Time Warp: The Fandom Flashback Podcast
The Endzone: An (Unofficial) NFL Podcast
Good Evening: An Alfred Hitchcock Podcast
DiscoVille: A Star Trek Discovery and The Orville Podcast
Hair Metal: The Hair Metal Podcast