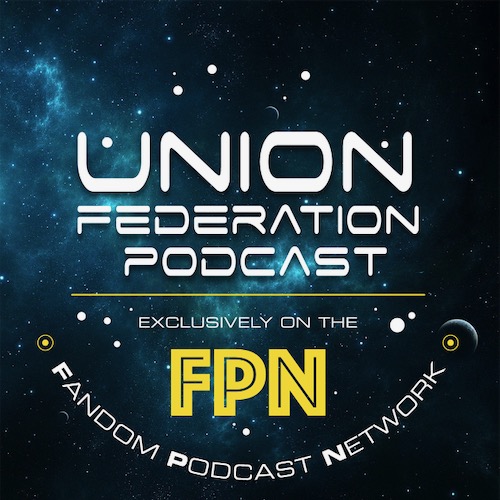 Union Federation Episode 65: Star Trek Picard S1 Ep3: "The End is the Beginning"
It is PICARD time! The Union Federation Podcast on the Fandom Podcast Network is excited to talk about the first season of Star Trek: Picard!  We are ready to bring you everything and anything that is PICARD! In this episode, we discuss Star Trek Picard S1 Ep3: "The End is the Beginning". 
Completely unaware of her special nature, Soji continues her work and captures the attention of the Borg cube research project's executive director. After rehashing past events with a reluctant Raffi, Picard seeks others willing to join his search for Bruce Maddox, including pilot and former Starfleet officer Cristóbal Rios.
On this episode of Union Federation Kevin, Kyle and Hayley give their first reactions to Star Trek: Picard episode three "The End is the Beginning". They dive into what Picard learns about this mysterious girl Dahj and her twin Soji, secret Romulan plots and how this all ties into the big picture of synthetic beings, and the possible threat to Picard and the Federation. 
In Subspace Signals topics, we discuss episode trivia, "The Ready Room" topics and interviews by host Wil Wheaton and any other Star Trek or Orville recent news.
With that let's launch from spaceport and hailing frequencies are now open.............
Here is how you can find and contact the Union Federation Podcast on the Fandom Podcast Network:
- Master Feed: fpnet.podbean.com
- FPNet on the Podbean app
- Fandom Podcast Network is on: Apple Podcasts / Stitcher / Podbean / Google Play / Spotify / I Heart Radio
- Facebook: Union Federation
- Email: theunionfederation@gmail.com
- Instagram: FandomPodcastNetwork 
- Twitter: @unionfedpodcast
- Kyle on Twitter: @AKyleW / Instagram: Akylefandom
- Kevin on Twitter & Instagram: @spartan_phoenix 
- Hayley on Twitter @trekkie01D
Tee Public:
Apple Podcasts:
Please leave us a rated review on Apple Podcasts so new fans can find us easier. We LOVE 5 star reviews of course, but we love feedback in general!
Please listen to our other awesome podcasts on the Fandom Podcast Network:
Blood of Kings: A Highlander Podcast
Culture Clash: The FPN Weekly Pop Culture Podcast
Couch Potato Theater: Our Favorite and Guilty Pleasure Movies Podcast
Time Warp: The Fandom Flashback Podcast
The Endzone: An (Unofficial) NFL Podcast
Good Evening: An Alfred Hitchcock Podcast
The Union Federation: A Star Trek and The Orville Podcast
Hair Metal Podcast: The 1980's Hard Rock and Metal Podcast
https://fpnet.podbean.com/category/what-a-piece-of-junk-a-star-wars-podcast…