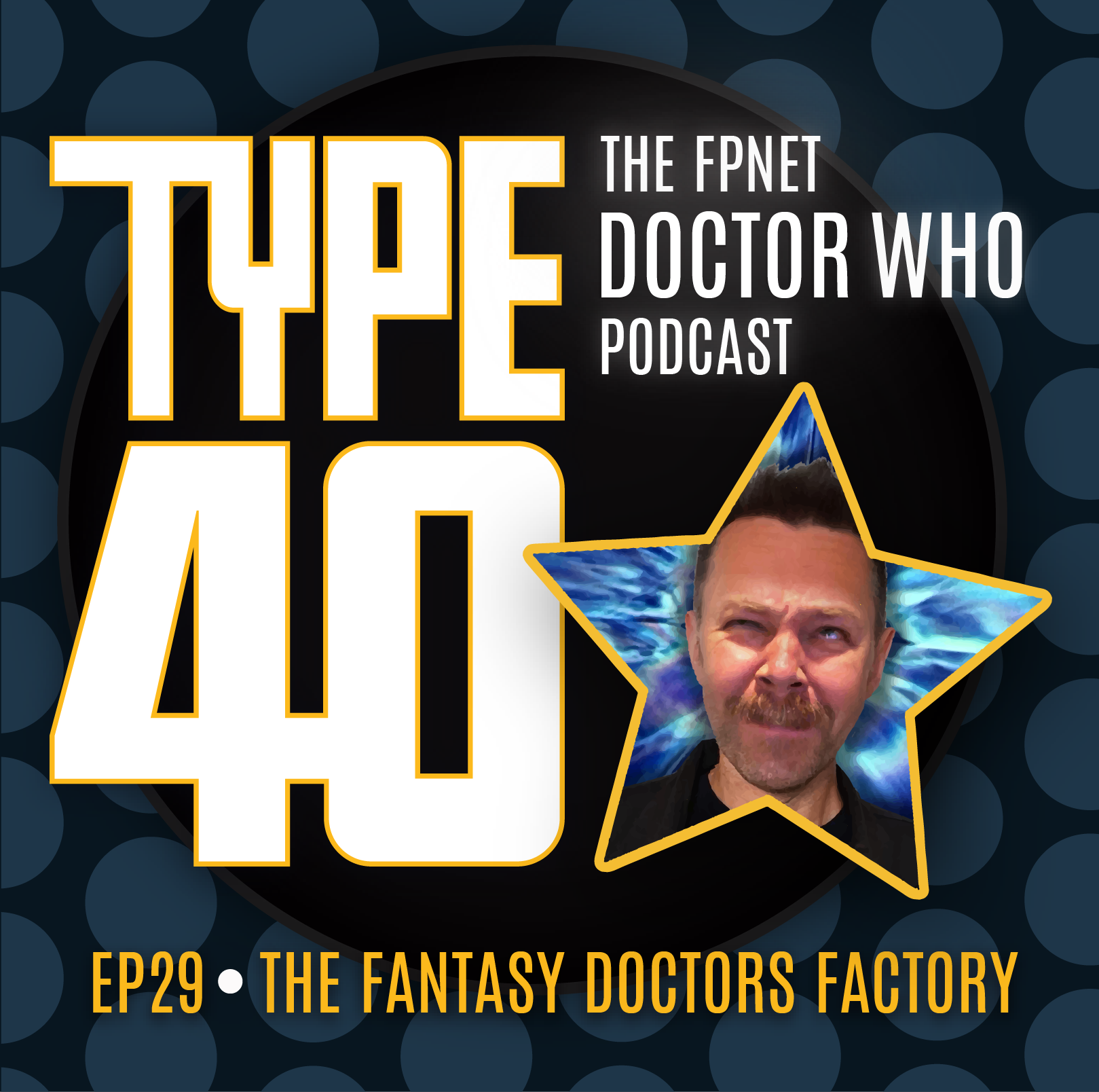 TYPE 40: A Doctor Who Podcast
Episode 29: The Fantasy Doctors Factory
*Editors Note:  Dan and Adam experienced some Vortex energy manipulation during this episode (dirty stuff it is) that cause a few drops.  We used our Sonic Screwdriver to clean it up best we could and fix the problem going forward but hang with us on this episode
Time waits for no man…. except one! And we've kept listeners waiting long enough for the return of Adam "Lethal Mullet" O'Brien to the show. With his unique brand of humour and view of the Doctor Who universe! Yes, we only break out the TARDIS seat-belts when absolutely necessary and this edition of Type 40: A Doctor Who Podcast qualifies…
Fear not: regular host Dan still has a hand on the dimensional stabililsers when both he and Adam pitch their picks for the next, or next after next incarnations of the time traveler known only as "The Doctor". For generations now, this is a game every fan plays at some point. Huge part of the fun is seeing our hero through one another's eyes…!
Do you have any of them on your wish list? Listen in to find out. Imaginations and conversations, as well as impersonations are running wild in this fun and frankly fabulous presentation from the nice folks at The Fandom Podcast Network.
 You can always find TYPE 40: A Doctor Who Podcast on:
• The FPNet Master Feed @Fpnet.podbean.com
• FPNet on Podbean app
• Fandom Podcast Network on: iTunes, Stitcher, Podbean, & Google Play
• Instagram: FandomPodcastNetwork & type40drwho
• Facebook: TYPE 40: A Doctor Who Fandom Podcast:
 If you would like to contact us directly you can:
• Email: type40drwho@gmail.com
• Twitter: @type40drwho
• Instagram: @type40drwho
• Dan on Instagram: @spacebookgram
• Adam on Instagram: @thelethalmullet
Tee Public:
iTunes: Please leave us a review on iTunes so new fans can find us easier. We LOVE 5 star reviews of course, but we love feedback in general!
Please listen to our other awesome podcasts on the Fandom Podcast Network:
Blood of Kings: A Highlander Podcast
Culture Clash: The FPN Weekly Pop Culture Podcast
Couch Potato Theater: The Guilty Pleasure Favorites Podcast
Time Warp: The Fandom Flashback Podcast
The Endzone: An (Unofficial) NFL Podcast
Good Evening: An Alfred Hitchcock Podcast
DiscoVille: A Star Trek Discovery and The Orville Podcast
Hair Metal: The Hair Metal Podcast