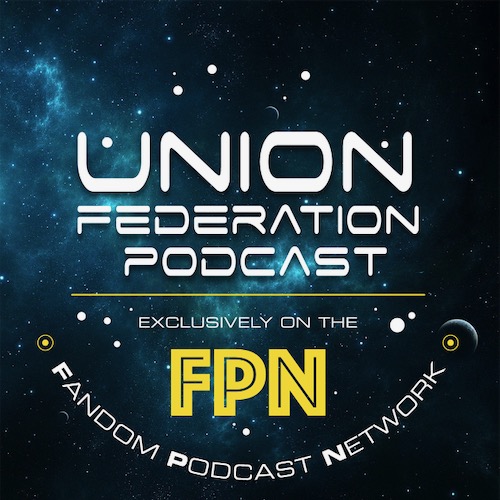 The Union Federation: Episode 62 Short Trekking through the Union
It is time to start the FIRST MISSION for the Union Federation as we get ready for new seasons of Discovery and  The Orville but first before that we are here to bring you everything and anything that is PICARD!
On this episode Kevin, Kyle and Hayley launch the Union Federation with a trip to the Officers Lounge to discuss all things Picard and what we are most excited about as we are just a few days away from the premiere!
In Subspace Signals it is time for some short trekking and we look at the last four Short Treks to come out including the most recent one Children of Mars.  Plus we say goodbye to some of the Trek family we have lost over the last few months and discuss what the future of the Orville is now that Seth MacFarlane is leaving Fox.
With that let's launch from spaceport and hailing frequencies are now open.............
- FPNet on Podbean app
- Fandom Podcast Network on: iTunes / Stitcher / Podbean / Google Play / Spotify
- Facebook: Union Federation
- Email: theunionfederation@gmail.com
- Instagram: FandomPodcastNetwork 
- Twitter: @unionfedpodcast
- Kyle on Twitter: @AKyleW / Instagram: Akylefandom
- Kevin on Twitter & Instagram: @spartan_phoenix 
- Hayley on Twitter @trekkie01D
Tee Public:
iTunes: Please leave us a review on iTunes so new fans can find us easier. We LOVE 5 star reviews of course, but we love feedback in general!
Please listen to our other awesome podcasts on the Fandom Podcast Network:
Blood of Kings: A Highlander Podcast
Culture Clash: The FPN Weekly Pop Culture Podcast
Couch Potato Theater: The Guilty Pleasure Favorites Podcast
Time Warp: The Fandom Flashback Podcast
The Endzone: An (Unofficial) NFL Podcast
Good Evening: An Alfred Hitchcock Podcast
The Union Federation: A Star Trek and The Orville Podcast
Hair Metal: The Hair Metal Podcast
https://fpnet.podbean.com/category/what-a-piece-of-junk-a-star-wars-podcast…