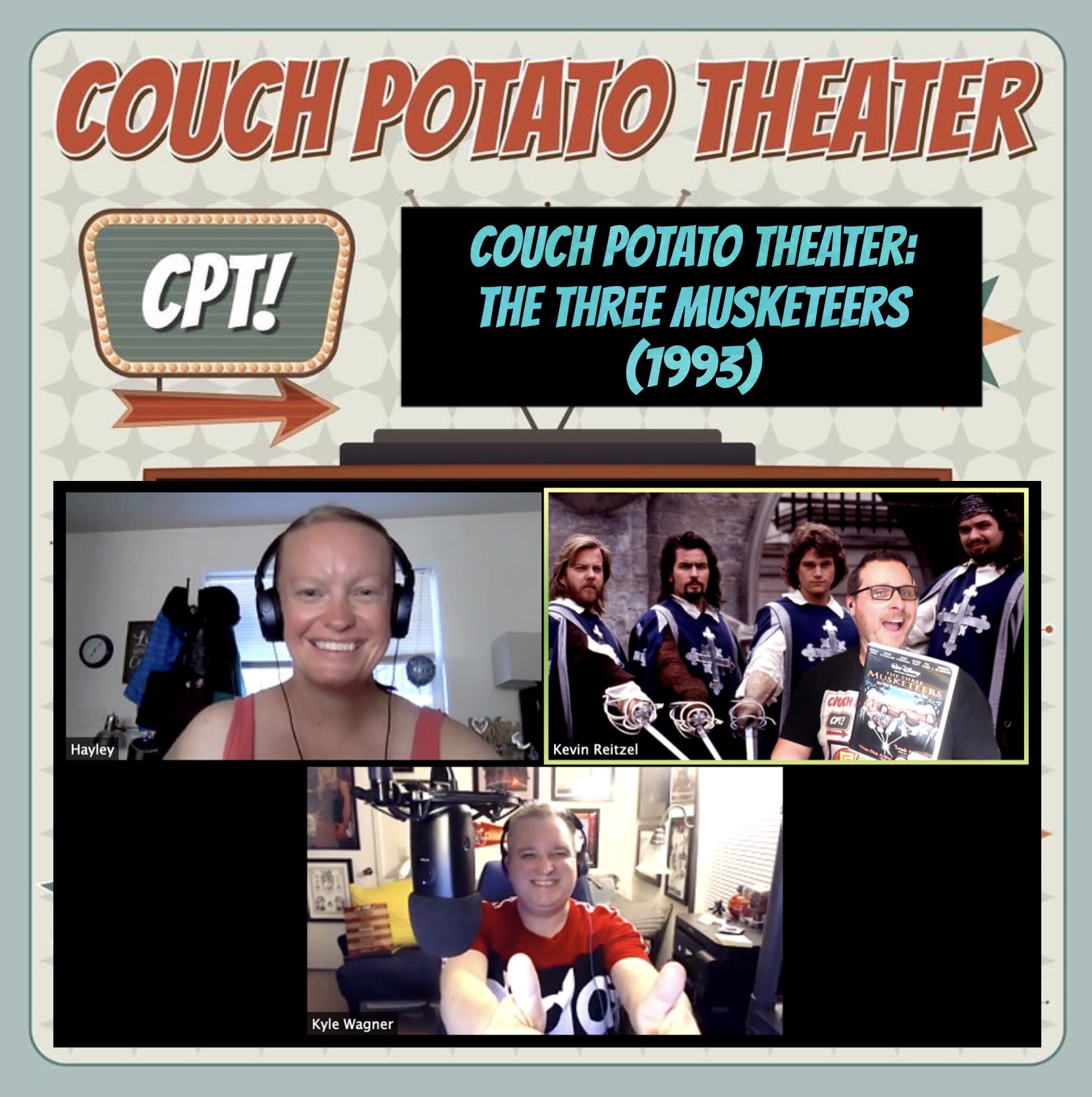 Couch Potato Theater: The Three Musketeers (1993)
Welcome to Couch Potato Theater here on the Fandom Podcast Network. On Couch Potato Theater we celebrate our fan favorite movies! Those hidden gems, cult classics, guilty pleasures, box office winners ...and failures! When your movie comes on your TV, you love what you are watching so much, you're not getting off the couch! And that is the definition of what our show is all about. 
Join Kevin, Kyle and Hayley for this very fun Couch Potato Theater podcast as we look back and celebrate one of the most entertaining film adaptations of The Three Musketeers. The Three Musketeers is a 1993 action-adventure comedy film from Walt Disney Pictures, Caravan Pictures, and The Kerner Entertainment Company, directed by Stephen Herek from a screenplay by David Loughery. It stars Charlie Sheen, Kiefer Sutherland, Chris O'Donnell, Oliver Platt, Tim Curry, and Rebecca De Mornay. The film is loosely based on the 1844 novel The Three Musketeers (Les Trois Mousquetaires) by Alexandre Dumas. It recounts the adventures of D'Artagnan on his quest to join the three title characters in becoming a musketeer.  
The Three Musketeers Plot Synopsis:
The three best of the disbanded Musketeers - Athos (Kiefer Sutherland), Porthos (Oliver Platt), and Aramis (Charlie Sheen) - join a young hotheaded would-be-Musketeer, D'Artagnan (Chris O'Donnell), to stop Cardinal Richelieu's (Tim Curry's) evil plot: to form an alliance with enemy England by way of the mysterious Countess D'Winter (Rebecca De Mornay). Rochefort (Michael Wincott), the Cardinal's right-hand man, announces the official disbanding of the King's Musketeers. Three, however, refuse to throw down their swords - Athos, the fighter and drinker, Porthos, the pirate and lover, and Aramis, the priest and poet. Arriving in Paris to join the Musketeers, D'Artagnan uncovers the Cardinal's plans, and the four set out on a mission to protect King Louis (Hugh O'Conor) and France.
Kevin, Kyle and Hayley discuss why this film is one of their favorites from the 1990's and represents everything that Couch Potato Theater is all about. 
Please follow the Fandom Podcast Network and Blood of Kings on YouTube! Please subscribe to the Fandom Podcast Network YouTube Channel here:
https://www.youtube.com/channel/UCib-kbKfAagsxrWlJU01Rcg
Fandom Podcast Network Contact Info / How to contact & find us:
- fpnet.podbean.com
- FPNet on Podbean app
- Fandom Podcast Network on: iTunes / I Heart Radio / Stitcher / Podbean / Google Play / Spotify
- Facebook: Fandom Podcast Network
- Email: fandompodcastnetwork@gmail.com
- Instagram: FandomPodcastNetwork 
- Twitter: @fanpodnetwork
- Kevin Reitzel on Twitter & Instagram: @spartan_phoenix
- Kyle Wagner on Twitter: @AKyleW Instagram: Akylefandom
- Hayley Stoddart on Twitter: @Trekkie01D
Please help support the Fandom Podcast Network through reviews on Apple Podcasts / iTunes and our Fandom Podcast Network Store on Tee Public. 
Apple Podcasts / iTunes Reviews:
Please leave us a review on Apple Podcasts so new fans can find us easier. Search FANDOM PODCAST NETWORK on Apple Podcasts, and leave a review for Time Warp. We LOVE 5 star reviews of course, but we love feedback in general!
Fandom Podcast Network Tee Public Store:
Get Your Fandom Podcast Network and Couch Potato Theater Merchandise on Tee Public! Please visit our TeePublic store where you can help support the Fandom Podcast Network while wearing your Couch Potato Theater and other awesome Fandom Podcast Network favorite show logos with pride!
Tee Public Store: https://www.teepublic.com/user/fandompodcastnetwork 
Please listen to our other awesome podcasts on the Fandom Podcast Network:
Master Feed: https://fpnet.podbean.com/ 
Culture Clash: The FPN Weekly Pop Culture Podcast
https://fpnet.podbean.com/category/culture-clash/
Blood of Kings: A Highlander Podcast
https://fpnet.podbean.com/category/blood-of-kings/
Couch Potato Theater: Celebrating our Favorite Movies Podcast
https://fpnet.podbean.com/category/couch-potato-theater/
Time Warp: The Fandom Flashback Podcast
https://fpnet.podbean.com/category/time-warp/
The Endzone: An (Unofficial) NFL Podcast
https://fpnet.podbean.com/category/the-endzone/
Good Evening: An Alfred Hitchcock Podcast
https://fpnet.podbean.com/…/good-evening-an-alfred-hitchcoc…/
Union Federation: A Star Trek and The Orville Podcast
https://fpnet.podbean.com/category/union-federation
Hair Metal: The 1980's Hair Metal Podcast
https://fpnet.podbean.com/category/hair-metal/
TYPE 40: A Doctor Who Podcast
https://fpnet.podbean.com/category/type-40-the-fpnet-doctor-who-podcast/ 
Lethal Mullet: A 1980's Action Film Podcast
https://fpnet.podbean.com/category/lethal-mullet
What A Piece Of Junk: A Star Wars Podcast
https://fpnet.podbean.com/category/what-a-piece-of-junk-a-star-wars-podcast…
Making Treks: A Star Trek Podcast
https://fpnet.podbean.com/category/Making-treks