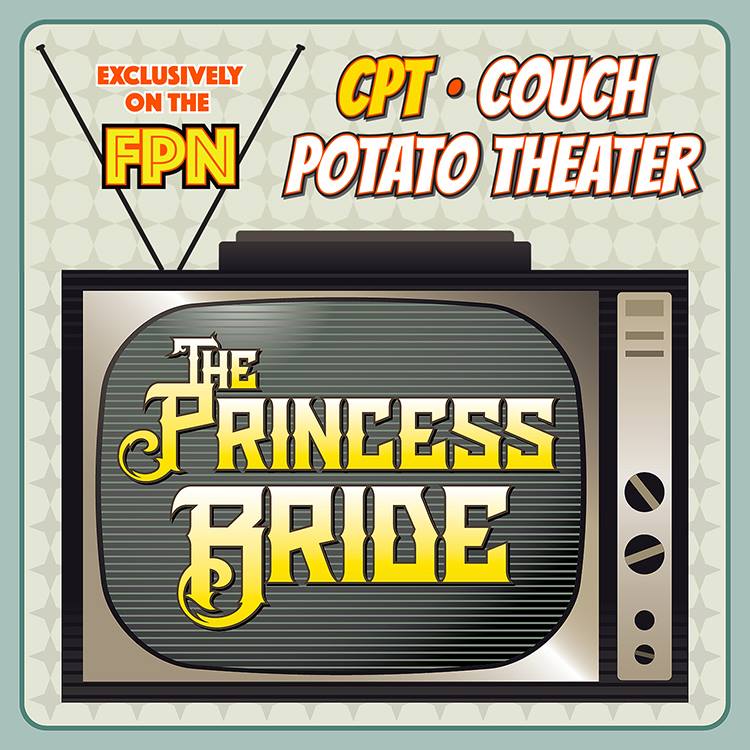 Welcome to Couch Potato Theater here on the Fandom Podcast Network. Couch Potato Theater is THE podcast covering all those hidden gems, cult classics and guilty pleasures that are just so good, even though you might have the Criterion Collection or Deluxe Blu-ray set in your library just mere inches away from your entertainment center, you love what you are watching so much, you don't even care about getting off the couch. And that is the definition of what our show is all about. 
CPT brings you the most CONCEIVABLE Podcast ever as the Fandom Podcast Network proudly present Couch Potato Theater: THE PRINCESS BRIDE
Join FPNet's own Kyle Wagner as he is joined first by the Princess Buttercup of the FPNet herself Hayley Stoddard.  However not just two people can discuss this all-time classic film.  We are also joined by our own "Miracle Max" Ms. Amy Nelson!
In this podcast we will cross the fire swamps, take on swashbuckling sword masters, evil geniuses and even a giant.  Not to mention oversized rats, Pirates evil prince's and death itself.  However we will overcome all of these things because we fight for TRUE LOVE and to find that man that killed our father!  (we can promise there will be no kissing)
So climb into bed get that Walter Peyton Jersey on put in your earphones and join us as we discuss the greatest Storybook Love ever told! 
As You Wish!
Where to find Couch Potato Theater and all the great shows on the Fandom Podcast Network!
• fpnet.podbean.com
• FPNet on Podbean app
• Fandom Podcast Network on: iTunes / Stitcher / Podbean / Google Play for Android Users.
• Twitter: @fanpodnetwork
• Facebook: Fandom Podcast Network :https://www.facebook.com/Fandompodcastnetwork/
If you would like to contact us directly you can find us through:
• Email: fandompodcastnetwork@gmail.com
• Kyle on Twitter @AkyleW and on Instagram at akylefandom
• Hayley on Twitter: @Trekkie01D
• Amy on Twitter: @MissAmyNelson
To get your own Fandom Podcast Network T-shirts and other apparel, please visit our Fandom Podcast Network store on Tee Public here:https://www.teepublic.com/fandompodcastnetwork
iTunes: Please leave us a review on iTunes so new fans can find us easier. We LOVE 5 star reviews of course, but we love feedback in general!
Please listen to our other awesome podcasts on the Fandom Podcast Network:
Master Feed: https://fpnet.podbean.com/
Blood of Kings: A Highlander Podcast
https://fpnet.podbean.com/category/blood-of-kings/
Culture Clash: The FPN Weekly Pop Culture Podcast
https://fpnet.podbean.com/category/culture-clash/
Couch Potato Theater: The Guilty Pleasure Favorites Podcast
https://fpnet.podbean.com/category/couch-potato-theater/
Time Warp: The Fandom Flashback Podcast
https://fpnet.podbean.com/category/time-warp/
The Endzone: An (Unofficial) NFL Podcast
https://fpnet.podbean.com/category/the-endzone/
Good Evening: An Alfred Hitchcock Podcast
https://fpnet.podbean.com/…/good-evening-an-alfred-hitchcoc…/
DiscoVille: A Star Trek Discovery and The Orville Podcast
https://fpnet.podbean.com/category/discoville
Hair Metal: The Hair Metal Podcast
https://fpnet.podbean.com/category/hair-metal/
TYPE 40: A Doctor Who Podcast
https://fpnet.podbean.com/category/type-40-the-fpnet-doctor-who-podcast/