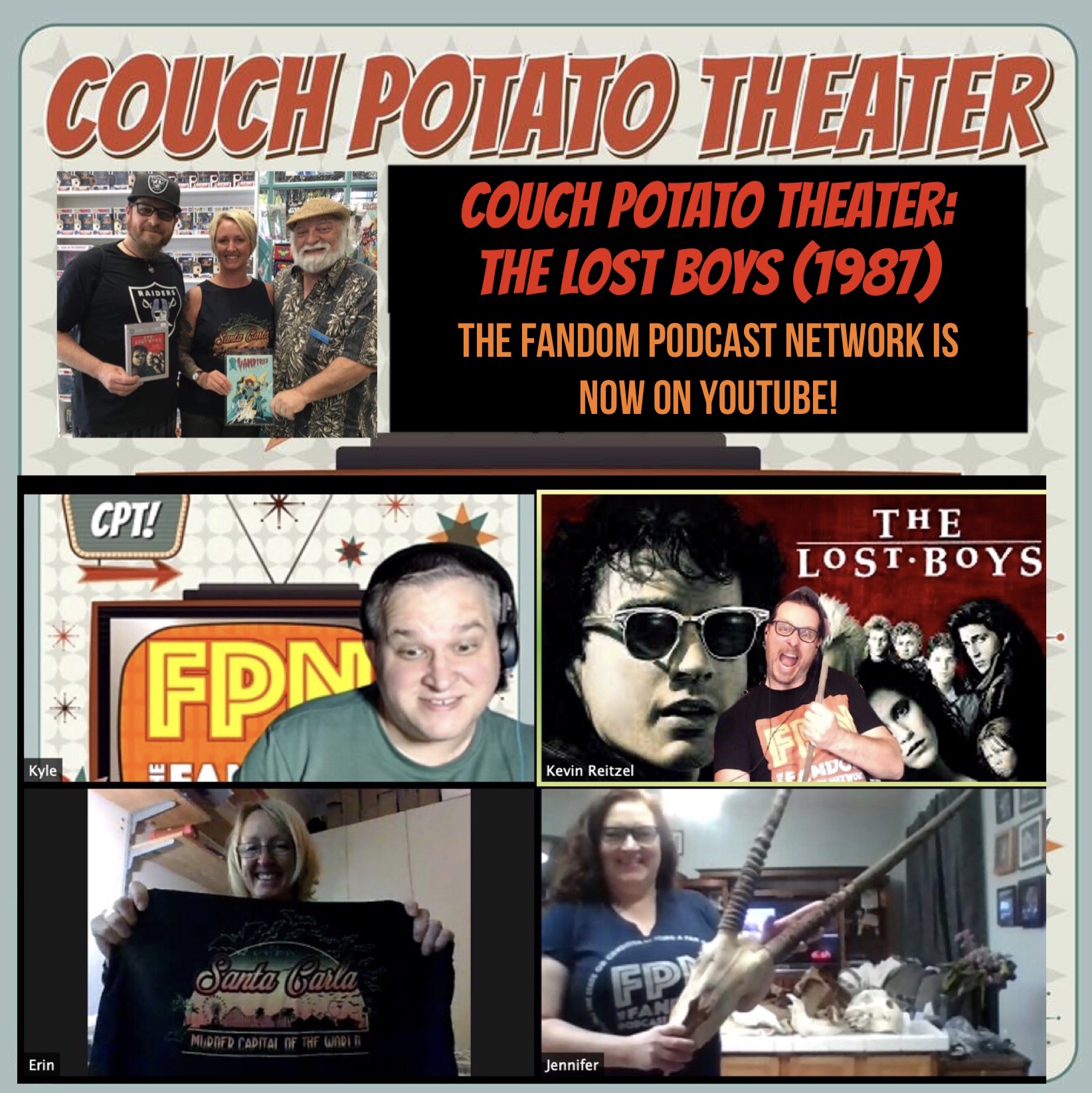 Couch Potato Theater: The Lost Boys (1987)
Welcome to Couch Potato Theater here on the Fandom Podcast Network. On Couch Potato Theater we celebrate our favorite movies. Even though you may own your favorite movie, you love what you are watching so much, you don't even care about getting off the couch. And that my friends is the definition of what our show is all about. 
Join us on the Couch as we look back and celebrate the best Teen Vampire movie of all time; 'The Lost Boys' (1987). Your Couch Potato Theater host Kevin R. is  joined by Erin G., Jennifer W. and Kyle W. as they discuss their favorite moments, actors, quotes, scenes and trivia from one of the most beloved and influential vampire movies of all time. This movie has a high re-watchability and represents everything that Couch Potato Theater is all about.
The Lost Boys is a black comedy horror film directed by Joel Schumacher, produced by Harvey Bernhard with a screenplay written by Jeffrey Boam. Janice Fischer and James Jeremias wrote the film's story. The film's ensemble cast includes Corey Haim, Jason Patric, Kiefer Sutherland, Jami Gertz, Corey Feldman, Dianne Wiest, Edward Herrmann, Alex Winter, Jamison Newlander, and Barnard Hughes. The title is a reference to the Lost Boys in J. M. Barrie's stories about Peter Pan and Neverland, who, like the vampires, never grow up. Most of the film was shot in Santa Cruz, California.
The Lost Boys Plot Description:
Financial troubles force a recent divorcée and her teenage sons Mike and Sam to settle down with her father in the California town of Santa Carla. The town is plagued by bikers and some mysterious deaths. At first, Sam laughs off rumors he hears about vampires who inhabit the small town, until he makes friends with two other boys who claim to be vampire hunters. But after Mike meets a beautiful girl at the local amusement park, he begins to exhibit the classic signs of vampirism, sleeping days and staying out all night, and is drawn into the gang of bikers by the beautiful girl. The younger boy starts getting into trouble because of his friends' obsession. Fearing for his own safety, Sam recruits the two young vampire hunters to save his brother by finding and destroying the head vampire.
Fandom Podcast Network Contact Info / How to contact & find us:
The FANDOM PODCAST NETWORK is now on YouTube! Please subscribe and join us!
PLEASE SUBCRIBE to our YouTube channel to receive notifications of new podcast episodes and live events.
- fpnet.podbean.com (Fandom Podcast Network master feed)
- FPNet can be found on the Podbean app
- Fandom Podcast Network on: iTunes / I Heart Radio / Stitcher / Podbean / Google Play / Spotify / TuneIn (Amazon)
- Facebook: Fandom Podcast Network
- Email: fandompodcastnetwork@gmail.com
- Instagram: @FandomPodcastNetwork 
- Twitter: @fanpodnetwork
- Kevin Reitzel on Twitter & Instagram: @spartan_phoenix
- Kyle on Twitter: @AKyleW / Instagram: @Akylefandom
- Erin on: Instagram: @Audreyworm
- Jennifer on Instagram: @ChefStomp91
Apple Podcasts / iTunes Reviews:
Please help support the Fandom Podcast Network through reviews on Apple Podcasts / iTunes;
Please leave us a review on Apple Podcasts / iTunes so new fans can find us easier. Search FANDOM PODCAST NETWORK on Apple Podcasts / iTunes, and leave a review for Couch Potato Theater. We LOVE 5 star reviews of course, but we love feedback in general!
Please listen to our other awesome podcasts on the Fandom Podcast Network:
Master Feed: https://fpnet.podbean.com/ 
Culture Clash: The FPN Weekly Pop Culture Podcast
https://fpnet.podbean.com/category/culture-clash/
Blood of Kings: A Highlander Podcast
https://fpnet.podbean.com/category/blood-of-kings/
Couch Potato Theater: Celebrating our Favorite Movies Podcast
https://fpnet.podbean.com/category/couch-potato-theater/
Time Warp: The Fandom Flashback Podcast
https://fpnet.podbean.com/category/time-warp/
The Endzone: An (Unofficial) NFL Podcast
https://fpnet.podbean.com/category/the-endzone/
Good Evening: An Alfred Hitchcock Podcast
https://fpnet.podbean.com/…/good-evening-an-alfred-hitchcoc…/
Union Federation: A Star Trek and The Orville Podcast
https://fpnet.podbean.com/category/union-federation
Hair Metal: The 1980's Hair Metal Podcast
https://fpnet.podbean.com/category/hair-metal/
TYPE 40: A Doctor Who Podcast
https://fpnet.podbean.com/category/type-40-the-fpnet-doctor-who-podcast/ 
Lethal Mullet: A 1980's Action Film Podcast
https://fpnet.podbean.com/category/lethal-mullet
What A Piece Of Junk: A Star Wars Podcast
https://fpnet.podbean.com/category/what-a-piece-of-junk-a-star-wars-podcast…
Making Treks: A Star Trek Podcast
https://fpnet.podbean.com/category/Making-treks