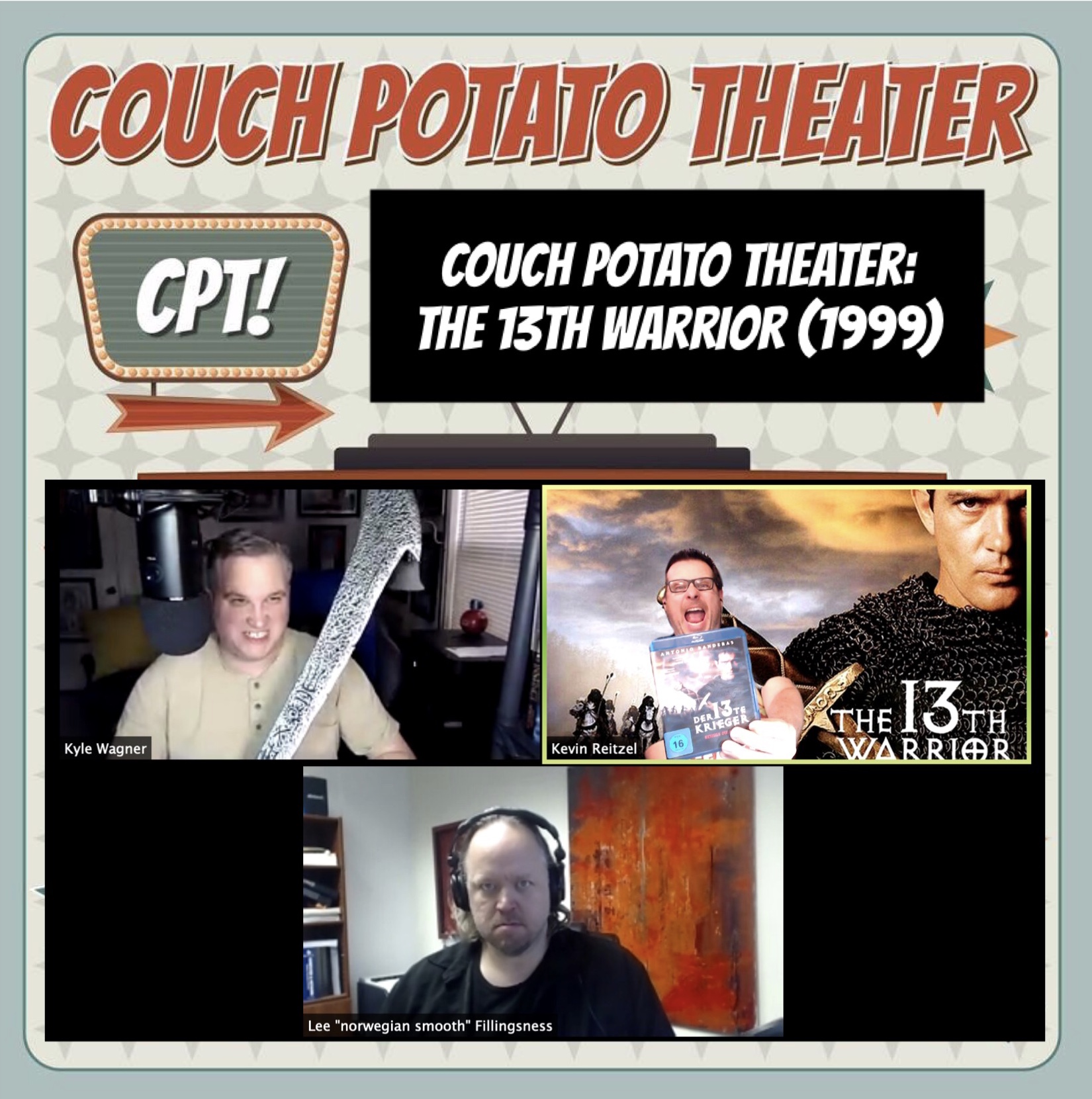 Couch Potato Theater: The 13th Warrior (1999)
On this episode of Couch Potato we discuss one of Hollywood's biggest box office flops in the past 20 years,
but a film that also has found a huge fan appreciation on video. This film comes from a story from one of the most celebrated authors of the 20th Century. Welcome to Couch Potato Theater: The 13th Warrior (1999).
The 13th Warrior is a 1999 American historical fiction action film based on Michael Crichton's 1976 novel Eaters of the Dead, which is a loose retelling of the tale of Beowulf combined with Ahmad ibn Fadlan's historical account of the Volga Vikings. It stars Antonio Banderas as Ahmad ibn Fadlan, as well as Diane Venora and Omar Sharif. It was directed by John McTiernan. Crichton directed some reshoots uncredited. The film was produced by McTiernan, Crichton, and Ned Dowd, with Andrew G. Vajna, James Biggam and Ethan Dubrow as executive producers.
Plot Synopsis:
A man, having fallen in love with the wrong woman, is sent by the sultan himself on a diplomatic mission to a distant land as an ambassador. Stopping at a Viking village port to restock on supplies, he finds himself unwittingly embroiled in a quest to banish a mysterious threat in a distant Viking land.
Join Kyle Lee & Kevin as they take a look back at this fan favorite action film with a fantastic cast and see how it has remained a true classic to this day, and a film that represents everything that Couch Potato Theater is all about.
Fandom Podcast Network Contact Info / How to contact & find us:
- FPNet on Podbean app
- Fandom Podcast Network on: iTunes / I Heart Radio / Stitcher / Podbean / Google Play / Spotify
- Facebook: Fandom Podcast Network
- Email: fandompodcastnetwork@gmail.com
- Instagram: FandomPodcastNetwork 
- Twitter: @fanpodnetwork
- Kevin on Twitter & Instagram: @spartan_phoenix
- Lee Fillingsness on Twitter: @TheWayOfTheWay / Instagram: @the_way_of_the_way
- Kyle on Twitter: @AKyleW / Instagram: Akylefandom
Please help support the Fandom Podcast Network through reviews on Apple Podcasts and our Fandom Podcast Network Store on Tee Public. 
Apple Podcasts / iTunes
Please leave us a review on Apple Podcasts / iTunes so new fans can find us easier. Search FANDOM PODCAST NETWORK on Apple Podcasts / iTunes and leave a review for Couch Potato Theater. We LOVE 5 star reviews of course, but we love feedback in general!
Fandom Podcast Network Tee Public Store:
Get Your Fandom Podcast Network and Couch Potato Theater Merchandise on Tee Public! Please visit our TeePublic store where you can help support the Fandom Podcast Network while wearing your Couch Potato Theater and other awesome Fandom Podcast Network favorite show logos with pride!
Tee Public Store: https://www.teepublic.com/user/fandompodcastnetwork 
Please listen to our other awesome podcasts on the Fandom Podcast Network:
What A Piece Of Junk: A Star Wars Podcast
https://fpnet.podbean.com/category/what-a-piece-of-junk-a-star-wars-podcast…
Making Treks: A Star Trek Podcast