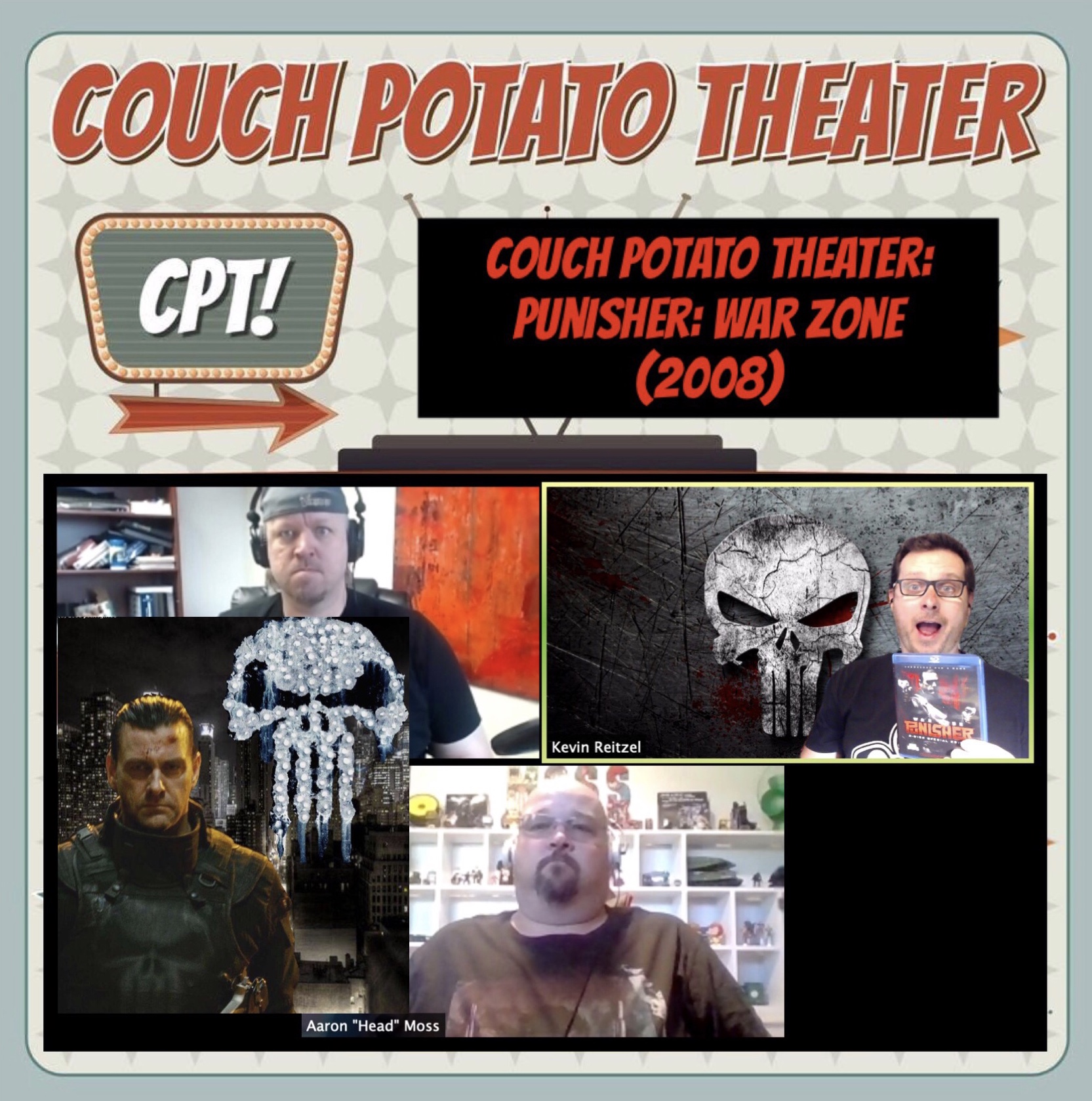 Couch Potato Theater: Punisher: War Zone (2008)
Join us for this very special edition of Couch Potato Theater as we look back and discuss Couch Potato Theater: Punisher: War Zone (2008)
A look at one of the more interesting pre MCU films.  
Punisher: War Zone is a 2008 vigilante action thriller film based on the Marvel Comics character the Punisher, directed by Lexi Alexander. The film is a reboot that follows the war waged by vigilante Frank Castle (Ray Stevenson) on crime and corruption, in particular on the disfigured mob boss known as Billy "Jigsaw" Russotti (Dominic West), rather than a sequel to 2004's The Punisher. It is the third feature film adaptation of The Punisher, the second reboot thereof and the first of two films to be produced under the Marvel Entertainment and Marvel Knights production banner, which focuses on films for mature audiences. Punisher: War Zone was released in North America by Lionsgate on December 5, 2008,
Punisher: War Zone (2008) Plot Synopsis:
Frank Castle, the ex-military man whose family was killed by criminals, who became a vigilante known as the Punisher, goes after a whole mob family and gets everyone except enforcer Billy Russoti. He tracks Russoti down and chases him into a vat that is used for crushing bottles. Frank turns on the crusher hoping it would take care of him but it doesn't. He survives but sustains very severe injuries that even with plastic surgery his face looks like a jigsaw puzzle. So he decides to adopt the name Jigsaw. Frank who killed one of Russoti's people who unknown to him is an undercover Fed, decides to pack it in. But when he learns Russoti didn't die and is looking for the money he entrusted to the Fed and will go looking for it at his home which means his family is in danger. So Frank tries to save them. But Russoti wants revenge on Frank so he breaks out his brother who is so crazed that he is committed to an asylum, to deal with him.
Join Kevin, Lee and Aaron as they take a look back at this fan favorite Punisher film that although it failed at the box office, it was a true representation of the Punisher character that is a great homage to the comics. This Punisher film is so rewatchable for its beautiful violence and creative color pallet that it represents everything that Couch Potato Theater is all about.
Fandom Podcast Network Contact Info / How to contact & find us:
- FPNet on Podbean app
- Fandom Podcast Network on: iTunes / I Heart Radio / Stitcher / Podbean / Google Play / Spotify
- Facebook: Fandom Podcast Network
- Email: fandompodcastnetwork@gmail.com
- Instagram: FandomPodcastNetwork 
- Twitter: @fanpodnetwork
- Kevin Reitzel on Twitter & Instagram: @spartan_phoenix
- Lee Fillingsness on Twitter: @TheWayOfTheWay / Instagram: @the_way_of_the_way
- Aaron Head Moss on Twitter: @GIJoeHeadcast / @HeadcastNetwork
Please help support the Fandom Podcast Network through reviews on Apple Podcasts / iTunes and our Fandom Podcast Network Store on Tee Public. 
Apple Podcasts / iTunes:
Please leave us a review on Apple Podcasts so new fans can find us easier. Search FANDOM PODCAST NETWORK on Apple Podcasts, and leave a review for Time Warp. We LOVE 5 star reviews of course, but we love feedback in general!
Fandom Podcast Network Tee Public Store:
Get Your Fandom Podcast Network and Couch Potato Theater Merchandise on Tee Public! Please visit our TeePublic store where you can help support the Fandom Podcast Network while wearing your Couch Potato Theater and other awesome Fandom Podcast Network favorite show logos with pride!
Tee Public Store: https://www.teepublic.com/user/fandompodcastnetwork 
Please listen to our other awesome podcasts on the Fandom Podcast Network: