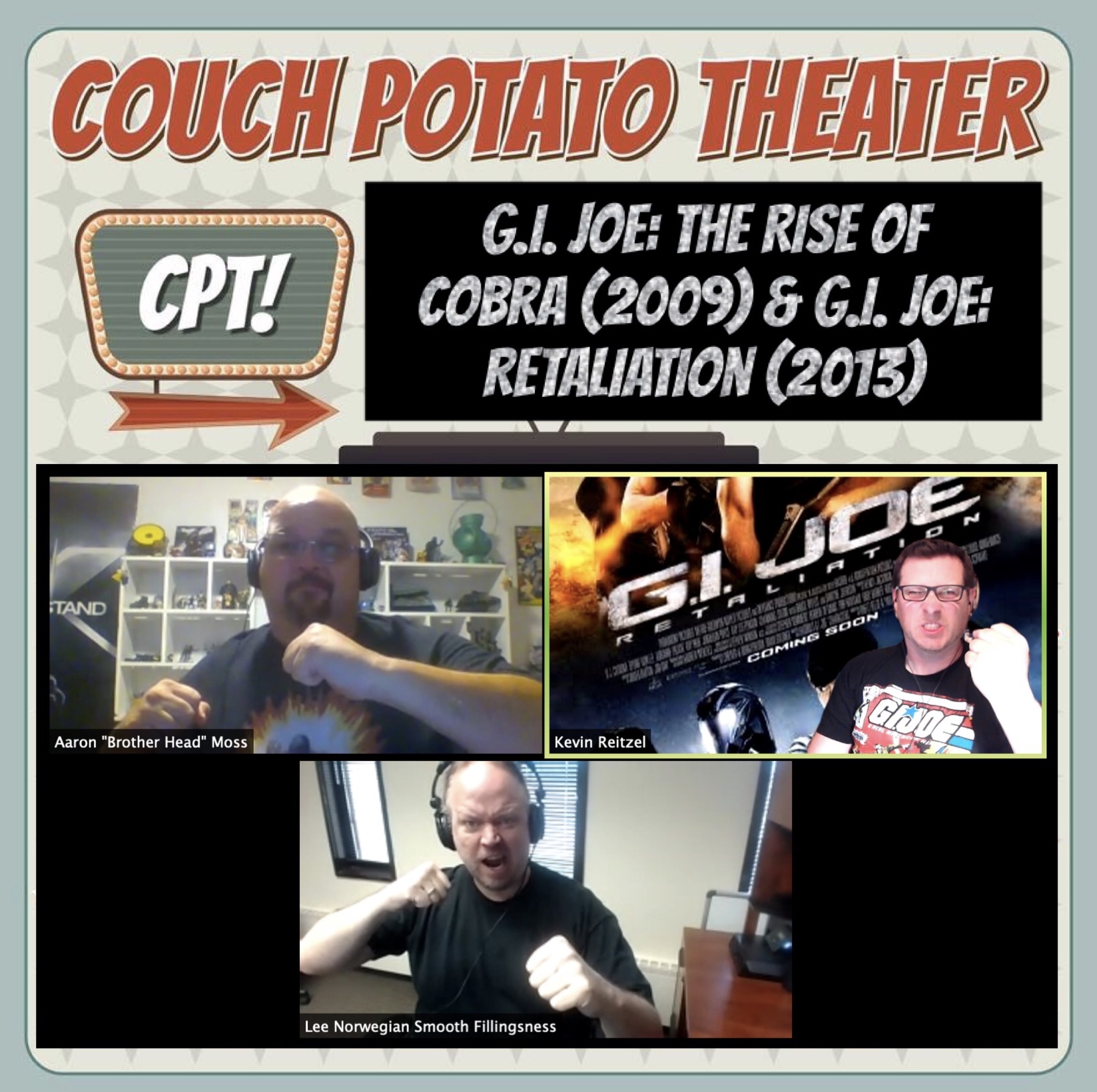 Couch Potato Theater: G.I. Joe: The Rise of Cobra (2009) & G.I. Joe: Retaliation (2013)
Welcome to another Fantastic episode of Couch Potato Theater here on the Fandom Podcast Network. Couch Potato Theater is the podcast on the Fandom Podcast Network dedicated to covering all those hidden gems, cult classics and guilty pleasures that are just so good, even though you might have a digital copy or the Criterion Collection or Deluxe Blu-ray set in your library just mere inches away from your entertainment center, you love what you are watching so much, you don't even care about getting off the couch. And that my friends is the definition of what our show is all about. 
Join us for this very special edition of Couch Potato Theater as we look back and discuss the two live action GI JOE movies: G.I. Joe: The Rise of Cobra (2009) & G.I. Joe: Retaliation (2013)
G.I. Joe: The Rise of Cobra is a 2009 action film based on the toy franchise created by Hasbro, with particular inspiration from the comic book series and toy line G.I. Joe: A Real American Hero. It is the first installment in the live-action G.I. Joe film series. The film was directed by Stephen Sommers. 
G.I. Joe: Retaliation is a 2013 action film directed by Jon M. Chu and written by Rhett Reese and Paul Wernick, based on Hasbro's G.I. Joe toy, comic, and media franchise. It is the second film in the G.I. Joe film series, and is a sequel to 2009's G.I. Joe: The Rise of Cobra, while also serving as a soft reboot of the franchise.
G.I. Joe: The Rise of Cobra (2009) Plot Synopsis:
Two soldiers stationed in Kazahkstan (Captain Duke Hauser and his partner "Ripcord") are ordered to transport special warheads created by MARS, an arms' manufacturer controlled by James McCullen. When they are attacked by thieves (led by Anastasia DeCobray, with whom Duke has history), they are saved by a top secret, international special forces unit known as "G.I. Joe". The leader of G.I. Joe, General Abernathy (or Hawk) is on the trail of the thieves: an evil organization called "Cobra". While Duke and Ripcord train to join the Joes, McCullen ("Destro") is secretly working for Cobra and plotting to recapture his metal-eating "Nanomite" warheads. Duke and Ripcord (with help from Heavy Duty, Snake Eyes, and the rest of the Joes) must prove that they are Real American Heroes -- by stopping the launch of these warheads before Cobra uses them to take over the world.
G.I. Joe: Retaliation is a 2013 Plot Synopsis:
The G.I. Joe team is framed for crimes against the country by Zartan, disguised as the President, and Cobra Commander has all the world leaders under his influence, with their advanced warheads headed towards innocent populaces around the world. Outnumbered and outgunned, the surviving team members form a plan with their original leader, General Joseph Colton, to rescue the President and face off Cobra Commander, his accomplices and the world leaders.
Join Kevin, Lee and Aaron as they take a look back at these fan favorite action films that G.I. Joe fans finally got to see come to live action. Both of these films are very rewatchable, and they represent everything that Couch Potato Theater is all about.
Fandom Podcast Network Contact Info / How to contact & find us:
- FPNet on Podbean app
- Fandom Podcast Network on: iTunes / I Heart Radio / Stitcher / Podbean / Google Play / Spotify
- Facebook: Fandom Podcast Network
- Email: fandompodcastnetwork@gmail.com
- Instagram: FandomPodcastNetwork 
- Twitter: @fanpodnetwork
- Kevin Reitzel on Twitter & Instagram: @spartan_phoenix
- Lee Fillingsness on Twitter: @TheWayOfTheWay / Instagram: @the_way_of_the_way
- Aaron Head Moss on Twitter: @GIJoeHeadcast / @HeadcastNetwork
Please help support the Fandom Podcast Network through reviews on Apple Podcasts / iTunes and our Fandom Podcast Network Store on Tee Public. 
Apple Podcasts:
Please leave us a review on Apple Podcasts / iTunes so new fans can find us easier. Search FANDOM PODCAST NETWORK on Apple Podcasts, and leave a review for Couch Potato Theater. We LOVE 5 star reviews of course, but we love feedback in general!
Fandom Podcast Network Tee Public Store:
Get Your Fandom Podcast Network and Couch Potato Theater Merchandise on Tee Public! Please visit our TeePublic store where you can help support the Fandom Podcast Network while wearing your Couch Potato Theater and other awesome Fandom Podcast Network favorite show logos with pride!
Tee Public Store: https://www.teepublic.com/user/fandompodcastnetwork 
Please listen to our other awesome podcasts on the Fandom Podcast Network: