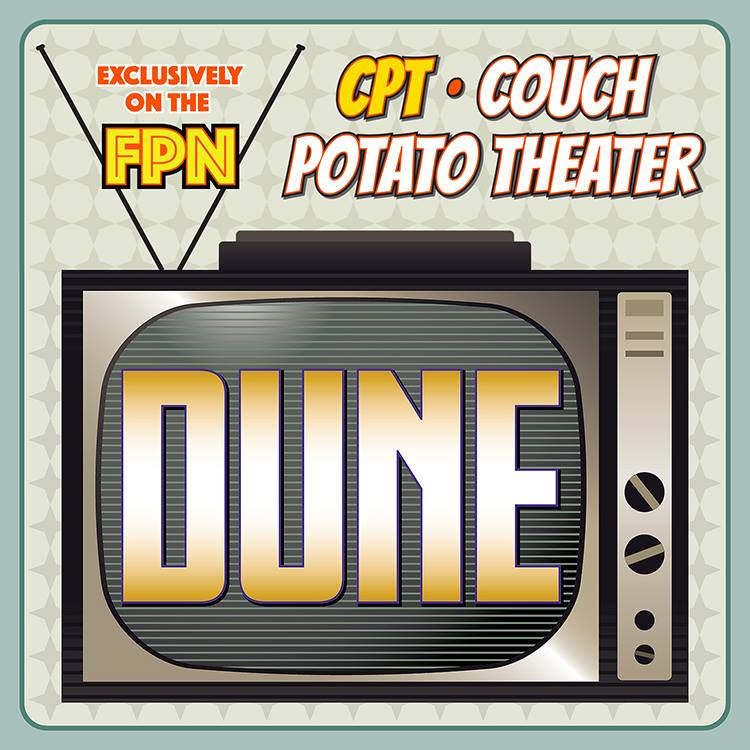 Couch Potato Theater: The Spicing Guild: Dune Retrospective Part Two 
The Fandom Podcast Network's Couch Potato Theater Proudly Presents:
The Spicing Guild: Dune Retrospective Part Two: FRANK HERBERT'S DUNE SyFy channel miniseries 
Join your host: Adam O'Brien; Australian Correspondent of Fantha Tracks, also being joined by co-founding member of the Fandom Podcast Network: Kyle Wagner a host of several shows on the FPNet.  Also on the end of each show Din of F-105 joins us to chat about the source material. 
Fandom Podcast Network Contact Info / How to contact & find us:
- fpnet.podbean.com
- FPNet on Podbean app
- Fandom Podcast Network on: iTunes / Stitcher / Podbean / Google Play
- Facebook: Fandom Podcast Network
- Email: fandompodcastnetwork@gmail.com
- Instagram: FandomPodcastNetwork
- Twitter: @fanpodnetwork
- Adam on Instagram & Twitter: @obpopculture 
  Site: fanthatracks.com
-Kyle on Twitter: @akylew
-Din on Twitter @f105music 
Join us as we take a journey into the 2000 miniseries, and to the great story starring William Hurt, in part two of our Frank Herbert's Dune retrospective. We also cover some of the recent casting, and more info on the Dune adaptation! 
Please check out our The Fandom Podcast Network Store on TeePublic!
Tee Public Store: https://www.teepublic.com/user/fandompodcastnetwork
Please listen to our other awesome podcasts on the Fandom Podcast Network:
Blood of Kings: A Highlander Podcast
Culture Clash: The FPN Weekly Pop Culture Podcast
Couch Potato Theater: The Guilty Pleasure Favorites Podcast
Time Warp: The Fandom Flashback Podcast
The Endzone: An (Unofficial) NFL Podcast
Good Evening: An Alfred Hitchcock Podcast
DiscoVille: A Star Trek Discovery and The Orville Podcast
Hair Metal: The Hair Metal Podcast