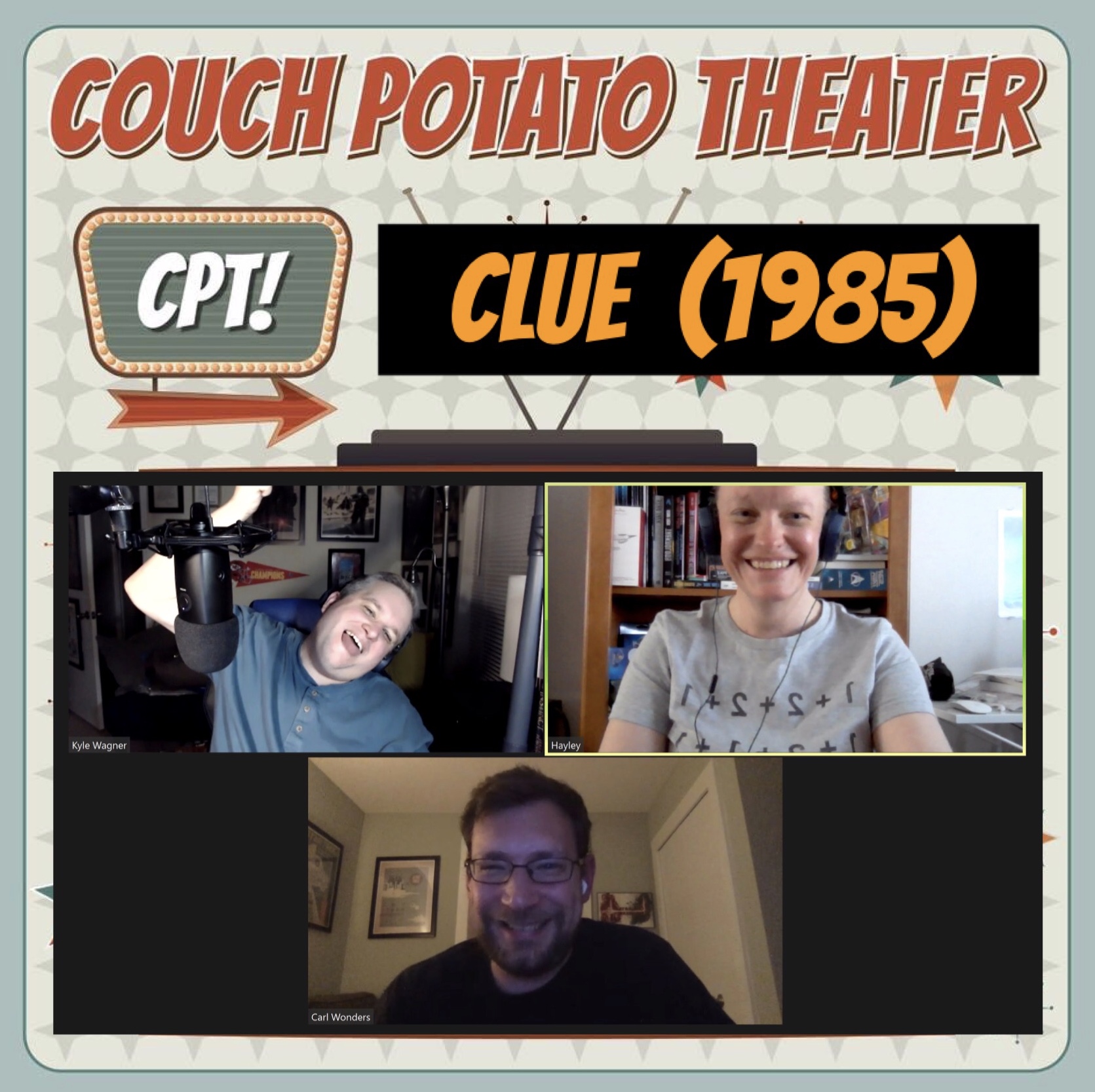 Couch Potato Theater: Clue (1985)
Welcome to Couch Potato Theater and hope you join us for the 1985 who done it comedy CLUE.  Join Kyle (who might have done it in the ballroom with the candlestick) Hayley (Who might have done it in the Library with the rope) and special guest Carl Wonders (who might have done it in the Kitchen with the Knife) as they take a deep dive into this cult classic comedy/mystery based on the popular board game.
Clue Movie Synopsis:
Based on the popular board game, this comedy begins at a dinner party hosted by Mr. Boddy (Lee Ving), where he admits to blackmailing his visitors. These guests, who have been given aliases, are Mrs. Peacock (Eileen Brennan), Miss Scarlet (Lesley Ann Warren), Mr. Green (Michael McKean), professor Plum (Christopher Lloyd), Mrs. White (Madeline Kahn) and Col. Mustard (Martin Mull). When Boddy turns up murdered, all are suspects, and together they try to figure out who is the killer.
Join our motley crew of detectives (or are they the murderer?!?!?) as we investigate the chaos, the comedy and they mystery of CLUE!
Please follow the Fandom Podcast Network on YouTube! Please subscribe to the Fandom Podcast Network YouTube Channel here:
https://www.youtube.com/channel/UCib-kbKfAagsxrWlJU01Rcg
Fandom Podcast Network Contact Info / How to contact & find us:
- fpnet.podbean.com
- FPNet on Podbean app
- Fandom Podcast Network on: iTunes / I Heart Radio / Stitcher / Podbean / Google Play / Spotify
- Facebook: Fandom Podcast Network
- Email: fandompodcastnetwork@gmail.com
- Instagram: FandomPodcastNetwork 
- Twitter: @fanpodnetwork
- Kyle Wagner on Twitter: @AKyleW Instagram: Akylefandom
- Hayley Stoddart on Twitter: @Trekkie01D
- Carl Wonders on Twitter: @Listeningtofilm
Please help support the Fandom Podcast Network through reviews on Apple Podcasts / iTunes and our Fandom Podcast Network Store on Tee Public. 
Apple Podcasts / iTunes Reviews:
Please leave us a review on Apple Podcasts so new fans can find us easier. Search FANDOM PODCAST NETWORK on Apple Podcasts, and leave a review for Time Warp. We LOVE 5 star reviews of course, but we love feedback in general!
Fandom Podcast Network Tee Public Store:
Get Your Fandom Podcast Network and Couch Potato Theater Merchandise on Tee Public! Please visit our TeePublic store where you can help support the Fandom Podcast Network while wearing your Couch Potato Theater and other awesome Fandom Podcast Network favorite show logos with pride!
Tee Public Store: https://www.teepublic.com/user/fandompodcastnetwork 
Please listen to our other awesome podcasts on the Fandom Podcast Network:
Master Feed: https://fpnet.podbean.com/ 
Culture Clash: The FPN Weekly Pop Culture Podcast
https://fpnet.podbean.com/category/culture-clash/
Blood of Kings: A Highlander Podcast
https://fpnet.podbean.com/category/blood-of-kings/
Couch Potato Theater: Celebrating our Favorite Movies Podcast
https://fpnet.podbean.com/category/couch-potato-theater/
Time Warp: The Fandom Flashback Podcast
https://fpnet.podbean.com/category/time-warp/
The Endzone: An (Unofficial) NFL Podcast
https://fpnet.podbean.com/category/the-endzone/
Good Evening: An Alfred Hitchcock Podcast
https://fpnet.podbean.com/…/good-evening-an-alfred-hitchcoc…/
Union Federation: A Star Trek and The Orville Podcast
https://fpnet.podbean.com/category/union-federation
Hair Metal: The 1980's Hair Metal Podcast
https://fpnet.podbean.com/category/hair-metal/
TYPE 40: A Doctor Who Podcast
https://fpnet.podbean.com/category/type-40-the-fpnet-doctor-who-podcast/ 
Lethal Mullet: A 1980's Action Film Podcast
https://fpnet.podbean.com/category/lethal-mullet
What A Piece Of Junk: A Star Wars Podcast
https://fpnet.podbean.com/category/what-a-piece-of-junk-a-star-wars-podcast…
Making Treks: A Star Trek Podcast
https://fpnet.podbean.com/category/Making-treks