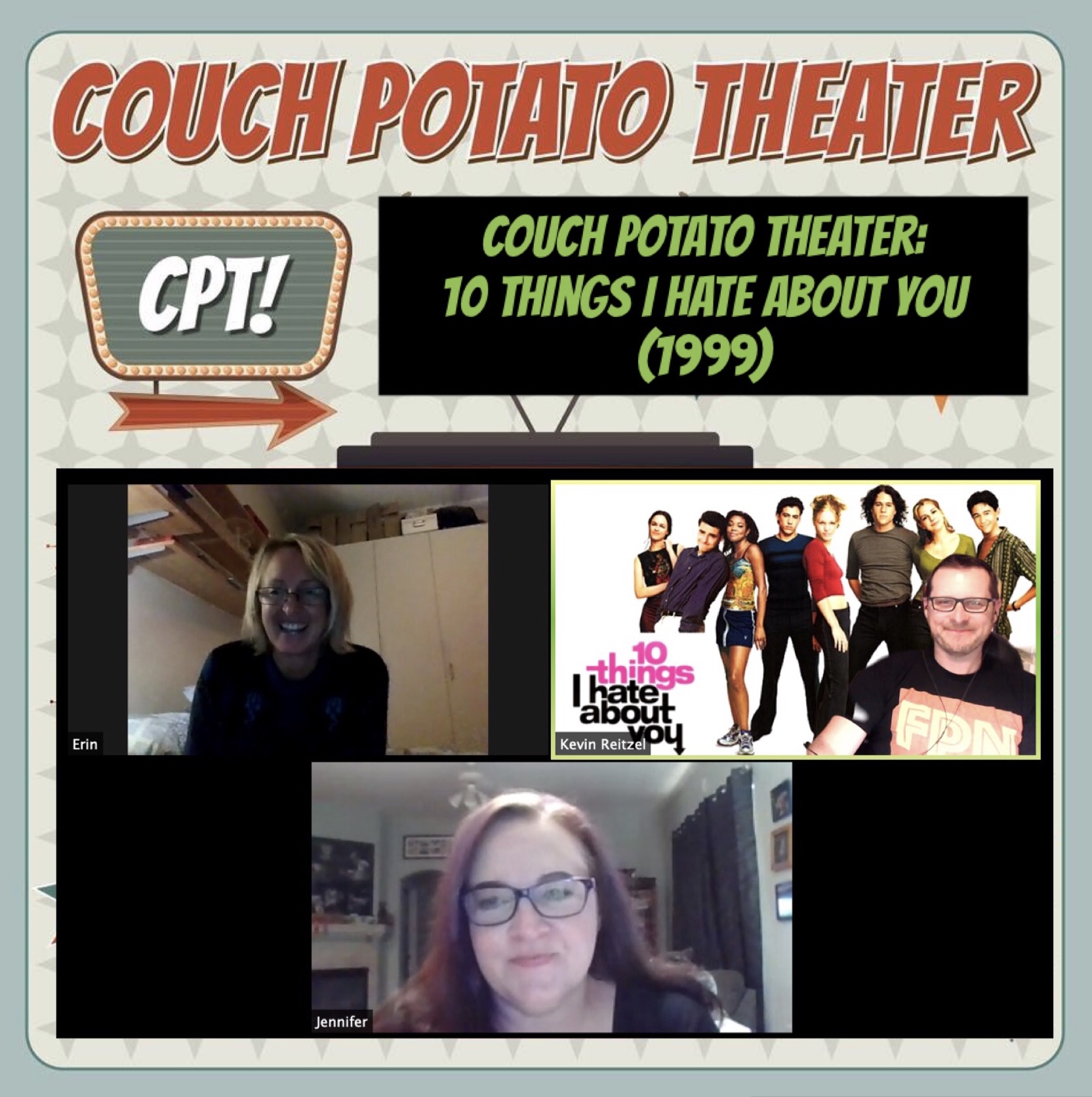 Couch Potato Theater: 10 Things I Hate About You (1999)
Welcome to Couch Potato Theater here on the Fandom Podcast Network. On Couch Potato Theater we celebrate our favorite movies. Even though you may own your favorite movie, you love what you are watching so much, you don't even care about getting off the couch. And that my friends is the definition of what our show is all about. 
Join us on the Couch as we look back and celebrate one of our favorite Teen High School comedies from the 1990's,10 Things I Hate About You (1999)! Host Kevin is  joined by Erin G. and Jennifer W. as they discuss their  
favorite moments, actors, quotes, scenes and trivia from one of the most loved movies inspired by William Shakespeare's 'Taming of the Shrew'. This movie has a high re-watchability and represents everything that Couch Potato Theater is all about.
10 Things I Hate About You is a 1999 American romantic comedy film directed by Gil Junger and starring Julia Stiles, Heath Ledger, Joseph Gordon-Levitt, and Larisa Oleynik. The screenplay, written by Karen McCullah Lutz and Kirsten Smith, is a modernization of William Shakespeare's late-16th-century comedy The Taming of the Shrew, retold in a late-1990s American high school setting. In the story, new student Cameron (Gordon-Levitt) is smitten with Bianca (Oleynik) and, in order to get around her father's strict rules on dating, attempts to get bad boy Patrick (Ledger) to date Bianca's ill-tempered sister, Kat (Stiles). The film is titled after a poem written by Kat about her bittersweet romance with Patrick.
Fandom Podcast Network Contact Info / How to contact & find us:
- fpnet.podbean.com
- FPNet on Podbean app
- Fandom Podcast Network on: iTunes / I Heart Radio / Stitcher / Podbean / Google Play / Spotify
- Facebook: Fandom Podcast Network
- Email: fandompodcastnetwork@gmail.com
- Instagram: FandomPodcastNetwork 
- Twitter: @fanpodnetwork
- Kevin Reitzel on Twitter & Instagram: @spartan_phoenix
- Erin on: Instagram: @Audreyworm
- Jennifer on Instagram: @ChefStomp91
Please help support the Fandom Podcast Network through reviews on Apple Podcasts / iTunes and our Fandom Podcast Network Store on Tee Public. 
The FANDOM PODCAST NETWORK is now on YouTube! Join us!
Link: https://www.youtube.com/channel/UCib-kbKfAagsxrWlJU01Rcg
PLEASE SUBCRIBE to our YouTube channel to receive notifications of new podcast episodes and live events.
Fandom Podcast Network Tee Public Store:
Get Your Fandom Podcast Network and Couch Potato Theater Merchandise on Tee Public! Please visit our TeePublic store where you can help support the Fandom Podcast Network while wearing your Couch Potato Theater and other awesome Fandom Podcast Network favorite show logos with pride!
Tee Public Store: https://www.teepublic.com/user/fandompodcastnetwork 
Please listen to our other awesome podcasts on the Fandom Podcast Network:
Master Feed: https://fpnet.podbean.com/ 
Culture Clash: The FPN Weekly Pop Culture Podcast
https://fpnet.podbean.com/category/culture-clash/
Blood of Kings: A Highlander Podcast
https://fpnet.podbean.com/category/blood-of-kings/
Couch Potato Theater: Celebrating our Favorite Movies Podcast
https://fpnet.podbean.com/category/couch-potato-theater/
Time Warp: The Fandom Flashback Podcast
https://fpnet.podbean.com/category/time-warp/
The Endzone: An (Unofficial) NFL Podcast
https://fpnet.podbean.com/category/the-endzone/
Good Evening: An Alfred Hitchcock Podcast
https://fpnet.podbean.com/…/good-evening-an-alfred-hitchcoc…/
Union Federation: A Star Trek and The Orville Podcast
https://fpnet.podbean.com/category/union-federation
Hair Metal: The 1980's Hair Metal Podcast
https://fpnet.podbean.com/category/hair-metal/
TYPE 40: A Doctor Who Podcast
https://fpnet.podbean.com/category/type-40-the-fpnet-doctor-who-podcast/ 
Lethal Mullet: A 1980's Action Film Podcast
https://fpnet.podbean.com/category/lethal-mullet
What A Piece Of Junk: A Star Wars Podcast
https://fpnet.podbean.com/category/what-a-piece-of-junk-a-star-wars-podcast…
Making Treks: A Star Trek Podcast
https://fpnet.podbean.com/category/Making-treks