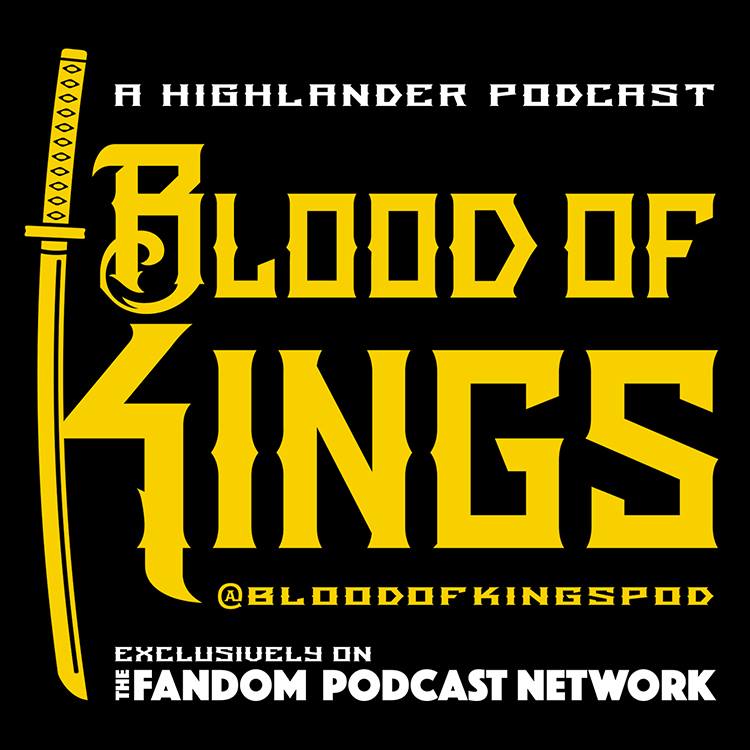 Blood of Kings: A Highlander Podcast
Episode 87: Kevin & Erin's London & Scotland Highlander Filming Location Tour!
In July of 2018, Blood of Kings Highlander Podcast co-host KEVIN REITZEL and his fiancée ERIN GILL traveled to London England, and Scotland in search of filming locations from the original 1986 HIGHLANDER movie. Kevin and Erin specifically planed their UK tour around searching out popular, and in some cases, difficult to find filming locations of the movie that started it all. The original 1986 movie Highlander told the legend of immortals living, battling and taking each others heads throughout time, until the call of The Gathering brought them together where they dueled to the death because, THERE CAN BE ONLY ONE!
With the help of Andy Sloan who provided a list of Highlander UK filming locations and their coordinates, Kevin and Erin's Highlander filming location tour took them to areas in and around London. Then their tour took them to many locations in Scotland such as Glencoe, Glen Nevis / Ft William, Glenfinnan, Silver Sands Beach Mallaig, Dornie and Torridon. Kevin and Erin's filming location tour covered many of the iconic Highlander scenes from the film like:
- The Church, where Connor and the Kurgan met on Holy Ground.
- The Parking Lot, the intro fight scene between Connor & Iman Fasil.
- The Battlefield, where the MacLeods battle The Kurgan and The Frasiers'
- Connor and Heather's Home'
- The Marketplace, where Ramirez warns Connor about leaving Heather because of his immortality.
- Loch Shiel Glenfinnan, where Ramirez teaches Connor about BALANCE and his immortality.
- Eilean Donan Castle, where The MacLeods start their march off to battle to meet the Frasiers.
- The Beach! This was the most important location for Kevin & Erin to find, since not many people have documented finding this hard to find beach, where Ramirez teaches Connor about the Spirit of the Stagg and The Quickening!
Sit back and relax has you listen to a Highlander adventure taken by two very big Highlander fans that experienced a trip of a lifetime exploring London, and the most beautiful country on the world, SCOTLAND!
Blood of Kings Contact Info:
You can always find the Blood of Kings Podcast on the Fandom Podcast Network:
• Fandom Podcast Network on: iTunes, Stitcher, Podbean, & Google Play
• Instagram: FandomPodcastNetwork & BloodOfKingsPodcast 
• Facebook: Blood of Kings: A Highlander Fandom Group
• Facebook: Blood of Kings: A Highlander CCG (Collectible Card Game) Page
You can contact us directly here:
• Twitter: @BloodOfKingsPod
• Instagram: @BloodOfKingsPodcast
• Kevin on Twitter & Instagram: @spartan_phoenix
• Norman on Twitter: @starfighter1701 / Instagram @socalswordfighter
• Mike on Twitter: @Immortalcimoli
• Erin Gill on Instagram: @audreyworm
iTunes: Please leave us a review on iTunes so new fans can find us easier. We LOVE 5 star reviews of course, but we love feedback in general!
Please listen to our other awesome podcasts on the Fandom Podcast Network:
Culture Clash: The FPN Weekly Pop Culture Podcast
Couch Potato Theater: Our Favorite Movies Podcast
Time Warp: The Fandom Flashback Podcast
The Endzone: An (Unofficial) NFL Podcast
Good Evening: An Alfred Hitchcock Podcast
DiscoVille: A Star Trek Discovery and The Orville Podcast
Hair Metal: The Hair Metal Podcast
AND INTRODUCING OUR BRAND NEW Podcast...
TYPE 40: A Doctor Who Podcast