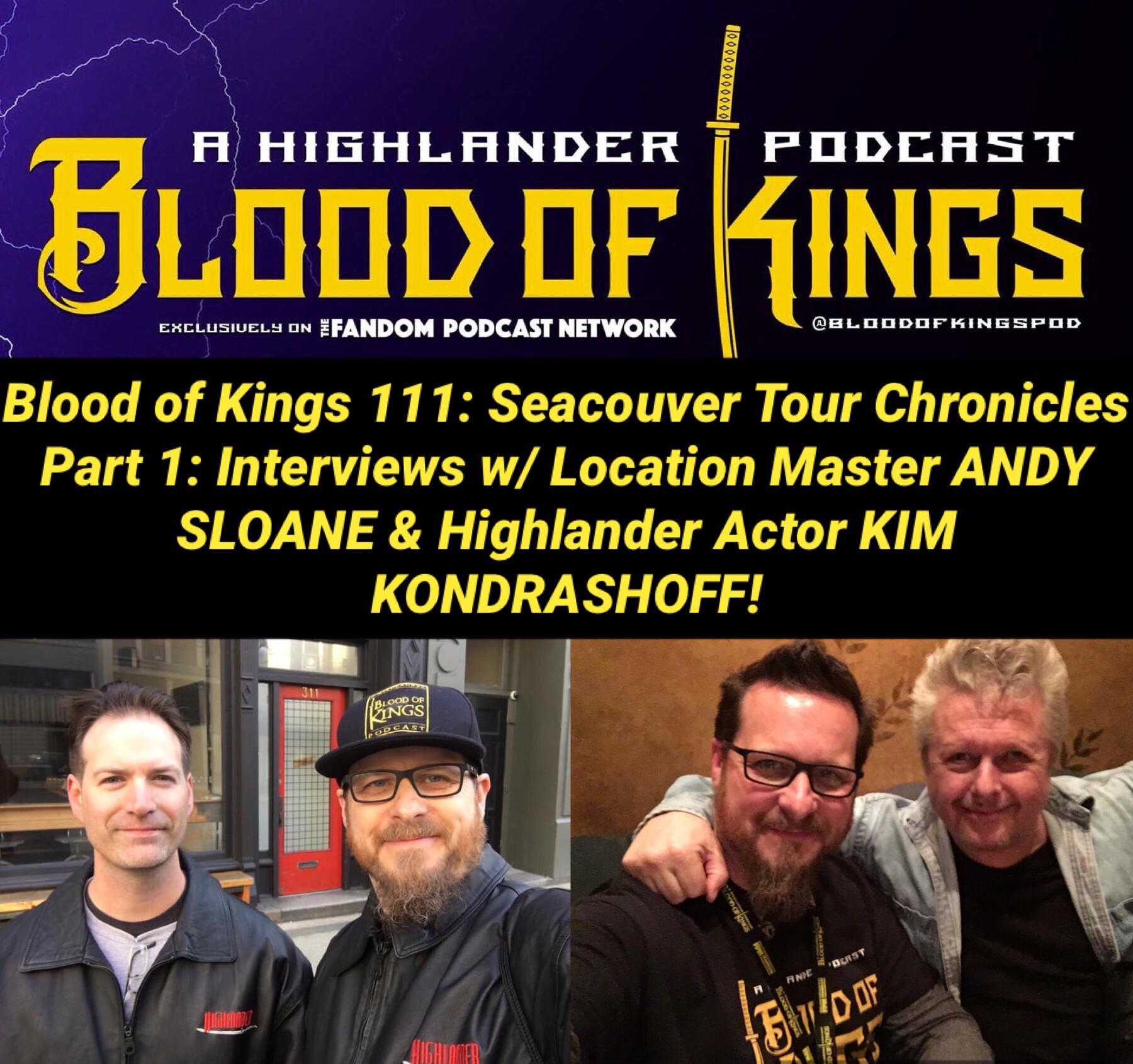 Blood of Kings 111: Seacouver Tour Chronicles Part 1: Interview w/ Location Master ANDY SLOANE & Highlander Actor KIM KONDRASHOFF!
In April of 2019, your Blood of Kings Highlander Podcast host Kevin Reitzel joined Location Master Andy Sloane for his Seacouver 2019 tour in the beautiful city of Vancouver British Columbia, Canada. Vancouver Canada provided the filming locations for the fictitious city of Seacouver for the 1990's Highlander TV Show. The first half of each season was filmed in Vancouver, then the second half of the season moved production and location to Paris France.
Andy Sloane has been running these tours of Seacouver / Vancouver for several years. His knowledge of the Highlander filming locations is extensive and very well organized and researched. Your Blood of Kings host Kevin Reitzel spent a week in Vancouver with Andy touring many locations from most of the Highlander filming locations in the Vancouver area which included many fan favorite episodes and iconic Highlander scenes and locations.
- Our first interview is with the Seacouver Highlander Locations Master himself, Mr. Andy Sloane. Kevin interviewed Andy at the end of the Seacouver 2019 Tour. Andy discussed his experience and history in planning his tours. Kevin also talked to Andy about many of the locations they just visited on the recent Seacouver 2019 tour. 
- Our second interview was with Highlander TV series actor Kim Kondrashoff. Kim discusses his acting career and his experience working on the Highlander TV series. Kim was in two Highlander episodes, The Road Not Taken (1992) where he was the character "Forks" and the episode Obsession (1994) where he played the character "Henry Carter".
  
Kevin would like to thank his Special Guests Andy Sloane & Kim Kondrashoff for being on the Blood of Kings Highlander Podcast.
If you would like to contact Andy Sloane for future Seacouver Vancouver Tours please contact him here:
Email: andysloane@hotmail.com
Twitter: @locationsmaster
Facebook: https://www.facebook.com/andy.sloane.79
Blood of Kings Contact Info:
Kevin Reitzel on Twitter & Instagram: @spartan_phoenix
You can contact us directly here:
Email: BloodOfKingsPodcast@gmail.com
Twitter: @BloodOfKingsPod
Instagram: @BloodOfKingsPodcast
Blood of Kings Highlander Fandom Facebook Group:
https://www.facebook.com/groups/1551389528504825/
You can always find the Blood of Kings Podcast on the Fandom Podcast Network:
• Fandom Podcast Network Master Feed: Fpnet.podbean.com 
• Blood Of Kings Master Feed: https://fpnet.podbean.com/category/blood-of-kings/
• FPNet is on the Podbean app
• Fandom Podcast Network on: iTunes, Stitcher, Podbean, Google Play and Spotify!
• Twitter & Instagram: @BloodOfKingsPod 
• Facebook: Blood of Kings: A Highlander Fandom Group
• Facebook: Blood of Kings: A Highlander CCG (Collectible Card Game) Page
Tee Public Store:
To get your own Blood of Kings T-shirts and other apparel, please visit our Blood of Kings store on Tee Public by searching "Fandom Podcast Network". Link: https://www.teepublic.com/user/fandompodcastnetwork
Apple Podcasts Reviews:
Please leave us a review on Apple Podcasts so new fans can find us easier. Search "FANDOM PODCAST NETWORK" on Apple Podcasts, and leave a review for Blood of Kings. We LOVE 5 star reviews of course, but we love feedback in general!
Please listen to our other awesome podcasts on the Fandom Podcast Network:
Master Feed: https://fpnet.podbean.com/
Culture Clash: The FPN Weekly Pop Culture Podcast
https://fpnet.podbean.com/category/culture-clash/
Couch Potato Theater: Our Favorite Movies Podcast
https://fpnet.podbean.com/category/couch-potato-theater/
Time Warp: The Fandom Flashback Podcast
https://fpnet.podbean.com/category/time-warp/
The Endzone: An (Unofficial) NFL Podcast
https://fpnet.podbean.com/category/the-endzone/
Good Evening: An Alfred Hitchcock Podcast
https://fpnet.podbean.com/…/good-evening-an-alfred-hitchcoc…/
DiscoVille: A Star Trek Discovery and The Orville Podcast
https://fpnet.podbean.com/category/discoville
Hair Metal: The Hair Metal Podcast
https://fpnet.podbean.com/category/hair-metal/
TYPE 40: A Doctor Who Podcast
https://fpnet.podbean.com/category/type-40-the-fpnet-doctor-who-podcast/ 
Lethal Mullet: A 1980's Action Film Podcast
https://fpnet.podbean.com/category/lethal-mullet