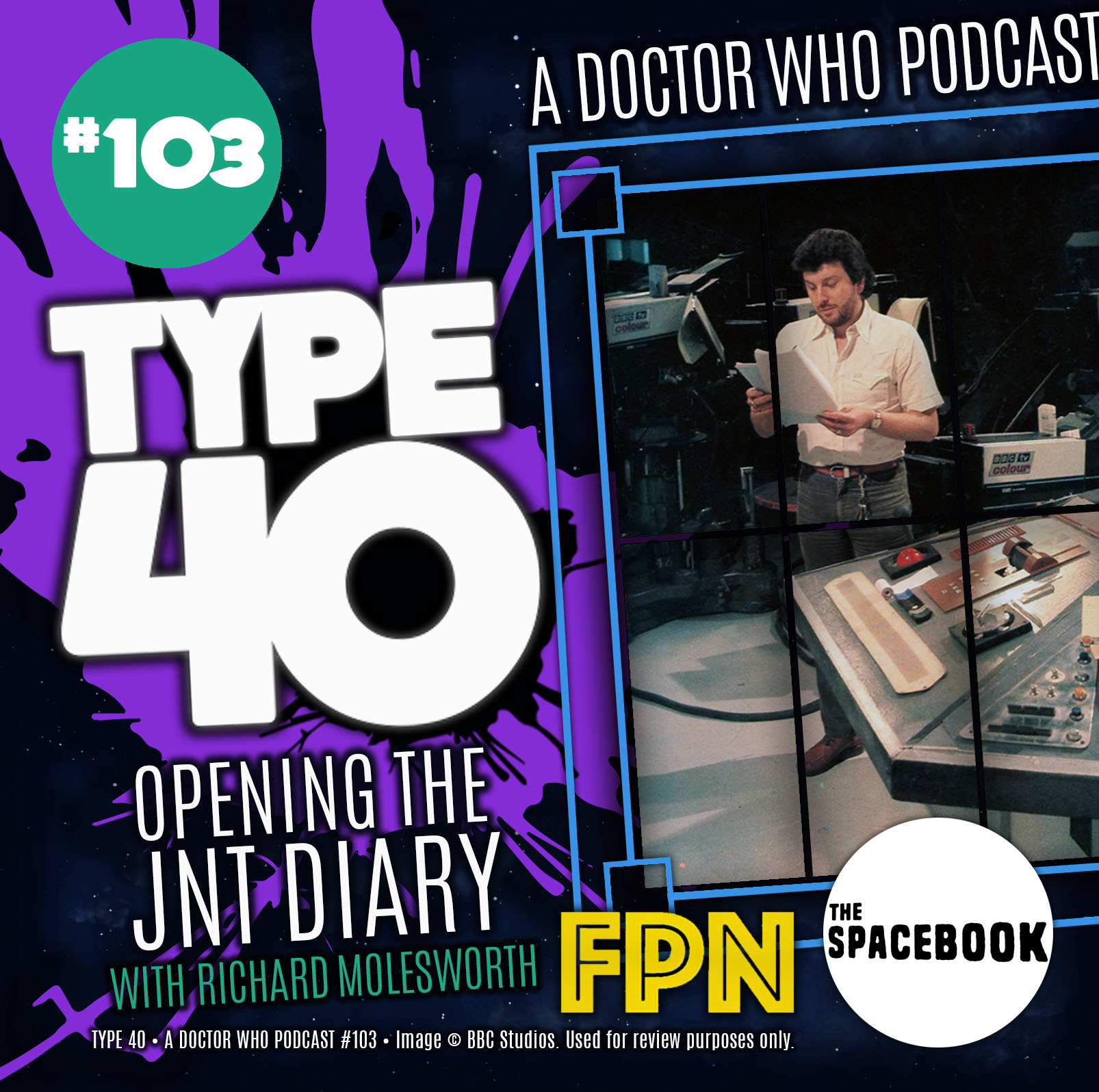 Type 40 • A Doctor Who Podcast
Episode 103: Opening the JNT Diary with Richard Molesworth
Everyone loves the 80's! Though when it comes to classic Doctor Who history, it's the period that divides opinion most. Nine seasons were made under enormous pressures, with only one constant presence other than a blue Police Box. And on this edition of Type 40 we look at the legacy of the shows producer, through that time: the late John Nathan-Turner.
Regular hosts Simon and Dan welcome back friend of the show, the writer Richard Molesworth. In the very week his latest work "The John Nathan-Turner Doctor Who Production Diary 1979-1990" is released. Richard had access to an unprecedented volume of information to complete his project. Here he gives us the inside story on the how's, who's and why's!
Back in the New Year we asked regular listeners what they'd like to hear on our Doctor Who podcast in 2022, through social media. A return visit from Richard was high on the list! So we're delighted to present a special show previewing this latest must-have book. Stream or download here:
Find Type 40 • A Doctor Who Podcast feed here at:
•          type40.podbean.com
Listen to Type 40 on:
Apple Podcasts, Spotify, Stitcher, Google Play, iHeart Radio,
Tune In and the Podbean App.
•          Or as part of FPNet Master Feed @Fpnet.podbean.com
If you would like to contact us directly you can:
•          Email: type40drwho@gmail.com
•          Twitter: @type40drwho
•          Instagram: @type40doctorwho
•          Facebook: Type 40 • A Doctor Who Fan Page
•          Join the Facebook group Type 40 • A Doctor Who Fan Group:
•          Order : The John Nathan-Turner Production Diary 1979-1990 direct from Telos Publishing here:
https://telos.co.uk/shop/doctor-who/jnt-diary/
•          Dan Hadley on Twitter and Instagram @The_spacebook 
Subscribe to The Spacebook YouTube channel for extended and extra Type 40:
https://www.youtube.com/channel/UCh8T5-mFYWblZo6lnakCSCw
•          Find Simon Horton on Facebook in the Doctor Who: The Whonatics group
TeePublic Store:
Help support the Fandom Podcast Network and wear some of their fantastic original designs and logos on t-shirts, mugs, hats and more from Tee Public Go to: https://www.teepublic.com/user/fandompodcastnetwork or just search Fandom Podcast Network to find our storefront.
Please listen to our other awesome podcasts on the Fandom Podcast Network:
Master Feed: https://fpnet.podbean.com/