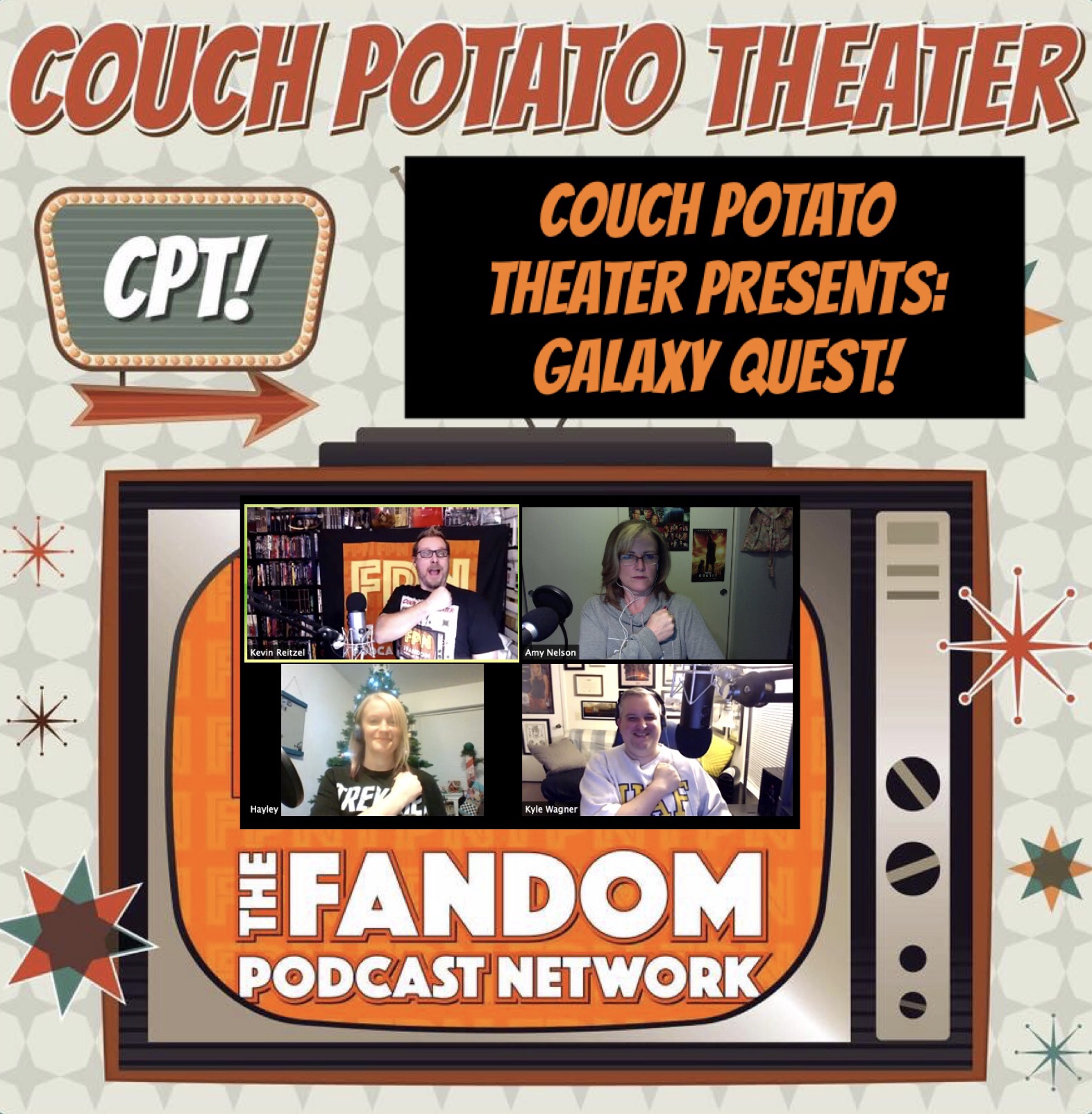 Couch Potato Theater: GALAXY QUEST! 20 Years Later Retrospective!
Welcome to Couch Potato Theater here on the Fandom Podcast Network. Couch Potato Theater is the podcast on the FPN dedicated to covering all those hidden gems, cult classics, fan favorites and Guilty pleasure movies that are so good, even though you might have the Criterion Collection, Steelbook Edition, or deluxe
Blu-ray set in your library just mere inches away from your entertainment center, you love what you are watching SO MUCH, you don't even care about getting off the couch. And that my friends is the DEFINITION of what our show is all about.
Join us for this very special edition of Couch Potato Theater as we look back on the 1999 Classic: 
Couch Potato Theater: GALAXY QUEST! 20 Years Later Retrospective!
Since its theatrical debut in 1999, Galaxy Quest remains one of the Greatest Sci-Fi Comedies of all time. It is often hailed by Star Trek fans as one of the best Star Trek films! 20 years later, the film absolutely holds up as one of the best sci-fi satires ever made—one that challenges our obsession with massive Hollywood franchises, the nature of fandom, and some of the more problematic clichés of the genre. But it does so with a self-aware empathy that makes it an enduring and lasting entry in not only science-fiction, but American film as a whole.
Join your Couch Potato hosts Kevin, Kyle, Haylee and Amy as they take a look back at this perfect film and see how it has remained a true classic to this day and a film that represents everything that Couch Potato Theater is about.
Fandom Podcast Network Contact Info / How to contact & find us:
- FPNet on Podbean app
- Fandom Podcast Network on: iTunes / I Heart Radio / Stitcher / Podbean / Google Play / Spotify
- Facebook: Fandom Podcast Network
- Email: fandompodcastnetwork@gmail.com
- Instagram: FandomPodcastNetwork 
- Twitter: @fanpodnetwork
- Kevin on Twitter & Instagram: @spartan_phoenix
- Kyle on Twitter: @AKyleW / Instagram: Akylefandom
- Amy on Twitter: @missamynelson
- Hayley on Twitter: @Trekkie01D
Please help support the Fandom Podcast Network through reviews on Apple Podcasts and our Fandom Podcast Network Store on Tee Public. 
Apple Podcasts:
Please leave us a review on Apple Podcasts so new fans can find us easier. Search FANDOM PODCAST NETWORK on Apple Podcasts, and leave a review for Time Warp. We LOVE 5 star reviews of course, but we love feedback in general!
Fandom Podcast Network Tee Public Store:
Get Your Fandom Podcast Network and Time Warp Merchandise on Tee Public! Please visit our TeePublic store where you can help support the Fandom Podcast Network while wearing your Time Warp and other awesome Fandom Podcast Network favorite show logos with pride!
Tee Public Store: https://www.teepublic.com/user/fandompodcastnetwork 
Please listen to our other awesome podcasts on the Fandom Podcast Network:
What A Piece Of Junk: A Star Wars Podcast
https://fpnet.podbean.com/category/what-a-piece-of-junk-a-star-wars-podcast…