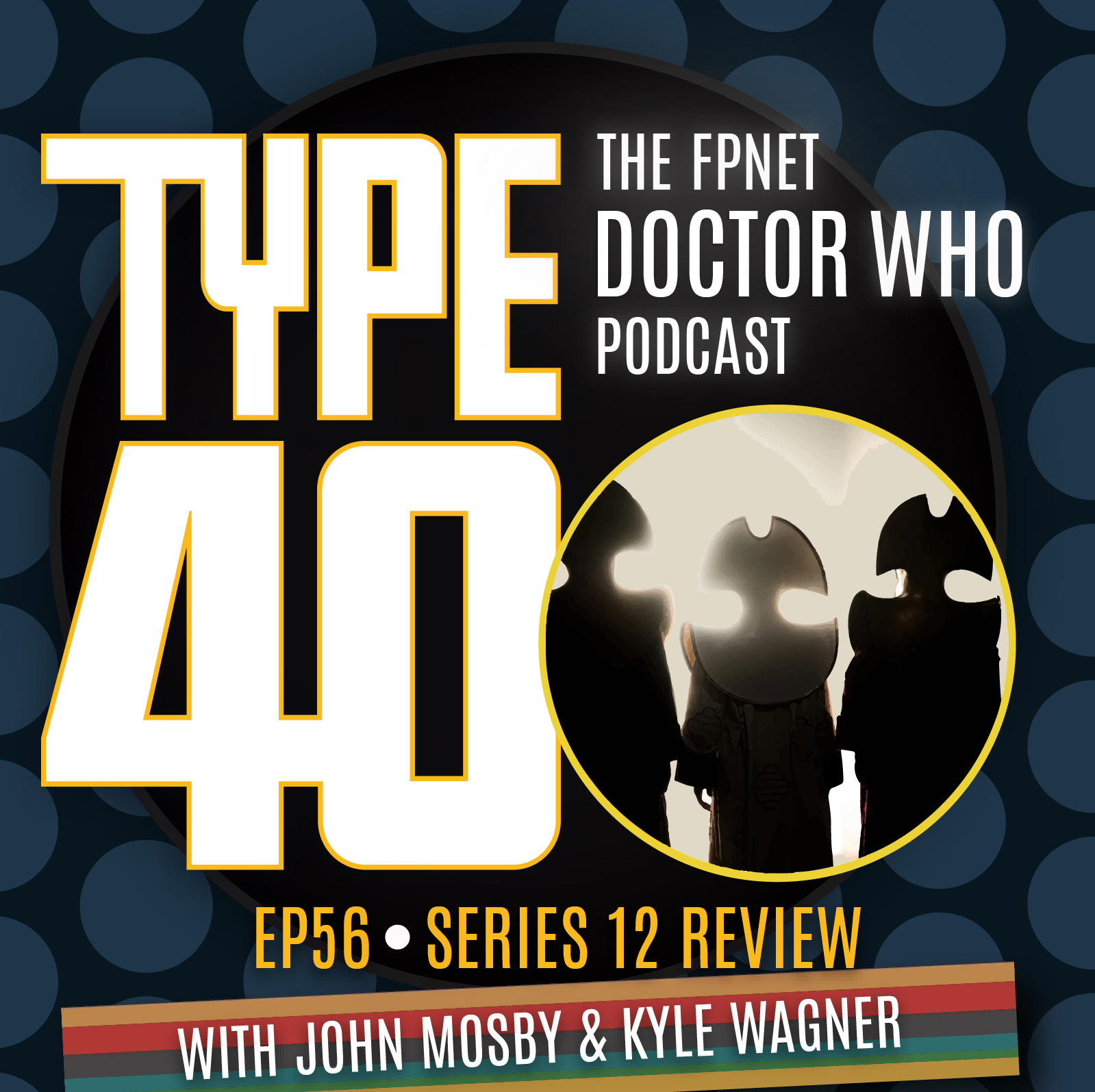 TYPE 40: A Doctor Who Podcast                                                                                                                                                                                    
Episode 56: Series 12 Review with John Mosby & Kyle Wagner
Coverage of that very latest season of Doctor Who wraps up with this edition of our podcast on the Fandom Podcast Network. Type 40's review of the whole of Series 12 starring Jodie Whittaker, which aired earlier in the year…
Special guest, genre journalist and reviewer John Mosby of the Echo Chamber is aboard our TARDIS this time. Casting a thoughtful eye over those 10 episodes with streaming sage Kyle Wagner of Culture Clash and regular host Dan Hadley.
Between them they weigh up efforts of the cast and crew of the world's longest running fantasy adventure series. As well as speculate on what could come next and more importantly? How long viewers may have to wait to see it, in a post pandemic world. Stream direct or download here!
* Support Doctor Who Lockdown in raising money
for the Covid-19 Film and TV Emergency Relief Fund, at this link:
https://www.justgiving.com/fundraising/doctorwholockdown
You can always find TYPE 40: A Doctor Who Podcast on:
• The FPNet Master Feed @Fpnet.podbean.com
• FPNet on Podbean app
• Fandom Podcast Network on: Apple Podcasts, Spotify, Stitcher & Google Play
• Instagram: FandomPodcastNetwork & type40drwho
• Facebook: TYPE 40: A Doctor Who Fandom Podcast:
If you would like to contact us directly you can:
• Email: type40drwho@gmail.com
• Twitter: @type40drwho
• Instagram: @type40drwho
• John Mosby @theregoestheday on Twitter
• John Mosby Echo Chamber website: http://echochamber.online/
• Kyle Wagner @AKyleW on Twitter
• Dan Hadley on Twitter and Instagram @The_spacebook
TeePublic Store:
Help support the Fandom Podcast Network and wear some of their fantastic original designs and logos on t-shirts, mugs, hats and more from Tee Public Go to: https://www.teepublic.com/user/fandompodcastnetwork or just search Fandom Podcast Network to find our storefront.
Apple Podcasts: 
Please search Fandom Podcast Network on Apple Podasts and leave us a review so new fans can find us easier. We LOVE 5 star reviews of course, but we love feedback in general! 
Please listen to our other awesome podcasts on the Fandom Podcast Network:
Master Feed: https://fpnet.podbean.com/
Type 40: The FPNet Doctor Who Podcast
https://fpnet.podbean.com/category/type-40-the-fpnet-doctor-who-podcast/