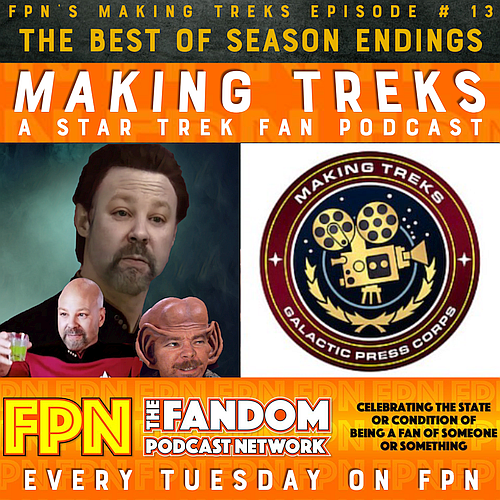 Making Treks: Episode #13: Best of Season Endings
Adam returns to chat about the greatest season ender there ever was "Best of Both Worlds Part One", and he's also joined once again by James Semple for part two of his chat about Star Trek and science fiction film scoring. In Engineering we go through one of the most interesting marine animal like designs of the Star Trek universe the Narada and its implications for other borgified vessels, plus an update on upcoming content in 2021.
Find Making Treks on:
Apple / Stitcher / Spotify / Google Play / Podbean / IheartRadio
Contact:
Site: fpnet.podbean.com
Twitter: @fanpodnetwork
Facebook & Instagram: Fandom Podcast Network
Adam: @thelethalmullet (Twitter/Facebook/Instagram)
James: @jamesasemple (Twitter)
FPN Master Feed: fpnet.podbean.com
Catch the flagship show: Culture Clash, Blood of Kings, and the host of amazing podcasts covering all of fandom.
#startrek #podcast #fandom #makingtreksastartrekfanpodcast #lowerdecks #fandompodcastnetwork #marknewbold #adamobrien #robwainfur #jamessemple #thenextgeneration #picard #music #scoring #film #composition #technology