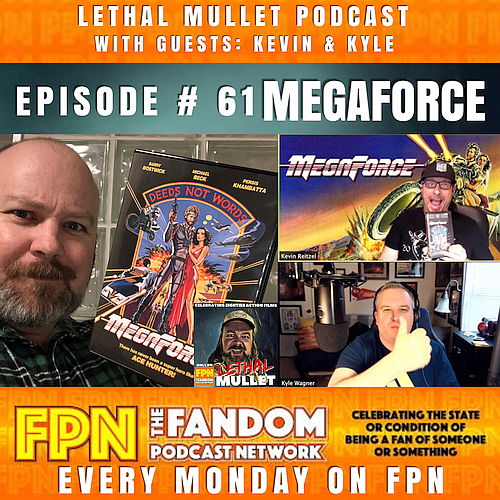 Lethal Mullet Podcast: Episode 61: Megaforce
The Mullet is joined by co-founders: Kevin & Kyle tonight as they do away with words and do deeds instead. Covering an old classic from 1982: MEGAFORCE.
Also visit the Fandom Podcast Network You Tube Channel: https://www.youtube.com/channel/UCib-kbKfAagsxrWlJU01Rcg 
Find Lethal Mullet Podcast on:
Apple / Stitcher / Spotify / Google Play / Podbean / IheartRadio
Contact:
Site: fpnet.podbean.com
Twitter: @fanpodnetwork
Facebook & Instagram: Fandom Podcast Network
Adam: @thelethalmullet (Twitter/Facebook/Instagram)
Kevin: @spartan_phoenix (Twitter/Instagram)
Kyle: @akylew (Twitter) @akylefandom (Instagram
FPN Master Feed: fpnet.podbean.com
Catch the flagship show: Culture Clash, Blood of Kings, and the host of amazing podcasts covering all of fandom.
#fandompodcastnetwork #lethalmulletpodcast #adamobrien #australia #popculture #action #movies #1982 #megaforce #deeds #not #words