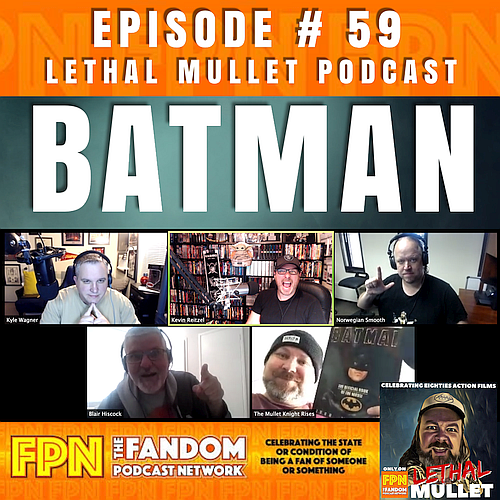 Lethal Mullet Podcast Episode #59: Batman 1989
The Mullet is joined by a dynamic team of four cohosts to celebrate Batman. He is joined by the cofounders of FPn: Kevin & Kyle, Lee Fillingsness of Blood of Kings, and Blair Hiscock of My Saga: a Star Wars podcast. We go through the conception, stars and what made this movie such a classic and best comic book adaptation.
Find Lethal Mullet Podcast on:
Apple / Stitcher / Spotify / Google Play / Podbean / IheartRadio
Contact:
Site: fpnet.podbean.com
Twitter: @fanpodnetwork
Facebook & Instagram: Fandom Podcast Network
Adam: @thelethalmullet (Twitter/Facebook/Instagram)
Kevin: @spartan_phoenix (Twitter/Instagram)
Kyle: @akylew (Twitter) @akylefandom (Instagram)
Blair: @blair_pops_culture (Instagram)
Lee: @thewayoftheway (Twitter)
FPN Master Feed: fpnet.podbean.com
Catch the flagship show: Culture Clash, Blood of Kings, and the host of amazing podcasts covering all of fandom.
#fandompodcastnetwork #lethalmulletpodcast #adamobrien #australia #popculture #action #movies #batman #tim #burton #1989 #michael #keaton #jack #nicholson #kim #basinger #alfred #gough #prince #danny #elfman