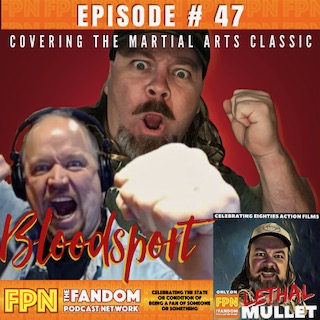 Lethal Mullet Podcast: Episode # 47: Bloodsport
On tonight's episode of the show Adam chats about the classic story of Frank Dux vs Chong Li in Bloodsport. Alongside Lee Fillingsness of Blood of Kings.
Find Lethal Mullet Podcast on:
Apple / Stitcher / Spotify / Google Play / Podbean / IheartRadio
Contact:
Site: fpnet.podbean.com
Twitter: @fanpodnetwork
Facebook & Instagram: Fandom Podcast Network
Adam: @thelethalmullet (Twitter/Facebook/Instagram)
FPN Master Feed: fpnet.podbean.com
Catch the flagship show: Culture Clash, Blood of Kings, and the host of amazing podcasts covering all of fandom.
Episode: https://fpnet.podbean.com/e/lethal-mullet-podcast-episode-47-bloodsport/
#podcast #action #cinema #celebration #eighties #nineties #films #best #flicks #pop #cultfilm #fandompodcastnetwork #Bloodsport #vandamme