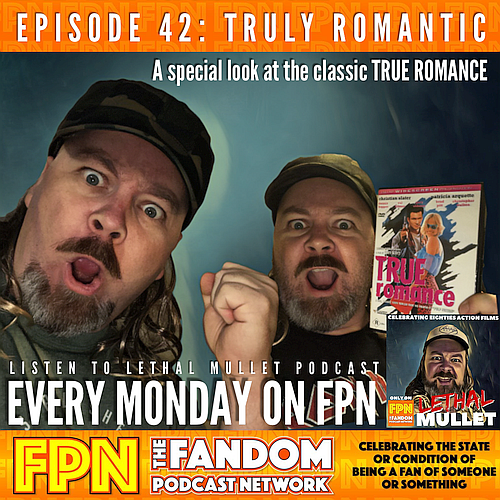 Lethal Mullet Podcast
Episode 42 - Truly Romantic
On tonight's episode of the show Adam goes through the Tony Scott directed, Tarantino scripted crime thriller masterpiece of pop culture cinema: True Romance. This film has such a brilliant cult following, and join the Mullet as he shows what is so amazing about this flick.  
Find Lethal Mullet Podcast on:
Apple / Stitcher / Spotify / Google Play / Podbean
Contact:
Site: fpnet.podbean.com
Twitter: @fanpodnetwork
Facebook & Instagram: Fandom Podcast Network
Adam: @thelethalmullet (Twitter/Facebook/Instagram)
FPN Master Feed: fpnet.podbean.com
Catch the flagship show: Culture Clash, Blood of Kings, and the host of amazing podcasts covering all of fandom.
Episode Link:
#podcast #action #cinema #celebration #eighties #nineties #films #best #flicks #pop #culture #tarantino #tonyscott #cultfilm #fandompodcastnetwork #lethalmulletpodcast