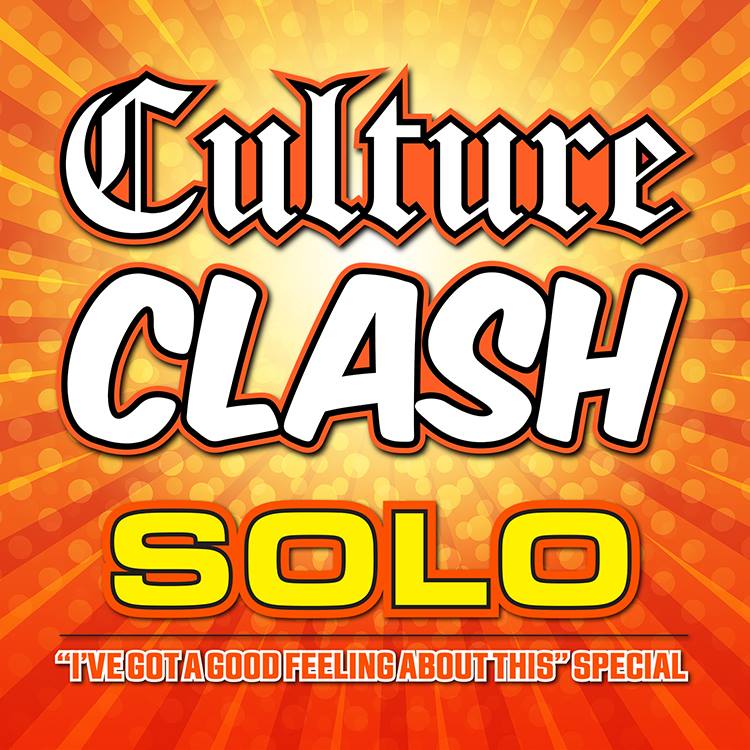 Culture Clash Presents: The SOLO Special
Not so long ago in a place nearby there was a podcast!
That is right welcome to the Culture Clash Solo special where we attempt to do the Kessel Run in less that 12 parsecs (we round down) and give you all our thoughts on Solo: A Star Wars Story.
To do that however we need a crew but not just any crew! Join host Kyle "Not so Solo" Wagner along with his always trusty co-pilot Kevin "Chewy" Reitzel as well as one Michael "Calrissian Cool" Morris and the real brains of the outfit making her first appearance on the Fandom Podcast Network Christy "Never Rough Around the Edges" Morris!
We have a crew, we have a pilot and we even have a ship (hopefully it's fast that is what they told us) so join us for this fun ride through hyperspace as we fly deep into SOLO!
Fandom Podcast Network Contact Info / How to contact & find us:
- FPNet on Podbean app
- Fandom Podcast Network on: iTunes / Stitcher / Podbean / Google Play
- Facebook: Fandom Podcast Network
- Email: fandompodcastnetwork@gmail.com
- Instagram: FandomPodcastNetwork 
- Twitter: @fanpodnetwork
- Kyle on Twitter: @AKyleW Instantgram: Akylefandom
- Kevin on Twitter: @spartan_phoenix & Instagram
- Michael on Twitter: @morriseisley
- Christy on Twitter: @bespinbelle
Tee Public:
ITunes:
Please leave us a review on iTunes so new fans can find us easier. We LOVE 5 star reviews of course, but we love feedback in general!
Please listen to our other awesome podcasts on the Fandom Podcast Network:
Culture Clash: (Weekly Fandom News Podcast)
DiscoVille: The Star Trek Discovery and The Orville Podcast
Blood of Kings: (Highlander Podcast)
Time Warp: (Fandom Spotlight Podcast)
Couch Potato Theater: (Movie Spotlight Podcast)
Good Evening: (Alfred Hitchcock Podcast)
The Endzone: (NFL Podcast)