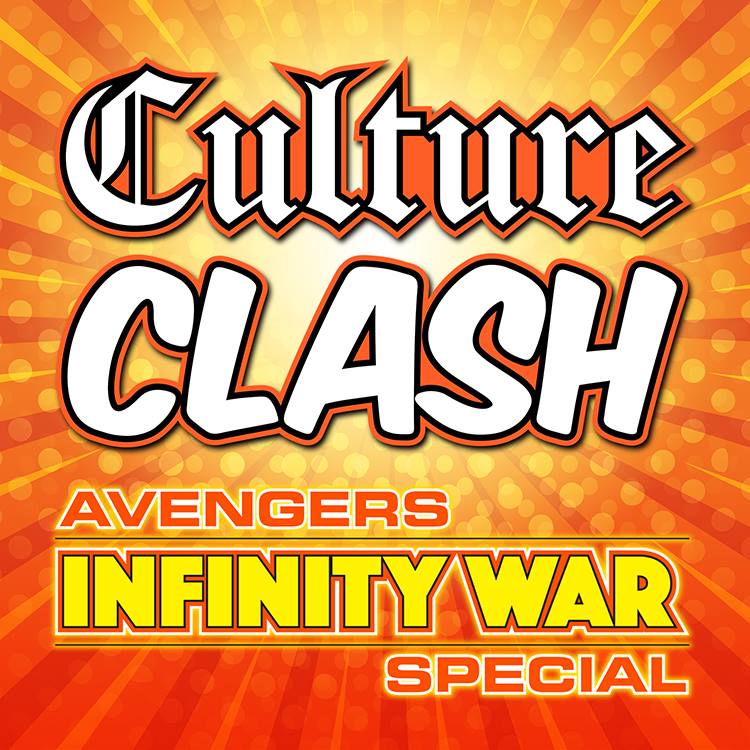 SPOILER WARNINGS!!!!
History has been made and the Infinity War is here!!!!
We have waited 10 years and 18 films but finally what the MCU has been building for is here and it is here in a BIG way and Infinity War has arrived and is off to a record shattering start.
However how did WE feel about it and just how historic is this movie?
Join Culture Clash hosts Kevin and Kyle as they welcome back the surviving members of the Great Lakes Avengers Mr. Alex (The Real Co-Host) Autrey and Michael (The titan-killing-long-term-booty-call) Morris return to the show to discuss all things Avengers: Infinity War.
Also there might be a special mystery guest as well!!!
Before for we start the show we just have to answer the following questions
Where is Kevin?
Who is Kyle?
Why is Alex and Michael?
Avengers Assemble!!!!!
Fandom Podcast Network Contact Info / How to contact & find us:
- FPNet on Podbean app
- Fandom Podcast Network on: iTunes / Stitcher / Podbean / Google Play
- Facebook: Fandom Podcast Network
- Email: fandompodcastnetwork@gmail.com
- Instagram: FandomPodcastNetwork
- Twitter: @fanpodnetwork
- Kyle on Twitter: @AKyleW Instantgram: Akylefandom
- Kevin on Twitter: @spartan_phoenix & Instagram
- Michael on Twitter: @MorrisEisley
- Alex on Twitter: @7throwcenter
Tee Public:
ITunes:
Please leave us a review on iTunes so new fans can find us easier. We LOVE 5 star reviews of course, but we love feedback in general!
Please listen to our other awesome podcasts on the Fandom Podcast Network:
Culture Clash: (Weekly Fandom News Podcast)
DiscoVille: The Star Trek Discovery and The Orville Podcast
Blood of Kings: (Highlander Podcast)
Time Warp: (Fandom Spotlight Podcast)
Couch Potato Theater: (Movie Spotlight Podcast)
Good Evening: (Alfred Hitchcock Podcast)
The Endzone: (NFL Podcast)