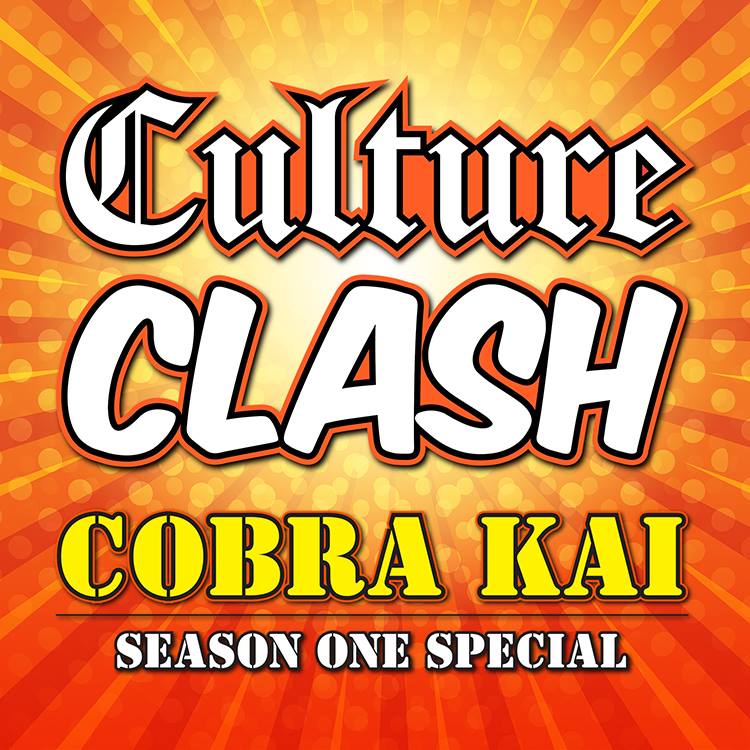 Culture Clash: Cobra Kai Season One Spoiler Reaction Show
WARNING! This podcast special contains spoilers for ALL of season one of the Cobra Kai 2018 TV series.
The Fandom Podcast Network is proud to present a Culture Clash Special! An in-depth look into the 10 episode 2018 streaming YouTube Red break out television sensation... COBRA KAI! 
Join your FPN hosts, Kevin Reitzel, Kyle Wagner, Norman Lao and special guest Erin Gill, as they explore this bonafide pop culture hit. This Cobra Kai spoiler special will dive deep into the hosts reactions, and... an episode by episode break down of this fantastic and well crafted television show. One thing that we all agree on is, Cobra Kai is the perfect blend of fan service and nostalgia. We will also speculate and analyze what the shocking final scene on the last episode will mean for season two, and share our expectations for the next season. Please enjoy this spoiler reaction show for Season One of... COBRA KAI!
Cobra Kai TV Show Details:
Cobra Kai is an American comedy-drama web television series based on The Karate Kid film series created by Robert Mark Kamen that premiered on May 2, 2018 on YouTube Red. The television series takes place 34 years after the original film and follows the reopening of the Cobra Kai karate dojo by Johnny Lawrence and the rekindling of his old rivalry with Daniel LaRusso. The series was created by Jon Hurwitz, Hayden Schlossberg, and Josh Heald and stars Ralph Macchio and William Zabka, reprising their roles from the original Karate Kid 1980's films. 
Cobra Kai, YouTube's continuation of The Karate Kid franchise, is a bona fide hit.
On May 10, 2018, it was announced that the series had been renewed for a second season after both critics and audiences lapped up the first ten episodes. Cobra Kai also reportedly trounced its streaming competition during its debut week with demand topping the likes of Netflix's 13 Reasons Why and Arrested Development as well as the second season of Hulu's The Handmaid's Tale.
Fandom Podcast Network Contact Info / How to contact & find us:
- FPNet on Podbean app
- Fandom Podcast Network on: iTunes / Stitcher / Podbean / Google Play
- Facebook: Fandom Podcast Network
- Email: fandompodcastnetwork@gmail.com
- Instagram: FandomPodcastNetwork 
- Twitter: @fanpodnetwork
- Kevin on Twitter & Instagram: @spartan_phoenix
- Kyle on Twitter: @AKyleW / Instagram: Akylefandom
- Norman on Twitter @starfighter1701 / Instagram @socalswordfighter
- Erin Gill on Instagram: @Audreyworm
Tee Public:
ITunes:
Please leave us a review on iTunes so new fans can find us easier. We LOVE 5 star reviews of course, but we love feedback in general!
Please listen to our other awesome podcasts on the Fandom Podcast Network:
Culture Clash: (Weekly Fandom News Podcast)
DiscoVille: The Star Trek Discovery and The Orville Podcast
Blood of Kings: (Highlander Podcast)
Time Warp: (Fandom Spotlight Podcast)
Couch Potato Theater: (Movie Spotlight Podcast)
Good Evening: (Alfred Hitchcock Podcast)
The Endzone: (NFL Podcast)