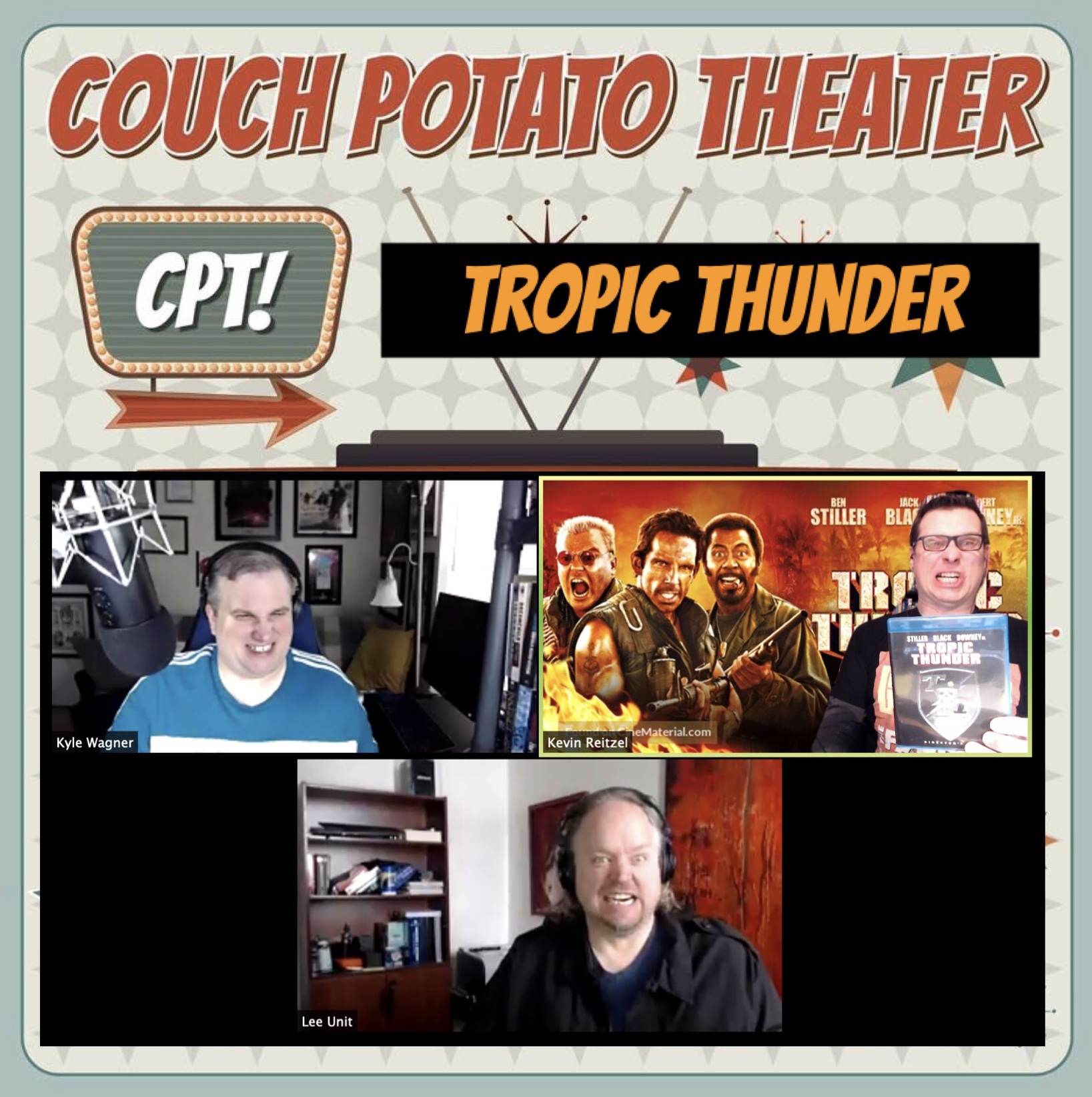 Couch Potato Theater: TROPIC THUNDER (2008)
Join us for this very special edition of Couch Potato Theater as we look back and celebrate one of the funniest comedies in the last 20 years, TROPIC THUNDER. Tropic Thunder is a 2008 satirical action comedy film directed by Ben Stiller. It stars Stiller, Jack Black, Robert Downey Jr., Jay Baruchel, and Brandon T. Jackson as a group of prima donna actors who are making a Vietnam War film.
TROPIC THUNDER Plot Synopsis:
to make the war movie to end all war movies, the British director, Damien Cockburn, assembles an A-list of prima-donna actors--Tugg Speedman, Jeff Portnoy, and Kirk Lazarus--to turn into a Vietnam epic the authentic memoirs of the burnt-out veteran, "Four Leaf" Tayback. However--with the movie already behind schedule, and the producer threatening to abandon the project--the ambitious filmmaker drops the cast in the impenetrable Vietnamese jungle to add a dash of realism, unbeknownst to them that the entire region is controlled by an armed-to-the-teeth heroin-producing gang. Now, amid a glorious improvisation extravaganza with live ammunition, the stars of the show will have to step up and work together for the first time in a long while. Do they have what it takes to get out of there in one piece?
Join Kevin, Lee and Kyle as they take a look back at this fan favorite comedy with a fantastic cast and see how it has remained a true classic to this day, and a film that represents everything that Couch Potato Theater is all about.
Fandom Podcast Network Contact Info / How to contact & find us:
- FPNet on Podbean app
- Fandom Podcast Network on: iTunes / I Heart Radio / Stitcher / Podbean / Google Play / Spotify
- Facebook: Fandom Podcast Network
- Email: fandompodcastnetwork@gmail.com
- Instagram: FandomPodcastNetwork 
- Twitter: @fanpodnetwork
- Kevin on Twitter & Instagram: @spartan_phoenix
- Lee Fillingsness on Twitter: @TheWayOfTheWay / Instagram: @the_way_of_the_way
- Kyle on Twitter: @AKyleW / Instagram: Akylefandom
Please help support the Fandom Podcast Network through reviews on Apple Podcasts / iTunes and our Fandom Podcast Network Store on Tee Public. 
Apple Podcasts / iTunes:
Please leave us a review on Apple Podcasts / iTunes so new fans can find us easier. Search FANDOM PODCAST NETWORK on Apple Podcasts, and leave a review for Couch Potato Theater. We LOVE 5 star reviews of course, but we love feedback in general!
Fandom Podcast Network Tee Public Store:
Get Your Fandom Podcast Network and Couch Potato Theater Merchandise on Tee Public! Please visit our TeePublic store where you can help support the Fandom Podcast Network while wearing your Couch Potato Theater and other awesome Fandom Podcast Network favorite show logos with pride!
Tee Public Store: https://www.teepublic.com/user/fandompodcastnetwork 
Please listen to our other awesome podcasts on the Fandom Podcast Network: