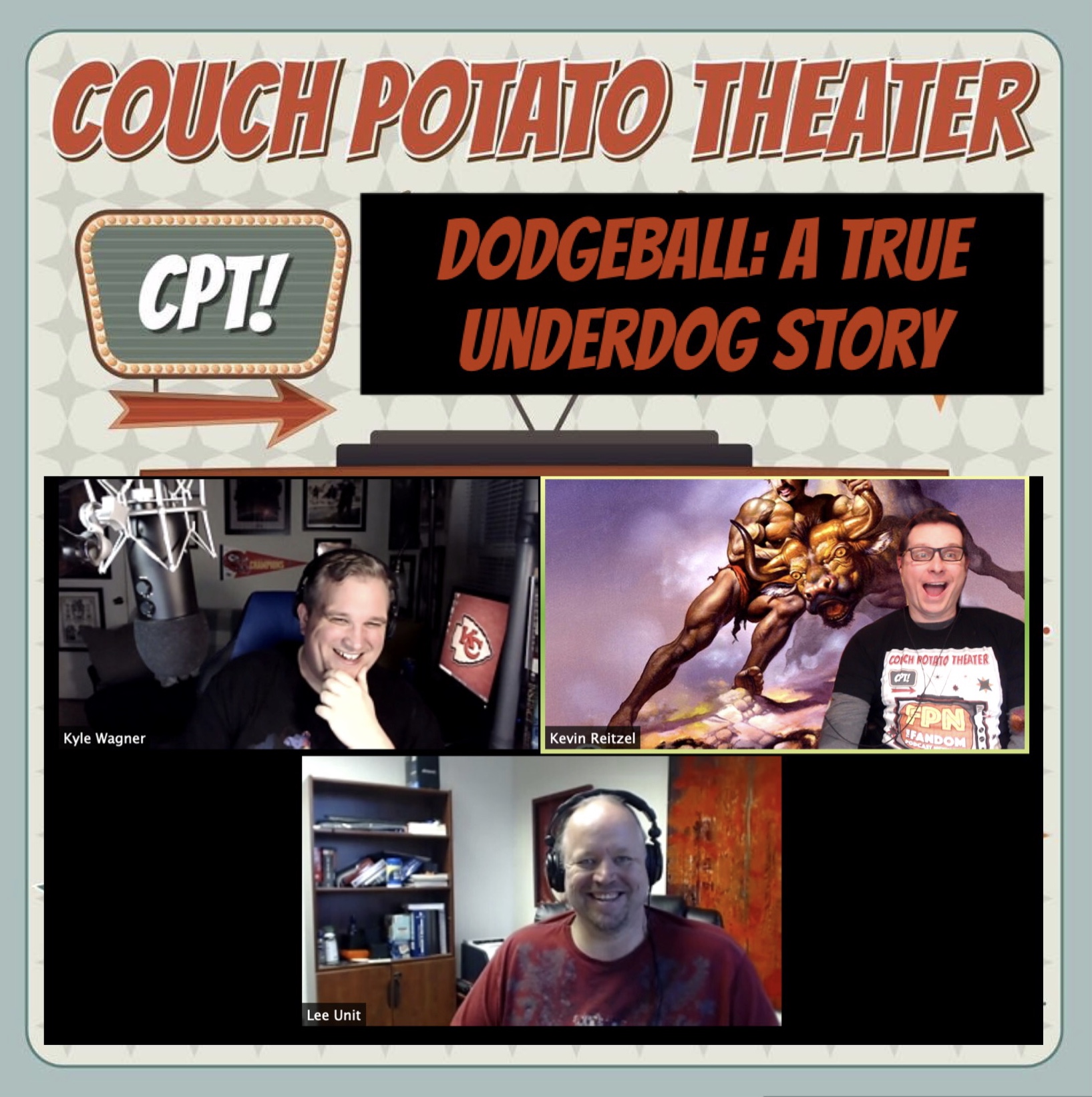 Couch Potato Theater: DODGEBALL: A True Underdog Story (2004)
Join us for this very special edition of Couch Potato Theater as we look back and celebrate one of the funniest comedies in the last 20 years, DODGEBALL: A True Underdog Story. DodgeBall: A True Underdog Story is a 2004 sports comedy film written and directed by Rawson Marshall Thurber and starring Vince Vaughn and Ben Stiller.
DODGEBALL: A True Underdog Story Plot Synopsis:
White Goodman (Ben Stiller) is the owner and founder of Globo Gym, and would love nothing more than owning Average Joe's Gymnasium. Peter LaFleur (Vince Vaughn) doesn't want to lose his gym to Goodman, but can't find a way to get $50,000 in time. Peter and his gang of gym buddies think of ways to raise money, finally settling on winning a dodge ball tournament. White Goodman retaliates by creating his own dodge ball team to finish off Peter. Peter's team doesn't do too well, until legendary ADAA champ Patches O'Houlihan (Rip Torn) turns up ready to train them.
Join Kevin, Lee and Kyle as they take a look back at this fan favorite comedy with a fantastic cast and see how it has remained a true classic to this day, and a film that represents everything that Couch Potato Theater is all about.
Fandom Podcast Network Contact Info / How to contact & find us:
- FPNet on Podbean app
- Fandom Podcast Network on: iTunes / I Heart Radio / Stitcher / Podbean / Google Play / Spotify
- Facebook: Fandom Podcast Network
- Email: fandompodcastnetwork@gmail.com
- Instagram: FandomPodcastNetwork 
- Twitter: @fanpodnetwork
- Kevin on Twitter & Instagram: @spartan_phoenix
- Lee Fillingsness on Twitter: @TheWayOfTheWay / Instagram: @the_way_of_the_way
- Kyle on Twitter: @AKyleW / Instagram: Akylefandom
Please help support the Fandom Podcast Network through reviews on Apple Podcasts and our Fandom Podcast Network Store on Tee Public. 
Apple Podcasts:
Please leave us a review on Apple Podcasts so new fans can find us easier. Search FANDOM PODCAST NETWORK on Apple Podcasts, and leave a review for Time Warp. We LOVE 5 star reviews of course, but we love feedback in general!
Fandom Podcast Network Tee Public Store:
Get Your Fandom Podcast Network and Time Warp Merchandise on Tee Public! Please visit our TeePublic store where you can help support the Fandom Podcast Network while wearing your Time Warp and other awesome Fandom Podcast Network favorite show logos with pride!
Tee Public Store: https://www.teepublic.com/user/fandompodcastnetwork 
Please listen to our other awesome podcasts on the Fandom Podcast Network: