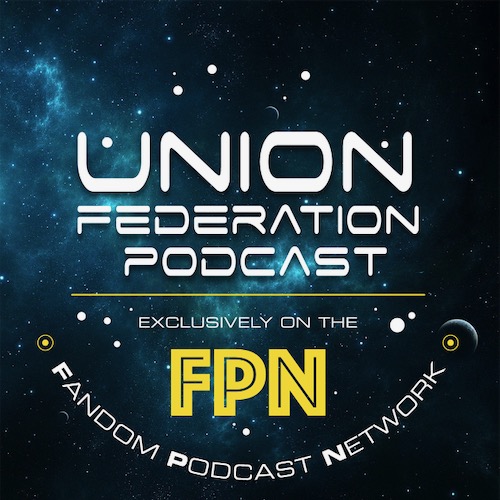 Union Federation Episode 63: Star Trek Picard S1 Ep1: "Remembrance"
It is PICARD time! The Union Federation Podcast on the Fandom Podcast Network is excited to finally talk about the first episode of Season One of Star Trek: Picard!  We are ready to bring you everything and anything that is PICARD! In this episode, we discuss Star Trek Picard S1 Ep1: "Remembrance". At the end of the 24th Century, and 14 years after his retirement from Starfleet, Jean-Luc Picard is living a quiet life on his vineyard, Chateau Picard. When he is sought out by a mysterious young woman, Dahj, in need of his help, he soon realizes she may have personal connections to his own past.
On this episode of Union Federation Kevin, Kyle and Hayley give their first reactions to Picard episode one "Remembrance". They dive into what Picard learns about this mysterious girl Dahj that seeks out his help, and how she is tied into the big picture of synthetic beings, and the possible threat to Picard and the Federation. 
In Subspace Signals the topics that are discussed are Wil Wheaton returning to Star Trek as the Picard after show host "The Ready Room", Whoopie Goldberg's Guinan possible return. And Picard's new Number One, his trusted and beloved pitbull.
With that let's launch from spaceport and hailing frequencies are now open.............
- FPNet on Podbean app
- Fandom Podcast Network on: Apple Podcasts / Stitcher / Podbean / Google Play / Spotify / I Heart Radio
- Facebook: Union Federation
- Email: theunionfederation@gmail.com
- Instagram: FandomPodcastNetwork 
- Twitter: @unionfedpodcast
- Kyle on Twitter: @AKyleW / Instagram: Akylefandom
- Kevin on Twitter & Instagram: @spartan_phoenix 
- Hayley on Twitter @trekkie01D
Tee Public:
Apple Podcasts:
Please leave us a rated review on Apple Podcasts so new fans can find us easier. We LOVE 5 star reviews of course, but we love feedback in general!
Please listen to our other awesome podcasts on the Fandom Podcast Network:
Blood of Kings: A Highlander Podcast
Culture Clash: The FPN Weekly Pop Culture Podcast
Couch Potato Theater: Our Favorite and Guilty Pleasure Movies Podcast
Time Warp: The Fandom Flashback Podcast
The Endzone: An (Unofficial) NFL Podcast
Good Evening: An Alfred Hitchcock Podcast
The Union Federation: A Star Trek and The Orville Podcast
Hair Metal Podcast: The 1980's Hard Rock and Metal Podcast
https://fpnet.podbean.com/category/what-a-piece-of-junk-a-star-wars-podcast…